There was an era, admittedly quite a long time ago, when the only four-wheel drive estate car you could buy, aside from a Land Rover station wagon, was a Subaru. In the past couple of decades, though, everyone from Audi to Skoda to Volvo has come up with their take on the theme, and, in a way, it is quite a testament to the enduring appeal and qualities of the Subaru that it has managed to maintain its presence in what has grown into a hotly contested segment of the market. 
Which brings us to the Levorg. I confess I had assumed that "Levorg" was just some meaningless name a marketing exec had dreamt up in their lunch hour, like Mondeo or Vectra, a label that sounds vaguely impressive and which, crucially, doesn't translate into, say, urine or onion in some foreign language.
But no, Levorg actually derives from LEgacy, the Subaru model the Levorg replaced, reVOlution (it isn't, by the way) and touring (it is an estate, in case you'd not noticed – there's no saloon version). You live and learn, eh?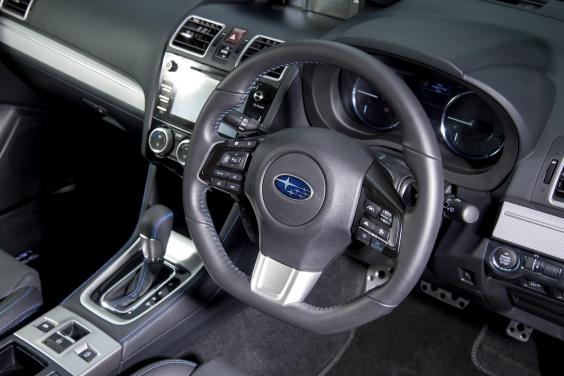 If there is one more familiar word to sum up the Levorg it is "smooth". For the 2017 model year they've added some extra noise insulation and safety features, but the Levorg was already a fairly secure and relaxing way to make a journey.
As well as permanent four-wheel drive, another Subaru speciality has been the "boxer" engine layout, where the pistons run horizontally opposed like two boxers in a scrap, rather the pistons pushing up and down, as in most conventional engines. It makes for a smoother running power plant, other things being equal, although it emits a gruffer engine note. The single engine option here, a 1.6 litre petrol unit with the usual turbocharging, isn't especially powerful but it's just lively enough for the car to justify the sporty image Subaru seeks for it. It's allied to a "lineartronic" automatic CVT (constantly variable transmission) gearbox, which adds to the refinement, and avoids the "kicks" you get from a traditional auto transmission. 
The spec
Subaru Levorg 1.6i GT Lineartronic
Price: £29,680
Engine capacity: 1.6 litre petrol; CVT gearbox
Power output (PS @ rpm): 170@4,800
Top speed (mph): 130
0-62 mph (seconds): 8.9
Fuel economy (mpg): 44.8
CO2 emissions (g/km): 164
As for sophistication and the cabin, well, that's a less sophisticated affair. Compared with its Swedish, French or German-badged rivals, it is almost a retro affair, with rather too much hard plastic and a relatively primitive central display. It does, though, have most of the driver-assist kit that buyers expect nowadays, so, once you have set the speed you'd like to cruise at and your preferred safe distance from the car in front, the system works perfectly, even bringing you to a stop with no braking input.
Such technology is stealthily transporting us to the world of the driverless car, for better or worse.
Above all, Subaru drivers enjoy their vehicle's durability and reliability, especially in what you might call light rural environments. The Levorg obviously hasn't got the ground clearance to be of much use along a rutted track – there's an XV variant for that coming along – but it does have the grip, the power and the image it needs to have. In many ways a Nissan Qashqai makes vastly more practical sense, and offers better value, but for some only a Subaru will do. I can see why.
Reuse content