Autocar tests a lot of cars – no surprises there. But in all their number-crunching and analysis they noticed one thing. That there were cars that could reach 150mph within a measured mile of launch. And there were cars that could manage a real 50mpg over the Autocar course, which involves driving three laps of a test track at a steady 60mph. Could any cars conquer both those figures? 
The net was cast wide to include petrol and diesel engines, estate and sports car styles, and even a plug-in hybrid. With the testing equipment checked and calibrated, it was time to put some cars to the test, cars that might stand a chance of hitting those numbers. 
The cars have all claimed top speeds of 150mph or more, and they also claimed more than 50mpg under the New European Driving Cycle extra-urban cycle. In theory they could all be winners. So let's put to the test the BMW i8 hybrid, the Alpina D3 Biturbo Touring, the latest Audi A4 3.0 TDI and the svelte Alfa Romeo 4C Spider.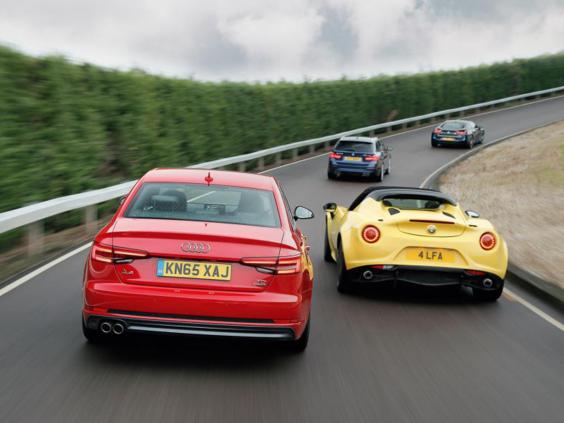 Normally you'd brim all the fuel tanks but obviously that wouldn't make a level playing field with the BMW i8. So it was decided to give it everything for the acceleration tests but limit it to the petrol engine alone when doing the economy run, such as might happen in real life. 
The results
0-60mph: BMW i8 4.7sec, Apina D3 Birturbo Touring 5.4sec, Audi A4 3.0 TDI 5.6sec, Alfa Romeo 4C Spider 5.1sec
0-100mph: BMW i8 10.9sec, Apina D3 Birturbo Touring 12.8sec, Audi A4 3.0 TDI 14.8sec, Alfa Romeo 4C Spider 12.4sec
Terminal speed, standing mile: BMW i8 151.0mph, Apina D3 Birturbo Touring 144.0mph, Audi A4 3.0 TDI 136.0mph, Alfa Romeo 4C Spider 141.4mph
Indicated touring economy: BMW i8 42.4mpg, Apina D3 Birturbo Touring 43.7mpg, Audi A4 3.0 TDI 47.8mpg, Alfa Romeo 4C Spider 42.9mpg
Calibrated, fill to fill: BMW i8 41.0mpg, Apina D3 Birturbo Touring 42.5mpg, Audi A4 3.0 TDI 43.7mpg, Alfa Romeo 4C Spider 44.3mpg
The cars ran on a big straight at the MIRA test facility. The BMW first – the official one that is, not the BMW Alpina. The i8 is proper fast. It rips up the mile and goes through the timing gear at 151mph. That's an impressive start. 
The Alfa goes next, a lightweight blend of turbo power and slippery aerodynamics. And a launch control which we use. The 237bhp goes down strongly and the 4C feels very quick off the line, but once over 100mph the acceleration dims. It manages 141.4mph. Steady but not spectacular. 
The Audi A4 3.0 TDI quattro should be good. It has 268bhp, four-wheel drive, eight-speed auto box and all the latest gizmos. But it goes through at 136mpg. Which is faintly disappointing, but we next have the Alpina an estate car that is always more than it seems. 
It struggles fractionally off the line but then it's off and feels like it can keep accelerating forever. But it can't, we have a measured mile. Which is goes through at 144mph. Hmm, so only the plug-in hybrid managed to top that 150mph. On to the economy run.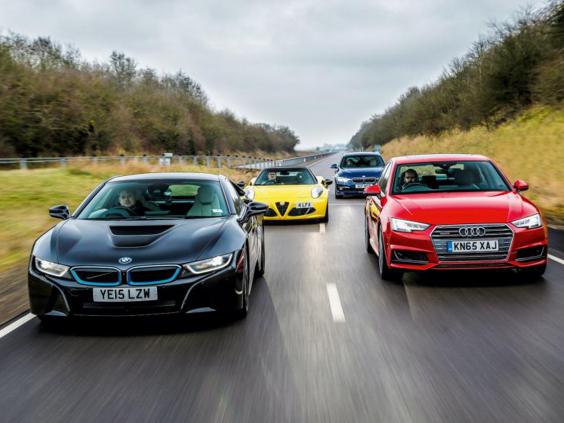 We tested the cars via trip computer, which was then calibrated to verify accuracy – with surprising results in itself. Three steady laps later under identical conditions produced a few more surprises. 
The trip computer issue was strange. The Alfa actually underestimated the economy of the vehicle while the Audi's trip computer turned out to be rather optimistic. But when the numbers had all been crunched, these are the results.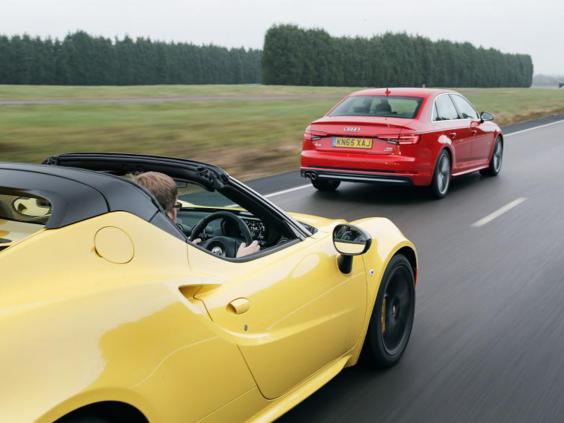 Nope, not one of them could manage 50mpg. In our calibrated testing, all the figures were closer to 40mpg than 50mpg. You could argue that the i8 plug-in hybrid could give a better figure if it had electrical charge to back up the petrol engine, but that would be a different test. 
Under these circumstances, and much to everyone's surprise, the most economical car was the Alfa Romeo 4C Spider. Let's hear it for a frugal sports car. All the cars here represent solid performance with reasonable economy, but finding that holy grail of high performance with real fuel economy is a search which continues.  
Reuse content