The Stelvio is an Alfa Romeo with a difference. Obviously, it's an SUV, the company's first, but we're told it's also an uncommonly coherent one despite this. The sporting brand apparently consulted musicians to create tracks that would help harmonise with the rest of the car and ensure everyone involved was on the same page.
A different approach, sure, but so is the Stelvio. Even so, it's apparently an Alfa Romeo first and an SUV second; the fact it's developed from the same aluminium-rich platform as the 503bhp Giulia Quadrifoglio performance saloon should give us hope. You don't normally get lightweight carbonfibre propshafts in SUVs, for instance.
It tips the scales at more than 110kg less than a Jaguar F-Pace, impressive stuff for a mid-size four-wheel drive SUV. It's also super-rigid and promises a modicum of off-road ability, although the engineers' stated focus is more on providing entertaining on-road handling, despite a seating position 190mm higher than the Giulia saloon.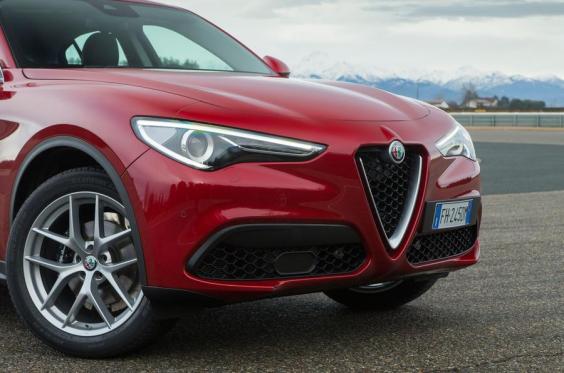 The car we're testing boasts a 2.0-litre petrol engine delivering a generous 276bhp and 295lb ft of torque, the latter coming in fully from just 2250rpm. It's characterfully rorty in a sort of old-school Alfa way, albeit not too loud, and its smooth nature is pleasing. 0-62mph in 5.7sec isn't bad going, either.
The surprise is how well the Stelvio steers. It changes direction keenly and is surprisingly roll-free, and the steering may not be overloaded with feel but it's at least consistent and precise. Within minutes, you're driving with with the confidence you'd drive the lower-slung Giulia saloon.
There's a rear-wheel drive bias to its four-wheel drive setup, and it juggles drive between front and rear seamlessly. How it does this in action is very impressive, given how this is a car with sufficient power to out-run a Volkswagen Golf GTI. As with other Alfas, the DNA switch allows you to alter driving modes: choose dynamic and you can get amusing rear-wheel drifts out of tight corners.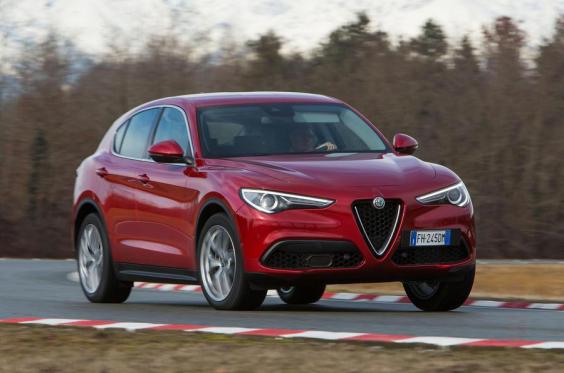 What we don't yet know is how well the Alfa handles bumps. It's stiffer than the Giulia, and the firm's Italian test track is unnervingly smooth and unrepresentative of British roads. We'll have to wait to find out what it's really like there, although initial signs are promising.
What about the everyday stuff that SUVs need to do well? Well, the rear cabin isn't bad, and the long boot is well shaped (even if there's rather a lot of 'stuff' hidden between carpeted panels either side, eating into space. There's an electric bootlid and the rear seats fold fully flat. It does the mundane stuff rather well. Even the interior feels surprisingly high-quality for an Alfa. 
Indeed, first impressions of the Stelvio are positive. It's an SUV that drives with real verve, and has plenty of character to help it stand out alongside an Audi Q5, Porsche Macan and Jaguar F-Pace. Here's to getting it onto UK roads to find out if it really is as impressive as we think it might be.
Alfa Romeo Stelvio 2.0 280 Super AWD
Price c.£35,000
On sale Autumn
Engine 4 cyls, 1995cc, turbo petrol
Power 276bhp at 5250rpm
Torque 295lb ft at 2250rpm
Gearbox 8-spd auto
​Kerbweight 1660kg
​0-62mph 5.7sec
Top speed 170mph
Economy 40.4mpg
CO2/Tax 161g/km, 29%
Rivals BMW X3, Jaguar F-Pace
Rob Adams is a writer for AutoCar.
Reuse content