Pay attention, because this could be the start of something big. Hyundai has created Genesis – a new premium car brand in the mould of Lexus and Infiniti.
You might well point out that Genesis is already the name of a premium Hyundai sold in the UK. It won't become known as the Genesis Genesis, though.
There are two reasons for this. One is that it would be silly. The other is that for now, Genesis the brand won't be coming to Europe.
Hyundai does intend to bring it here eventually. But it'll start by getting the name established in China, North America and the Middle East, as well as back home in Korea.
Carrying the fight to BMW, Mercedes and the rest is a six-strong range which the company says will be in place by 2020. The first to go on sale is the G90, a 5.0-litre V8 luxury car in the S-Class mould; Hyundai says it will be both stiffer and more refined than the Merc.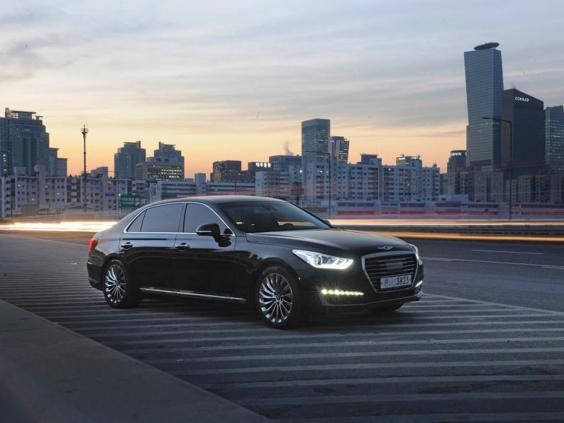 This will be followed by the G80 and G70, which you can interpet as competition for the E and C-Class, as well as a medium coupe and a brace of SUVs. The latter won't be the only Genesis models with four-wheel drive, as this will also be offered as an option on the G90.
Beating the S-Class for refinement takes some doing, but Genesis says it has thrown everything at the job – from sound-deadening film on the windows to hollow wheels that kill road noise.
And yes, actually, it is extremely quiet on the move. It rides beautifully, too, keeping everything about the road surface at more than arm's length.
You expect that to be carried over to its handling, but in truth it offers a better combination of chassis balance, steering weight and brake feel than you'd ever dare to hope for. Fact is, it's just what you'd want a big premium saloon to be.
It's laden with kit, too, all of it completely convincing. A unique stereo, wide-format touch-screen, 22-way adjustable seats with excellent leather trim… it's all very classy and crafted to an exceptional standard.
Genesis G90
On sale: Now
Price: £68,000 (est)
Engine: V8, 5038cc, petrol
Power: 420bhp at 6000rpm
Torque: 383lb ft at 5000rpm
Gearbox: 8-spd auto
Kerbweight: 2595kg
0-62mph: 5.7sec
Top speed: 150mph
Economy: N/A
CO2/tax band: N/A
Really, the only thing that lets the side down is its styling. This doesn't give it anything much in the way of identity, which is what you'd think a newcomer in the most excruciatingly conservative corner of the market would need most.
Or maybe what it needs most is to be a very good car, and Genesis understands that winning people over will  just take time. It's more than a decade and a half since anyone who knows what they're looking at stopped making Skoda jokes, after all, yet you can still find people who don't get that those jokes are on them now.
Hyundai is starting from a much stronger position than Skoda was in when VW took it over, of course. But it's aiming much higher with the Genesis brand.
To cut to the chase, the car we drove cost the Korean equivalent of £68,000. That's a big leap of faith, however good the car, when executive motoring is so wrapped up with status.
Brand image is a big deal at this elevated level. If Genesis can build that as well as it has built the G90, anything is possible.
Yes, Hyundai's new offshoot could become part of the premium mainstream, if this car is a sign of things to come. But it won't happen overnight.
Reuse content