The recent launch of a new BMW 5 Series means that the shrewd used car buyer's torch inevitably swings round to the previous-generation car. Within that range, the 5 Series Touring is an extremely tempting mix of practicality, cabin and boot space and drive-ability. For those who like the idea of a big BMW estate but who can't quite stretch to a new one, this last-gen model is well worth considering.
You will certainly be able to find a Touring to suit your driving proclivities thanks to the huge variety of engines it was fitted with, from an economical 520d diesel to a rocket-launcher 550i petrol.
Even the lowest powered cars are good to drive, giving the Touring plenty of ammunition with which to fight back against the more luxurious interiors and cutting-edge tech of rivals like the Audi A6 Avant and Mercedes-Benz E-Class Estate. The agility and steering precision of the Touring isn't compromised by heavy loads either, because self-levelling suspension was part of the standard equipment on every car.
What's the budget?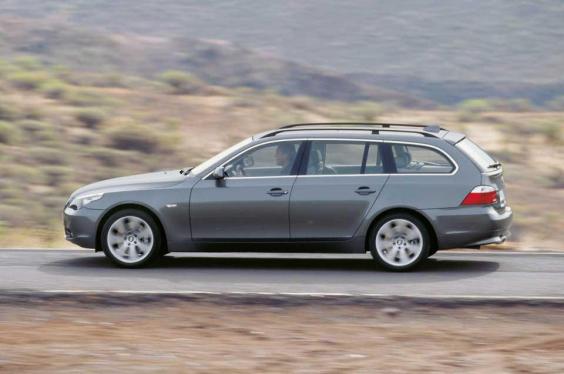 With an eight-year production run from 2003 to 2011, there's no shortage of previous-generation 5 Series Tourings on the used car market. Early models can be had for just £2000, but you'll have greater peace of mind from a £4000 525d SE with full service history and under 100,000 miles recorded.
If you can afford to spend £12,000 you'll be able to pick up a nicely looked after 2010 525d SE with under 75,000 miles.
Best version?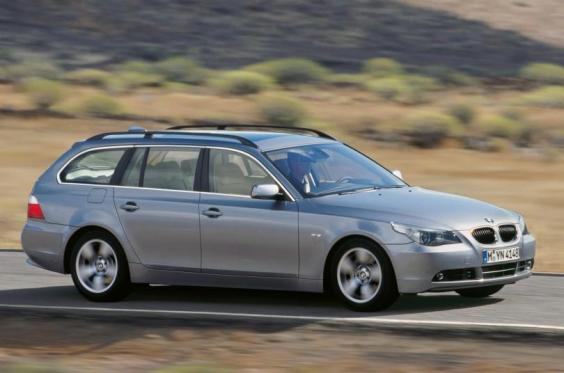 We really rate the 525d diesel. Its 177bhp engine gives it more performance than the 520d, but with very little penalty on fuel efficiency.
For diesel haters, the six-cylinder petrol engines – 523i, 525i and 530i – are all refined and strong. The 361bhp V8-powered 550i will do the 0-60mph sprint in 5.1sec, but its running costs will be high.
In terms of trim, SE is the lowest option but we'd happily go for that as it gives you just about everything you could realistically want, with cruise control, climate control, a CD player, parking sensors and alloy wheels.
Any problems?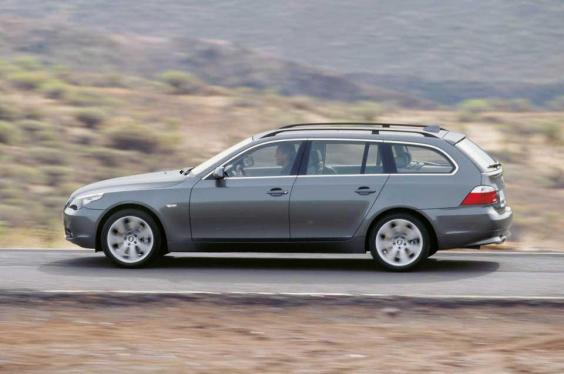 BMW has a premium image, but the marque's reliability record is not as blemish-free as you might expect, and the 5 Series Touring is no exception to that.
Major problems are rare, but run-flat tyres can lose pressure and some owners have reported issues with the iDrive infotainment system's rotary controller. 
Go through as many electrical items as possible on cars you're thinking of buying, and look for tyre pressure warning lights on the dash.
There's no reason to avoid high-milers, but in an ideal world it's worth considering paying extra for a car with a full BMW service history.
Tony Middlehurst is a writer for WhatCar
Reuse content