The current anti-diesel mood means you may be looking at a petrol-electric hybrid with fresh eyes. They theoretically offer drivers a way to enjoy great economy without the associated emissions diesels produce. They're thus ideal for high-mileage drivers.
A hybrid works by combining a small, efficient petrol engine to an electric motor. The latter has two roles – one, to boost power on the move, and two, to provide low-speed electric-only driving to cut CO2. The batteries are also recharged as you brake, so you don't have to plug them in.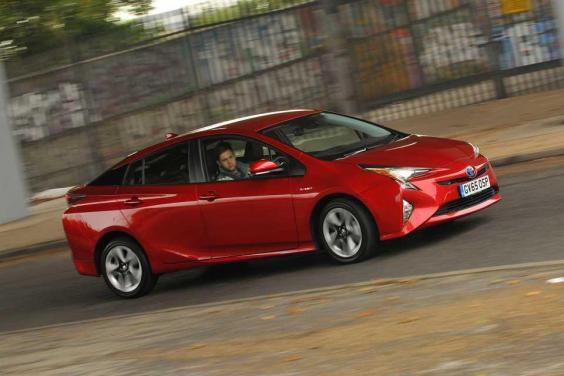 The world's best-selling hybrid is the Toyota Prius, which these days produces CO2 as low as 70g/km. But it's not without rivals, and one of the most ambitious is the new Hyundai Ioniq, a Volkswagen Golf-sized alternative that emits from 79g/km CO2. With value pricing on its side, we have a stern twin test ahead of us…
Both prove pacy enough on the road. There's not much between either and, say, a Volkswagen Golf diesel. After a moment's hesitation, the Ioniq is the quicker of the two, and both will respond sharply in city traffic thanks to the shove of their electric motors. Both also have rather noisy petrol engines that kick in when you accelerate harder, though: the Toyota's is the most annoying as its CVT gearbox means revs soar and stay there until you lift off.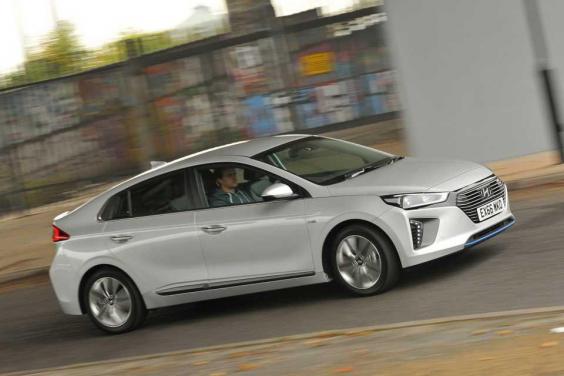 The Toyota has softer suspension so handles city bumps better, but is softer through corners and rolls around a bit too much over uneven roads. The Hyundai is more agile, cornering flatter and responding to inputs more accurately. The Toyota has grabby brakes and more road noise, although both are well insulated against wind noise.
Inside, the Hyundai's dashboard is easier to use. It's more conventional and the 8.0in touchscreen is responsive. In contrast, the Toyota's smaller screen is jerkier and more confusing – and sat nav is optional; it's free in the Ioniq. The driving positions of both are decent, although neither has particularly great rear visibility due to their aero-optimised shapes. At least you get a rear parking camera in both.
The sleek shapes also limit rear headroom a little; the Prius leads on legroom and has a wider, neater boot layout, although it's a good size in both. As for build quality, the Ioniq gets the nod, but neither is as good as a Volkswagen Golf.
So to the all-important running costs. Right away, the Ioniq is £2500 cheaper for cash buyers, and better retained values plus lower insurance and servicing costs mean it'll cost less to run. But for company drivers, the Toyota is better; it's £500 cheaper to lease over three years and will save drivers £550. Neither car got anywhere near its claimed economy in True MPG testing, but the Toyota was best, averaging 50.5mpg compared to the Hyundai's 46.9mpg. A comparable diesel will be around 5-10mpg better.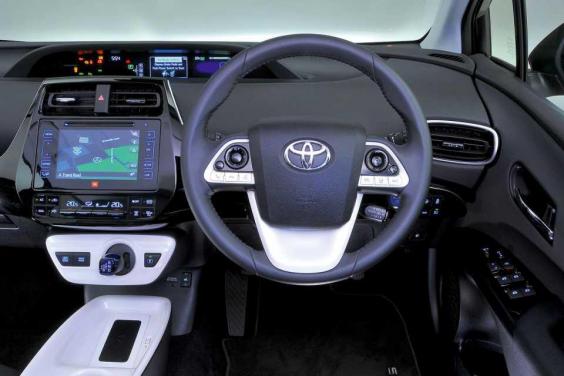 Both cars come well-equipped, but the Hyundai stands out again. It's cheaper than the Toyota, yet adds heated seats and steering wheel, wireless phone charger, smartphone mirroring and a powerful stereo to the dual-zone climate control, keyless-go and adaptive cruise control they both have. The Toyota does have a five-star Euro NCAP safety score though; the Ioniq is still to be tested.
By now, a victor should be clear. Either car is a decent alternative to a turbodiesel family hatch, but the Hyundai Ioniq is the better car overall. It's stronger on value, tidier to drive and costs less to buy and run. It's close, though, and if economy is all, you should still choose the Toyota. What's important is the fact both hybrid stack up in real world conditions: these are alternatives to diesel cars that won't disappoint.  
Specifications: Hyundai Ioniq (4 stars)
Engine size 1.6-litre petrol plus electric motor
List price £21,795
Target price £19,295
Power 139bhp (combined output)
Torque 108lb ft @ 4000rpm (engine)
​0-60mph 10.3sec
Top speed 115mph
​Gov't fuel economy 83.1mpg
True MPG 46.9mpg
CO2 emissions 79g/km
Specifications: Toyota Prius (4 stars)
Engine size 1.8-litre petrol plus electric motor
List price £23,600
Target price £21,889
Power 121bhp (combined output)
Torque 105lb ft @ 3600rpm (engine)
​0-60mph 11.0sec
Top speed 112mph
​Gov't fuel economy 94.1mpg
True MPG 50.5mpg
CO2 emissions 70g/km
Rob Adams is a writer for WhatCar.
Reuse content