To many people a gymkhana is a nice event where rich people's daughters can show off their skills on a pony. A Ken Block Gymkhana is a chance to see a video of utterly outrageous high-speed driving, drifting and tyre smoke around surprising locations, like downtown Los Angeles.
So far there have been seven videos, viewed more than 160 million times. The sponsors just love that. But this is no post-apocalypse mayhem, it's carefully choreographed and filmed and is a thrill a second.
At the core of it is Ken Block, in trademark baseball cap pulled down low, DC Shoes (the main sponsor and a company Ken co-founded) and a broad smile. What he's doing is ridiculous, impossible, and astonishingly skilfull. That skill comes not from tearing around in stolen cars, but from being a rally driver.
Watching Colin McRae – they were born within a year of each other – made him want to try rallying, and he's competed with good results in Rally America, the WRC and now Global Rallycross. He didn't start until he was in his 30s and is nearer 50 than 40 now, but that doesn't seem to have diminished his appetite for burning tyres.
He's used everything from Subarus and Fords but for the 50th anniversary of the Mustang, which is 2015, clearly there had to be a Mustang. And what a beast. It started out once as a 1965 model but it's had a few minor changes. Like the 6.7-litre V8 revving to 8300rpm. That pumps out 845bhp and, importantly, it also pumps out 120dB. Which is loud. Head-hurting loud, even with a helmet on if sat in the car.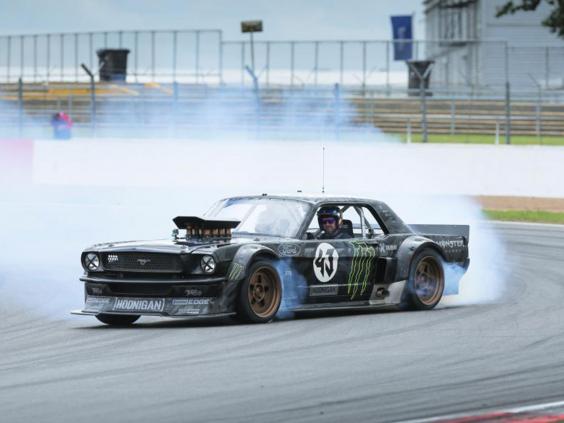 And we are sat in the car, in the passenger seat, as those waves of noise send their pressure waves through your skull. With cross-country rally gearing, this thing gets easily into sixth gear. The four-wheel drive transmission is from a Dakar rally raid car, the only transmission strong enough to cope with what's thrown at it. The bespoke suspension is set up soft so Ken can move the balance of the car around easily, provoking slides and then bringing them back in, while the special Pirelli P Zero Trofero R tyres have their own Ken Block compound to stand the beating.
A quick tug on the handbrake and the rear is out, with Ken using that immense horsepower to balance the car, before the nose flicks the other way and the car slides out the other side, each time judged to literally the inch. He can make this thing hover weightlessly with all the tyres screaming and the back end looking like it's going to clout a barrier. But it doesn't even kiss it, we just slide gracefully by.
From the outside it's graceful, ballet-like. Inside the driver is working hard and it's so loud it's impossible to communicate, as the wheel flicks one way then the other, he left-foot brakes, then plants the right hard down, and the view goes from one side window across the windscreen to the other side window.
Thing is, this isn't all he does. As he says: "My sponsors want me to do a lot of different stuff. Last year we did Global and some World Rallycross, some Rally America, a WRC round, my Gymkhana Grid events and Gym 7."
This from a man who didn't start competing until he was in his 30s. Perhaps it's just as well he didn't start earlier.
He will be in action at Santa Pod Raceway on October 24-25, in the Gymkhana GRID European Final. See http://gymkhanagrid.com/ for details and tickets.
Reuse content