Winter is the best time of the year to get a great deal on a convertible sports car – fact. Who on earth would be thinking about top-down motoring and challenging B-roads when the temperature is freezing and the roads are damp?
With dealers desperate to move a drop-top or two out of their showrooms, buyers' haggling options have never been stronger than in the early part of the year, so we've lined up the Audi TT Roadster and BMW Z4 to see which sporty roadster you should be putting your money into.
The Audi TT Roadster 2.0 TFSI quattro S line S tronic costs £38,530, although you should aim to pay £35,650. Complete with a 2.0-litre petrol turbo, four-wheel drive, auto box and range-topping S line trim, does the latest soft-top TT impress as much as its fabulous coupé stablemate?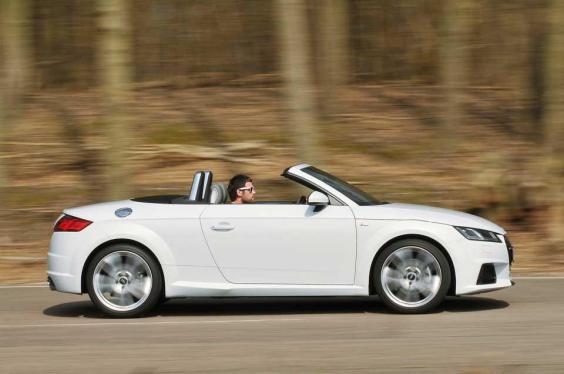 BMW's Z4 still looks great despite having been around since 2009. The rear-wheel-drive machine can be excellent fun to drive, and while the £41,240 list price of our Z4 sDrive28i M Sport auto is higher than the TT's, if you haggle you could get it for £34,976.
The 15bhp-more-powerful BMW is the faster of the two models from 0-60mph, but the torquier Audi responds more eagerly in higher gear. It is also more refined and tuneful, and we prefer its more responsive six-ratio box to the Z4's eight-speeder.
Four-wheel drive gives the Audi fun, flat, confidence-inspiring cornering and plenty of steering feedback. You can feel it shuffling the power between the front and rear axles to maximise traction. Surprisingly, the rear-wheel-drive Z4 isn't quite as much fun to drive; its steering feels a bit vague, it leans more and there's less grip. Its jarring ride both in town and at speed wasn't helped by our test car's optional 19in alloys, although the same-size wheels are fitted as standard on the TT and yet it's far more composed. Cruising in the Audi is a more peaceful experience, too.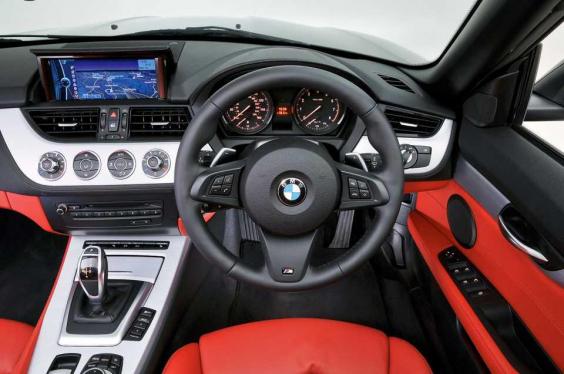 In the cabin, the Z4's low-set, part-electrically adjustable driving position feels more traditionally sporty and gives a great view down the long bonnet. The TT's manually adjustable seat is slightly higher set, but it does get electronic lumbar adjustment.
Both cars have plenty of space for even tall drivers to get comfortable, even with their roofs up, and the controls are all easy to reach. For sheer class, though, the Audi wins out with its superbly built and beautifully designed dash. Its 12.3in LCD instrument screen is a real highlight, controlled by a chunky rotary dial and a few shortcut buttons. The BMW's more conventional layout is just as user-friendly, if not quite as spectacular.
Boot space is never a strong attribute in this class, but the TT's load space is longer and squarer than the Z4's, which is tiny and awkward to access. The Audi also has by far the faster-operating soft-top; it takes a mere nine seconds to go from closed to fully open, at up to 31mph. The BMW's roof takes 26 seconds, and only up to 25mph. Rear wind deflectors cost extra in both models. The Z4's cheaper and more simple £215 unit does a better job at reducing buffeting than the TT's electrically operated £425 one.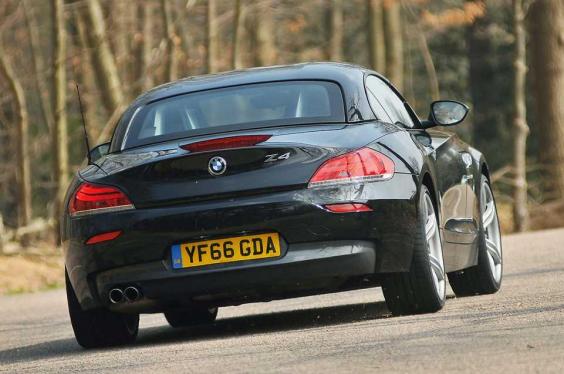 As we said, it's easier to haggle more money off the older BMW than it is the newly introduced Audi. The latter will end up costing you nearly £700 more than its rival after discounts, despite have the cheaper list price. It holds its value better than the Z4, but servicing, insurance, road tax and real-world economy make ownership costs about equal.
Company car drivers will prefer the TT, whose lower CO2 emissions and cheaper list price result in a £1000-plus saving in BIK tax over three years for a 40% taxpayer. Private PCP buyers will be better off with the Z4; BMW will boost their £5000 deposit to £11,500, and then there's a £413 monthly fee on a three-year, 12,000-mile deal. There's no maker contribution for the Audi, and a £522 monthly payment.
Both cars come with air-con, leather trim, auto xenons, rain-sensing wipers, tyre-pressure monitoring and four airbags as standard. Electric seats and sat-nav are also included in the Z4, but you'll have to pay extra for rear parking sensors and cruise control in both models, and neither comes with auto emergency braking. 
Ultimately, the Audi's plusher cabin and superior refinement, not to mention its excellent handling, mean it comes out on top here. It's simply one of the best roadsters money can buy. Next to it, the BMW feels some way off the pace. It has stylish looks, a strong engine and attractive deals – it's just a shame it now feels some way off the pace.
Audi TT Roadster 2.0 TFSI quattro S line S tronic
Engine size 2.0-litre turbo petrol
List price £38,530
Target price £35,650
Power 227bhp
Torque 273lb ft
0-60mph 5.5sec
Top speed 155mph
Fuel economy 32.4mpg
CO2 emissions 154g/km
BMW Z4 sDrive28i M Sport auto
Engine size 2.0-litre turbo petrol}
List price £41,240
Target price £34,976
Power 242bhp
Torque 258lb ft
0-60mph 5.4sec
Top speed 155mph
Fuel economy 32.7mpg
CO2 emissions 159g/km
Sarah Bradley is a writer for WhatCar.
Reuse content