Let's not beat around the bush. The new McLaren 720S is mighty, a triumphant new-era car that feels at least a generation and a half on from the 650S model it replaces. The biggest headache the engineers now have is to make evolutionary models that are even better than this, perhaps the best supercar on the planet: as problems go, it's a rather nice one to have.
Although McLaren is still a young car company, this is nevertheless an almost entirely all-new car, the first of its new breed of models. Even the very innards, its carbonfibre tub, has been completely redesigned, and the engine is now a 4.0-litre twin-turbo V8 putting out 710bhp.
Suspension is also miraculous: it's called Proactive Chassis Control which makes it stiff in corners but comfortable on bad roads – all without the need for anti-roll bars. It's so technologically advanced, it's way beyond our tiny minds, but it undoubtedly works brilliantly.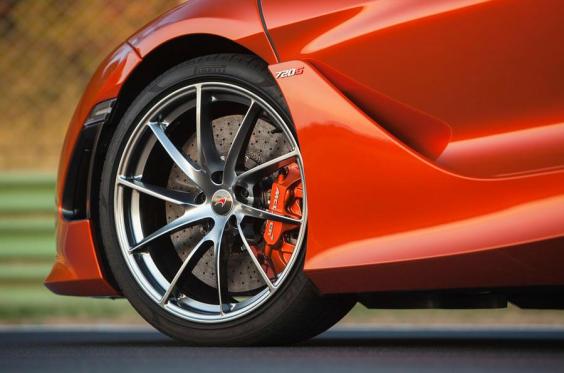 You'll be in no doubt it's all new the first time you see it. Why? Those front headlights. Yes, they divide opinion, but they are there for aerodynamic reasons figured out by highly intelligent scientists, and they do grow on you the more you see them. Even our hard-to-please videographer admitted they were less bad than when they first saw them. Believe us, this is high praise.
Indeed, it's swathed in active aerodynamics, including a full-width rear air brake that's almost a third more effective than before. The body is narrower at the top, to make it slipperier through the air, but it's certainly not cramped inside – and a revised design of dihedral door makes it easier to get in and out. Visibility is exceptional, and that's by supermini standards, never mind supercars.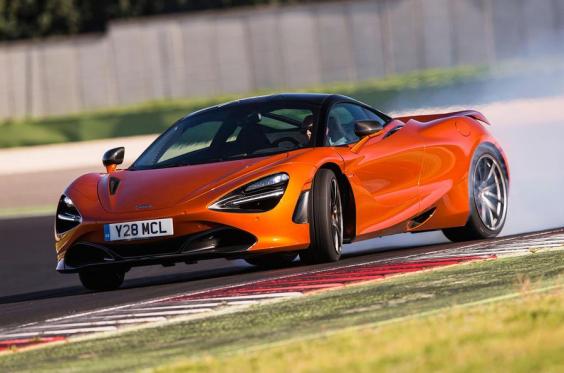 Naturally, McLaren's perfected the driving position, and while the pop-out instrument binnacle is a bit gimmicky, the rest of the cabin is much higher quality and more contemporary in design. Pity McLaren's driving controls lack the intuitiveness of the premium best, but it's getting there.
So, yes, we've already revealed it's magnificent to drive. In what ways, though? Well, that ride really is compliant, even in the middle of Rome on the test route. The engine isn't over-aggressive in sound effects, not like the histrionics of a Ferrari or Mercedes-AMG, and it shrinks around you to create the most surprisingly able city car of the year.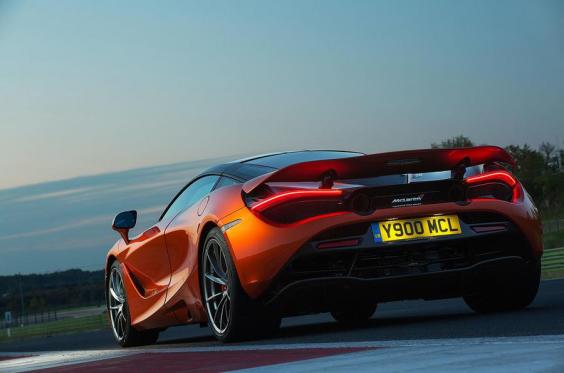 710bhp sounds crackpot, of course. But, out on the racetrack, the 720S is so amazingly approachable, even this doesn't feel like a recipe for disaster. It's ridiculous, how able it is, and how it's able to go as fast as you like or you dare, delivering driver-pleasing glory whatever speed you choose.
Handling is magical, and sophisticated, and still superbly absorbent even out on track. It's confident, adjustable, capable, lavishes you with feel and feedback. Perhaps the engine still doesn't sound as magnificent as its rivals at full chat. But the rest of it aces pretty much any competitor with ease. 
McLaren has only been going seven years. Already, it's here with a second-generation car. And the 720S is a machine that addresses almost every single criticism levelled at its 650S successor, and then some. It's world class. And we're now placing a pretty strong bet on it also being the world's best supercar, too.
McLaren 720S
Price £218,020
Engine V8, 3994cc, twin-turbo, petrol
Power 710bhp at 7500rpm
Torque 568lb ft at 5500rpm
Gearbox 7-spd dual-clutch automatic
​Kerb weight 1419kg
0-60mph 2.8sec
Top speed 212mph
Economy 26.4mpg (combined)
CO2/tax band 249g/km, 37%
Rivals Ferrari 488 GTB, Lamborghini Huracán
Rob Adams is a writer for AutoCar.
Reuse content