Thinking of dashing out this weekend to buy a small, premium SUV? Specifically maybe a Mercedes-Benz GLA?
Hold your horses, because there's a new one coming out. We know that because we've just driven the updated version of the most popular GLA, the 200 d.
The company's powerful brand image plus distinctive styling have carved out a useful sales niche for the GLA, but it's been dynamically lagging behind such as the Audi Q3 and BMW X1 in terms of ride comfort and refinement. Does this new model lift it up the listings?
There are no engine changes. Your choice is from a 2.1-litre four-cylinder diesel producing 134bhp in the 200 d and 175bhp in the 220 d; a turbo 1.6 petrol 200 producing 154bhp; a turbo 2.0-litre 250 with 208bhp; or the top of the range Mercedes-AMG GLA 45 with 376bhp.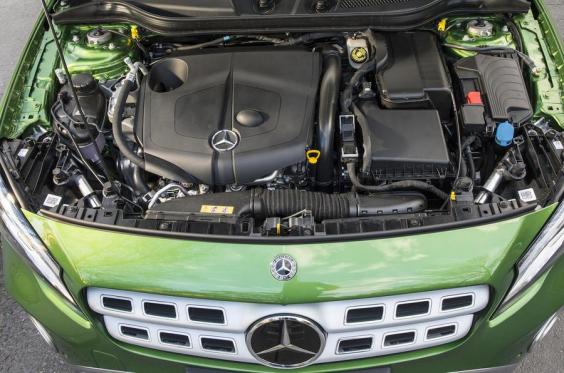 Things that have changed? The front grille, headlights, bumpers, interior trim upgrades, new alloy wheels, a new Canyon Beige colour, and two special edition models – White Art, and the GLA 45-only Yellow Night. Standard across-the-GLA-board equipment now includes keyless entry and start, a reversing camera, Apple CarPlay and Android Auto smartphone mirroring and a 30mm-higher off-road comfort suspension chassis that will definitely be present on every UK-spec GLA bar the 45.
Unfortunately, that chassis wasn't present on any of the test cars available to drive at the Budapest launch. Instead, they came with the £595 adjustable dampers that will only be available on AMG Line cars.
Anyway, the 200 d we tried had pretty much the same ride characteristics as the lower-stanced old car had on adaptive Comfort suspension. Which is a pity, because those characteristics weren't particularly impressive. Despite not running with the extra height, our GLA exhibited a vertical looseness in Comfort driving mode through Hungarian dips and rises, along with over-light steering. Control tightened up in Sport mode, but only at the cost of extra jostling and artificially heavy steering.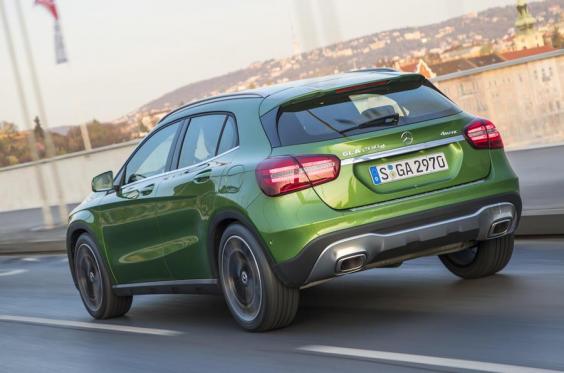 Good grip means you can negotiate corners pretty quickly, and there's good traction on wet roads thanks to the 4Matic four-wheel-drive system, but fast direction changes or hustling generally weren't really on the launch test menu. We'll have to wait for a shot in a proper UK-spec car to make a more accurate judgement on it.
One reason for the 200 d's popularity thus far has undoubtedly been its economy in 2WD format: officially, we're talking 67.3mpg and CO2 emissions of 110g/km. Its 2.1-litre diesel engine is getting on a bit now but, although it's not face-meltingly powerful, it does dole out a decent chunk of performance in the GLA, especially relative to its fuel economy figures. Power comes in from below 1500rpm and continues to pump through a handily wide rev band, aided by a smooth seven-speed auto gearbox. Shame about the noise and vibration at high revs, and the hard-to-ignore wind and road noise on the motorway.
Mercedes-Benz has tried to match the Audi Q3 on interior appeal by adding extra chrome trim pieces and restyling the dash layout. It does have a more interesting look to it now, but the plastics are still trumped by those of the Audi. The GLA's colour infotainment system – featuring a 7.0in screen on entry-level SE cars and an 8-incher above that –  is a lot more impressive now though, with clear graphics, easy to follow menus, Apple CarPlay and Android Auto.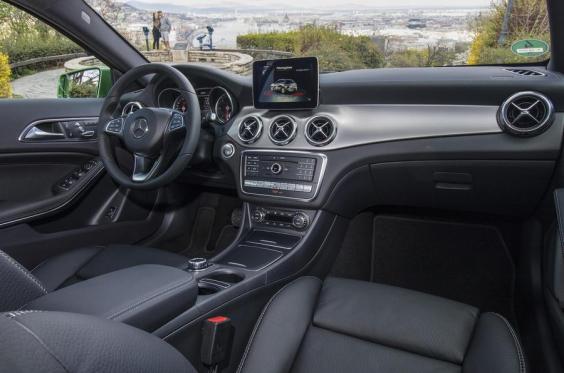 The new GLA is the same as the old one as far as cabin space goes, which means it's still losing out to the Q3 and BMW's X1 on rear knee room. Nor are there any nifty sliding or reclining rear seat features to play with. The Merc has better boot space numbers, but in real-world use you have to get your bags over a big load lip and through a narrow aperture. 
If you're dead set on a GLA, the 200 d is a sensible choice. It's a flexible drive with low running costs and a fair price. You don't need to go for expensive AMG Line models to benefit from decent standard equipment and infotainment provision. 
If you're not locked into the Mercedes brand there are better options around, cars with better handling, better ride and cabin quality, and better family-car space and practicality. This facelift hasn't compromised the GLA's swish styling or the appeal of Mercedes-Benz's competitive finance packages, but nor has it boosted the GLA up the premium small SUV pecking order.
Mercedes-Benz GLA 200 d 4Matic AMG Line Auto
Price £31,630
Engine 4 cyls, 2143cc, turbo, diesel
Power 134bhp at 3200-4000rpm
Torque 221lb at 1400rpm-3000rpm
Gearbox 7-spd dual-clutch automatic
Kerb weight 1595kg
Top speed 124mph; 0-62mph 9.1sec
Economy 56.5mpg (combined)
CO2/tax band 130g/km, 28%
Rivals Audi Q3, BMW X1
Tony Middlehurst is a writer for AutoCar.
Reuse content