After years of austerity, belt-tightening and extreme caution, the British consumer last year regained sufficient confidence to go out and buy a new car, albeit more often than not on some sort of finance deal.
So the UK's new car sales were the best for a decade in 2014, according to the latest figures from the Society of Motor Manufacturers and Traders. Some 2,476,435  new cars hit British roads last year, the best result since 2004, and the fourth best year on record.
It represents a 9. 4 per cent rise on the figure for 2013, and marks a decisive recovery from the depths of the recession, with about one million new cars more finding owners than in the period after the banking crash.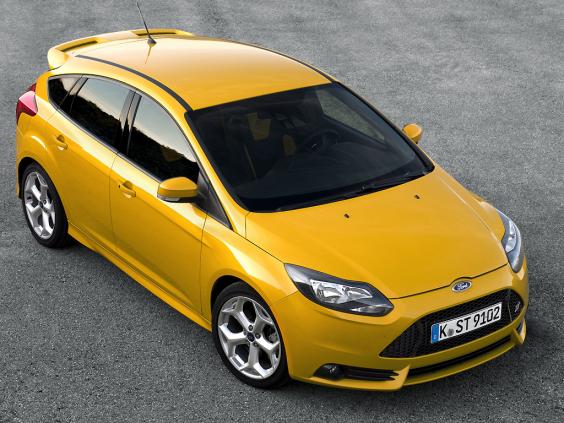 New cars sales have grown for 34 consecutive months, the SMMT reported. However, the outlook for this is year is less strong, with sales predicted to rise by about 1 to 2 per cent. Some 86 per cent of the UK market is accounted for by imports, a level of penetration that has been steady for some years now.
The UK is the second largest market for new cars in Europe, behind Germany.  The market was buoyed by rising economic confidence, new ultra-fuel efficient designs, and popular finance packages such as PCP (personal contract purchase, as well as a catch-up after the recent slump.
Mike Hawes, SMMT Chief Executive, commented:  "UK new car registrations returned to pre-recession levels in 2014, as pent-up demand from the recession years combined with confidence in the economy saw consumer demand for the latest models grow consistently and strongly.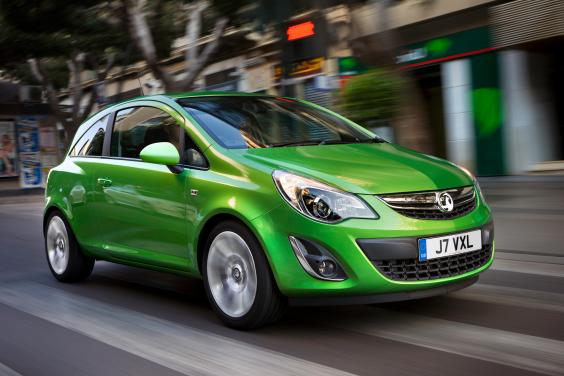 "The year was particularly strong for alternatively-fuelled vehicles as increased choice, coupled with a growing desire for reduced costs and greater efficiency, resulted in a quadrupling of plug-in car registrations over 2013. With a variety of new plug-in models expected in 2015, this area of the market will continue to grow significantly. For the market as a whole, we expect a more stable 2015 as demand levels off."
However some observers have begun to question whether the increasing dependence on PCP and similar schemes, leasing rather than buying vehicles, is merely storing up trouble for the future. Finance rather than cash is behind about 75% of new car purchases.
UK car production, some 80 per cent of which is exported, also registered an increase, to around 1.5million vehicles, the highest since 1972. However Mr Hawes described this as a "slightly disappointing" result. About a half of British car exports go to the rest of the EU, which is dominated by the eurozone, and the continuing economic problems there had a negative impact on sales of British products.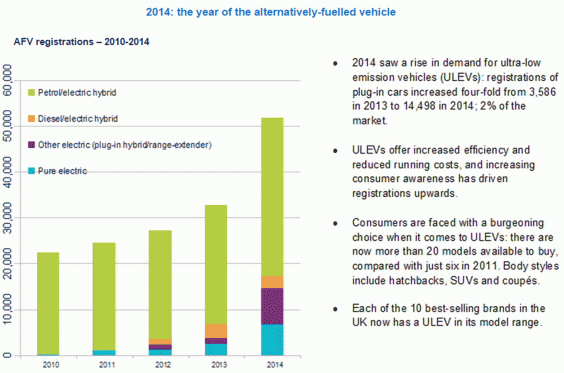 Of the other markets, China and other emerging economies have slowed, while Russia, which takes about 1 in 10 of British car exports, was epically depressed, hit by political uncertainty and the conflict in Ukraine.
A "solid year" of stable growth is predicted for 2015, with new products and engine lines expected to lift the home industry, including a new generation Vauxhall Astra for Ellesmere Port and the first full year of production for the new Nissan Qashqai and new generation Mini.
Best sellers in 2014
1, Ford Fiesta, 131,254
2, Ford Focus, 85,140
3, Vauxhall Corsa, 81,783
4, Volkswagen Golf, 73,880
5, Vauxhall Astra, 59,689
6, Nissan Qashqai, 49,909
7, Volkswagen Polo, 48,004
8, Audi A3, 45,581
9, Fiat 500, 44,005
10, Nissan Juke, 39,263
Reuse content