Bugatti is out to prove that there's life after the Veyron. Now that its iconic hypercar has gone out of production, the company is working towards a new, even wilder replacement – and to that end, here's the Vision Gran Turismo.
Unveiled at Frankfurt, this is just a concept for now. Well, a concept and the real-world embodiment of the car you'll be able to download and drive in the Gran Turismo computer game.
But Bugatti says it's also a preview of the design language you'll see on its future vehicles. And since that doesn't exactly cover a whole family of different models, what they mean is that you're looking at the Veyron's replacement here.
Well, kind of. Bugatti boss Wolfgang Dürheimer has an interesting take on what Bugatti means as a brand: "Bugatti is admired and loved by countless people throughout the world. We highly appreciate this enthusiasm. The Vision Gran Turismo will make our brand available to them as well as to gamers and high-performance aficionados throughout the world, only very few of whom will be able to afford a real Bugatti. They can all benefit from the success of our brand. This is a project for our fans."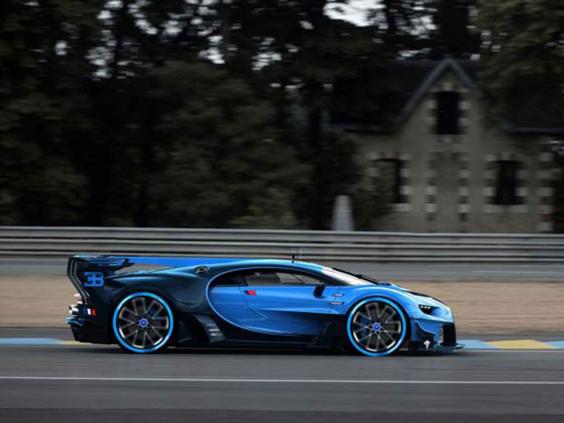 Expect to see this vehicle coming to a console near you soon, then. "In view of the nature of the project,"said Achim Anscheidt, head of design at Bugatti, "our concept car for Vision Gran Turismo will be exaggerated and extremely performance-oriented.
"Even so, the design language will give a demonstration of the path to be taken by Bugatti design over the next few years."
When Bugatti talks about extremes of performance, what it's saying is that the Vision Gran Turismo is basically a racing car. Elements of its styling pay homage to the company's classic Le Mans campaigners of the inter-war years – and Bugatti says it could hit 250mph at four separate points on the Circuit de la Sarthe.
"We've geared every parameter to maximum performance," says chassis engineer Florian Umbach.
"Unlike with our production car, where comfort and easy handling are also key factors."
With its W16 engine driving all four wheels, the Vision Gran Turismo remains all about brutal speed. It's powered by a heavily updated versions of the familiar 8.0-litre engine – which is expected to develop as much as 1479bhp.
Safe to assume, then, that the Veyron won't be getting replaced by a slower car. Provisionally named the Chiron, it has already been spotted testing in LA and is slated for launch during 2017.