The latest centrepiece sculpture for this year's Goodwood Festival of Speed has been revealed - a towering metal sculpture crowned with two legendary Mazda cars.
The annual motoring show in the grounds of Goodwood House in West Sussex will attract 150,000 petrolheads, who come to see some of the world's most amazing cars take part in a challenging hill climb.
Since 1997, spectators have been able to see impressive sculptures by accomplished installation artist, Gerry Judah.
This year's sculpture is made up for 720 individual spiralling beams that form a tower, topped with two of Japanese car manufacturer Mazda's most impressive machines.
Goodwood Festival of Speed through the years
Goodwood Festival of Speed through the years
1/9 Toyota 2007 – The Cat's Cradle

2/9 Land Rover 2008 – The Rock

3/9 Audi 2009 – The Swoosh

4/9 Alfa Romeo 2010 – Looping Structure

5/9 Jaguar 2011 – The E Type

6/9 Lotus 2012 – Past, Present And Future

7/9 Porsche 2013 – The Arrows

8/9 Mercedes 2014 – The Arch

9/9 Mazda 2015
The sculpture features Mazda's rotary-engined 787B Le Mans racer - still the only Japanese car to take an outright victory at Le Mans - and its LM55 Vision Gran Turismo concept car.
An accomplished and world-famous sculptor, Judah's previous creations have been no less spectacular.
In 2014, the honour of being the manufacturer displayed in the central sculpture was given to Mercedes. Judah created a 160-tonne steel arch that went over the top of Goodwood House, with old and new vehicles racing on it.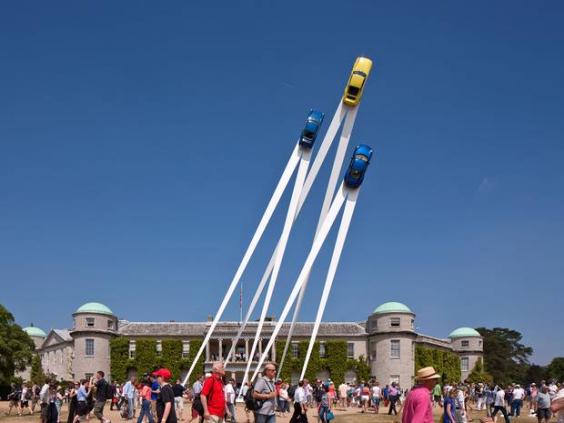 2013's was even more impressive, and featured three Porsche sports cars shooting out from the ground on white steel 'arrows' with no obvious means of support.
The Goodwood Festival of Speed takes place this weekend, from 26-28 June. With gorgeous weather forecast for the whole festival, the attending car fans have a lot to be happy about.
Reuse content