It sounds like a record attempt from another era of British history. This October, with a confident RAF wing commander at the wheel, a futuristic Bristol-built rocket car will attempt to break the land speed record.
The attempt will take place on a specially cleared 12-mile stretch of the Hakskeen Pan in South Africa's Kalahari desert, where it is hoped the speed reached will be a staggering 1,000mph.
It will cost close to £40m and has attracted big business backing, but despite the talk of thrust, power and speed, the engineers and scientists behind Bloodhound SSC (supersonic car) say it isn't just about going fast. "Going fast is not our number one job in this project," said Wing Commander Andy Green. "In fact our number one job is inspiring the next generation of engineers, scientists and mathematicians."
The RAF officer, 53, will be trying to break his own record of 763mph set in Richard Noble's Thrust SSC. He set that record in 1997. Nearly 20 years later the world has changed so much that even a Cold War-era fast jet pilot knows he has to be environmentally and socially aware.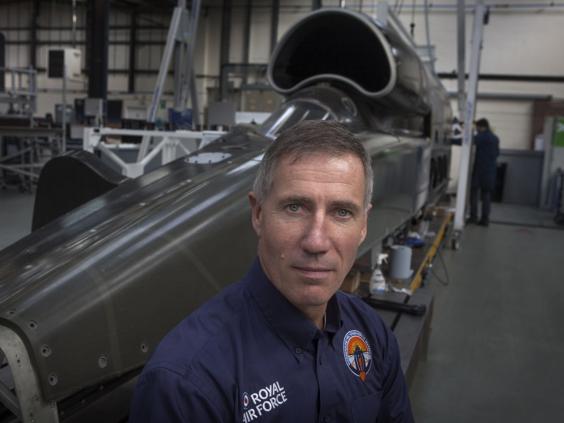 He added: "It's the young people we inspire who are going to go on and build the new green technologies of the future. It's just that you won't get a 10-year-old excited about a wind turbine: you will get them excited about a land speed record."
Of course Bloodhound isn't really green – it produces as much pollution per 60-second run as a 747 travelling 17 miles – but its designers say its hybrid jet and rocket propulsion system is the "greenest way possible" to break the sound barrier on land. 
Last week that ambition came closer at the project's workshop with the first matching of the rocket section to the car chassis and the announcement that the vehicle would be tested at Newbury airport in August, hopefully reaching up to 200mph in what the team describes as a "low speed" test run.
Guinness World Records Day
Guinness World Records Day
1/12 Guinness World Records Day

The most people eating breakfast in bed is 388 and was achieved by Pudong Shangri-La, East Shanghai (China) in Shanghai, China

2/12 Guinness World Records Day

The largest line dance (multiple venues) involved 25,703 participants and was achieved by China Line Dance Sport Promotion Center (China) in Hangzhou, Zhejiang, China

3/12 Guinness World Records Day

The largest rice mosaic is 1,798 sq.m (19364.14 sq. ft) and was achieved by Chinese Taoism Folk Culture Association (Chinese Taipei) at Changhua City, Taiwan

4/12 Guinness World Records Day

The largest gathering of people dressed as penguins is 373 and was achieved by Richard House (UK) in Queen's Walk, London, UK

5/12 Guinness World Records Day

Children from Armidale High School, NSW, Australia participating in the Guinness World Records title attempt for the Most people throwing thongs (flip-flops) simultaneously

6/12 Guinness World Records Day

The largest collection of Nintendo Entertainment System paraphernalia belongs to Ahmed Bin Fahad (UAE) and consists of 2,020 items and was verified in Dubai, UAE

7/12 Guinness World Records Day

The Most times to position one leg behind the heads in 30 sec by an individual is 30 and was achieved by Adonis Kosmadakis (Greece) at the Moulin Rouge (France)

8/12 Guinness World Records Day

The farthest basketball shot made backwards was 25 m (82 ft 2 in) by Thunder Law of the Harlem Globetrotters (USA) at the US Airways Center in Phoenix, Arizona, USA

9/12 Guinness World Records Day

The largest high heeled shoe measures 1.95 m (6 ft 5 in) long and 1.85 m (6 ft 1 in) tall and was created by Jill Martin and Kenneth Cole (both USA) in New York, New York, USA

10/12 Guinness World Records Day

The fastest 100 m running on all fours is 15.86 seconds and was achieved by Katsumi Tamakoshi (Japan) at Komazawa Olympic Park Athletic Field, in Setagaya, Tokyo, Japan

11/12 Guinness World Records Day

The most spears caught from a spear gun underwater from a 2m (6 ft 6 in) distance in one minute is 10 and was achieved by Anthony Kelly (Australia) in the swimming pool at Sport UNE (University of New England) in Armidale, NSW, Australia

12/12 Guinness World Records Day

Sultan Kosen from Mardin in Turkey who holds the Guinness World Record for tallest living male at 2.51 metres (8 feet 3 inches) and Chandri Dangi from Nepal who holds the Guinness World Record for being the shortest man ever at 54.6 centimetres (21.5 inches), meet for the first time in central London, UK
Land speed racing might be the oldest form of motorsport, but Wing Commander Green and chief engineer Mark Chapman know that speed isn't everything. That's why, they stress, the project aims to visit 6,000 schools, provide learning materials, run a model rocket car competition and reach as many as 8.5 million children by 2018.
"We know this project, which was launched in 2008 as Lehman Brothers was collapsing, would have never got off the ground and attracted sponsors, if it had just been about speed. It has to be about inspiring the boys and girls of today to become the engineers of the future," said Mr Chapman.
In engineering terms, keeping the Bloodhound on the ground is an enormous challenge, as it will hit 1,000 mph in 55 seconds thanks to its unique combination of a Eurofighter jet engine and a cluster of Nammo hybrid space rockets. This hybrid engine (it uses a cleaner form of rocket oxidiser and rubber than most space craft) will produce in the region of 135,000 brake horsepower, which is 11 times the power output of the entire F1 starting grid. There's even a 550bhp Jaguar engine just to run the rocket's fuel pump.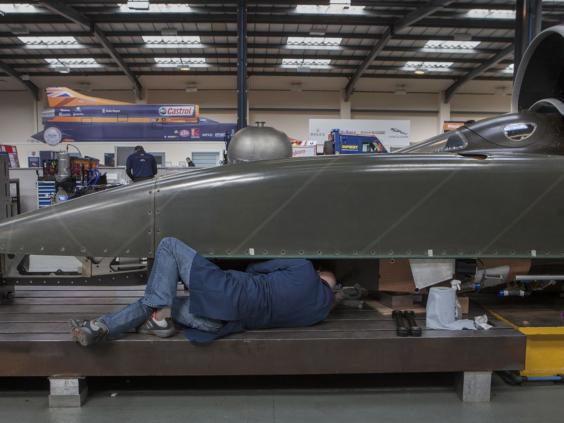 "More people have driven on the surface of the Moon than have driven at supersonic speed on Earth," said Mr Chapman. "Travelling beyond 800mph is really the 'here be dragons' part of the map."
Later this year the team will establish themselves in South Africa for three months. It's here that for five years 300 local workers have been removing 18,500 tonnes of stone by hand from the dried-up lake-bed track. It's now ready, but at first the team will "only" be aiming for 800mph and a new record. They will then return in 2016 to push on to 1,000mph by adding two extra rocket engines to the car.