Do you know your dipstick from your coolant? One in six drivers cannot identify a single one of the main components found under the bonnet of an average car, a new study has found.
A roadside assessment of drivers' knowledge revealed widespread ignorance of the components required for basic vehicle maintenance.
Many fell at the first hurdle with 12 per cent of drivers unable to open the bonnet of their own car.
More than a third of drivers (36 per cent) who took part in the study, commissioned by LV Road Rescue, could not correctly identify where to put the brake fluid, while a quarter couldn't find the engine coolant. Pinpointing the oil filler cap stumped 10 per cent.
The most simple car parts confused a number of motorists, with some unable to identify the oil dipstick (7 per cent) or battery (7 per cent). The only parts that more than half of motorists could correctly pinpoint were the windscreen washer reservoir (52 per cent); the oil filler cap (61 per cent) and the bonnet catch itself (63 per cent).
Drivers who took their test before the "Show Me Tell Me" aspect was introduced in 2003, intended to help candidates learn the basics needed to maintain their vehicles, actually proved better at identifying the parts under a car bonnet than those who were required to pass the new test element.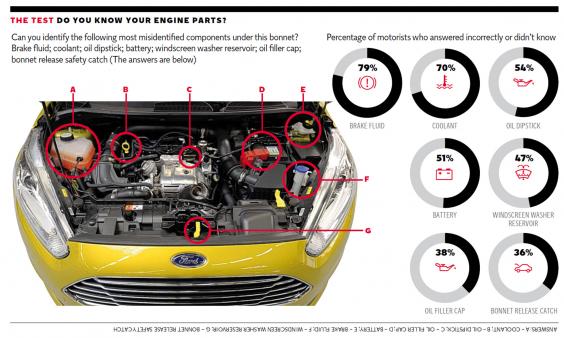 Two fifths of motorists confess that they don't do any checks on a regular basis, which can lead to car damage or a breakdown.
LV Road Rescue warned that not maintaining a car properly, for example by running an engine without coolant, could lead to problems costing thousands of pounds to fix.
While the figures are revealing, car manufacturers aren't helping motorists find what they're looking for. The researchers looked at 16 of the most popular current models and found that engine oil filler cap, oil dipstick, engine coolant, and windscreen washer cap positions varied significantly between them.
Reuse content