Meeting the new Nissan Micra is like bumping into an old friend. Or rather welcoming back someone you once knew and trusted, if not loved, but had somehow lost their way. That's because, to put things at a their simplest, the last Micra was a flimsy, cheap, boring sort of a thing, and the new one is, once again, plainly class competitive, as it always used to be.
It's been around a long time, the Micra model, albeit in different iterations. When it first appeared back in 1983 it had to hold on to the formidable reputation of its predecessor, the Nissan/Datsun Cherry.
This was a revolutionary car, in terms of the British motor trade, a symbolic product that did more than any other to establish the reputation and presence of the Japanese motor industry in Britain.
The original Micra, was if anything even more reliable and durable than the Cherry: you still see the odd one around and in the trade they were nicknamed "cockroach" for their ability to survive. Then in about 1992 came a restyled blobby look, and so successful was Nissan in Britain by then that it was to be built in this country too. It had a marketing campaign based in a bubble theme. It was ubiquitous.
Then came the froggy faced version with seemingly more influence from Nissan's partners Renault. Still fine. But then, with the version that has just been deleted, it all went wrong. It plunged downmarket with cheaper materials and had more of the feel of being aimed at emerging rather than Western markets. It looked worse than ugly, it was bland. Maybe the idea was to trade on the Micra's heritage and charge a premium price for an anonymous-looking budget model. They did sell, of course,  but some goodwill was lost in the process.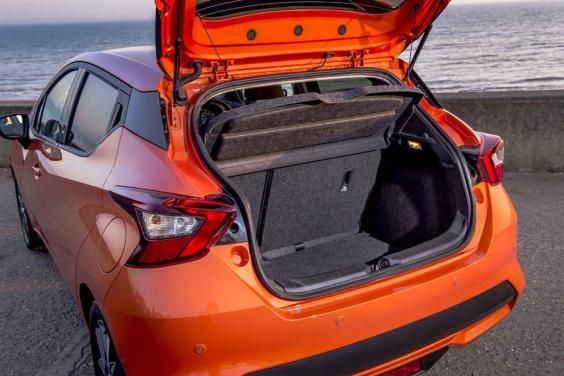 Now things are different. They've revised the old platform, added some efficient engine componentry from Renault, and the Micra is built alongside the Clio and Zoe at Renault's Flins plant. They share parts too. Most crucially for success for the Micra, they've taken some established styling cues from the mini SUV Juke, which has been a bug-eyed runaway success (made in England, too).
Thus, this renaissance Micra gets the curvy wings, concealed rear door handles and chunky mid-mounted rear light clusters we have become acquainted with on the Juke but with a calmer "face" than the Juke, which looks like it's swallowed too much wasabi. 
The spec
Nissan Micra Tekna
Price: £18,420 (range starts £11,995)
Engine capacity: 1-litre 3-cylinder petrol; 5-speed manual
Power output (hp): 88.5
Top speed (mph): 109
0-62 mph (seconds): 12.1
Fuel economy (mpg): 58.9
CO2 emissions (g/km): 104
The new Micra, then, is a bit more avant-garde than the old one or say the VW Polo or the latest Ford Fiesta, though Ford is also going for a more premium look in its interior and exterior styling. 
The Micra drives well, or at least my example did. There are two petrol engines of roughly 1-litre, a slightly larger non-turbocharged one and a more powerful and more expensive version with a smaller capacity but more sophisticated engineering.
For obvious reasons I'd be disinclined to take a diesel right now, but there's nothing intrinsically at fault with this one. Less satisfactory is the packaging; rear seat passengers don't get much of a deal, despite the new model being longer and wider than the outgoing one. You'll need to take care to make sure it is adequate for you.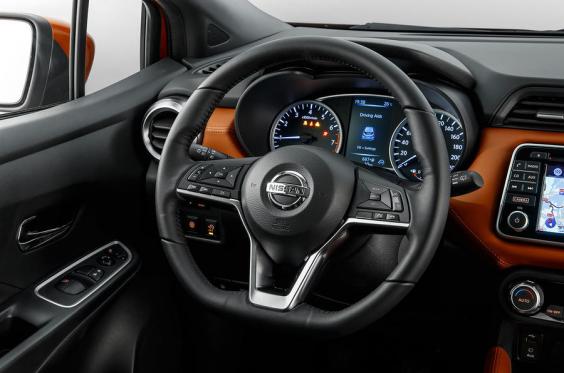 Where Nissan have done a truly outstanding job, maybe with Renault assistance, given the French firm's long reputation for a soft chassis, is the ride comfort, which proves more than a match for Britain's bumpy roads.
You can specify quite generous equipment levels which will make your Micra into quite a grown up and luxurious little machine, but it inflates the cost alarmingly. The one thing it is worth securing, on this as on any other modern car, is a reversing camera and parking sensors, given the likely cost bodywork repairs and rocketing insurance premiums. A fine investment for any car buyer.
The Micra was so called because like the Mini before it, it was aimed at the smaller end of the market.
But as the Micra and its peers such as the Vauxhall Corsa, Kia Rio, Toyota Yaris, Fiesta, Polo, Peugeot 208 and Clio have grown larger, so a newer generation of smaller city cars has arrived to take their place.
Trouble is, these models, such as the VW Up!, and my personal favourite, the Suzuki Ignis, are so good. If only Nissan made a Micra as small as the Micra once was. What would it be called, though? Mini-Micra? Micro-Micra? Micra-Micra?  
Reuse content