On-track and on-road, a hot hatch's raison d'etre is to provide thrilling performance, superb handling and look great – and it needs to have more than a smidgen of practicality, too. If it doesn't do those things, and for a reasonable price, it simply isn't a hot hatch.
The four contenders here tick all those boxes, but which excels? At a glance, here's how the Mini John Cooper Works, Peugeot 208 GTi by Peugeot Sport, Renault Clio RS 220 Trophy and Vauxhall Corsa VXR performed in a trackday head-to-head. We tried them on the road, too.
The three-door Vauxhall would be a much more tenacious handler with the optional Performance Pack, but without this it struggles to control body roll and stick to the track surface when pushed really hard. It fares better with less extreme use on the road.
Look beneath the Peugeot's lairy £945 optional paint scheme, and you find a superb drivetrain. Its rev-happy engine teamed with a no-nonsense manual gearbox give a direct and fast response to your inputs, and fill you with confidence. The Peugeot Sport package's stiffer suspension keeps your instincts super-sharp, so while you get plenty of traction its unforgiving nature can catch you out, especially on an undulating road surface.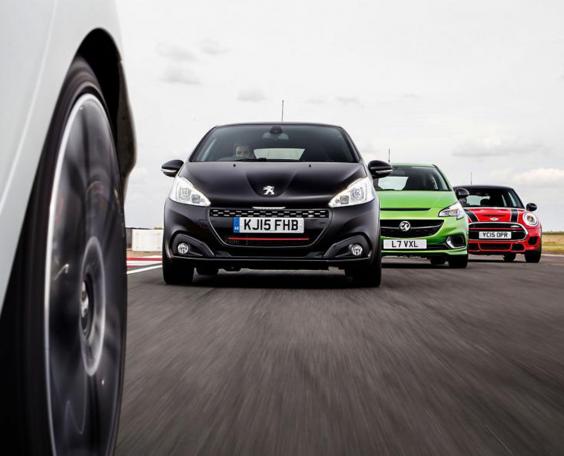 The Mini boasts the most sophisticated set-up in the group as well as the most grown-up styling, while the largest engine here gives superior pace and flexibility. Its ride is fluid and composed, even if it has a tendency to run out of traction and grip during circuit work. The Mini has never scored well for rear and boot space, though.
Unlike the Renault, which, as the only car here with five doors, automatically takes the practicality win in this company. At the limit on-track or for B-road pootling, its 1.6-litre turbo and dual-clutch auto are an appealing combo. In real-world, middle-ground road driving, though, the engine needs to be worked hard to make proper progress, while the box has strange ratios and could do with a sharper action.
We have no complaints about the responsive steering and balanced handling, which add to the fun on the circuit. The overall package makes the Renault Clio RS 220 Trophy the winner of our test.
Mini John Cooper Works Auto
Price: £24,380
Engine: 4cyl, 1998cc, turbocharged, petrol
Power: 228bhp at 5200-6000rpm
Torque: 236lb ft at 1250-4800rpm
Gearbox: 6spd automatic
Kerbweight: 1295kg
0-62mph: 6.1sec
Top speed: 153mph
Economy: 49.6mpg
CO2/tax band: 133g/km/21%
Vauxhall Corsa VXR
Price: £18,245
Engine: 4cyl, 1598cc, turbocharged, petrol
Power: 202bhp at 5800rpm
Torque: 207lb ft at 190-5800rpm
Gearbox: 6spd manual
Kerbweight:  1278kg
0-62mph: 6.5sec
Top speed: 143mph
Economy: 37.7mpg
CO2/tax band: 174g/km/29%
Peugeot 208 GTi by Peugeot Sport
Price: £21,995
Engine: 4cyl, 1598cc, turbocharged, petrol
Power: 205bhp at 6000rpm
Torque: 221lb ft at 3000rpm
Gearbox: 6spd manual
Kerbweight: 1160kg
0-62mph: 6.5sec
Top speed: 143mph
Economy: 52.3mpg
CO2/tax band: 125g/km/20%
Renault Clio RS 220 Trophy
Price: £21,780
Engine: 4cyl, 1618cc, turbocharged, petrol
Power: 217bhp at 6050rpm
Torque: 207lb ft at 2000rpm
Gearbox: 6spd dual-clutch
Kerbweight: 1204kg
0-62mph: 6.6sec
Top speed: 146mph
Economy: 47.9mpg
CO2/tax band: 135g/km/22%
Reuse content