Mercedes did it. BMW did it. Porsche did it. Bentley did it. Even so, the phrase 'Maserati SUV' is one you must have thought you'd never hear.
But the Levante is real. It's real, and it's a real Maserati. Ghibli owners will be able to confirm this as they'll recognise bits of its cabin.
They'll also be familiar with the 3.0-litre diesel engine that's the only choice in the UK. This is a 271bhp, 443lb ft unit with an eight-speed auto box bolted to the back of it, and it's good for a 6.9-second sprint while also returning 39.2mpg and 189g/km.
That's quick, but is it Maserati quick? Well, the Levante does feel its weight, with just over 2.2 tonnes of bulk giving the standard-fit air suspension plenty to think about. Poor road surfaces do confuse it at times, which isn't really how it should be in a 4x4; a good SUV will feel imperious and unruffled despite its size, but too much of the time it's struggling to find its rhythm.
It does at least settle into a smooth, strong cruise on smoother surfaces. But there's the nagging feeling that if Maserati's UK importer had opted to bring in either of the more powerful petrol engines that are available in Europe, on Britain's third-rate roads they'd have asked too much of the Levante's chassis.
Yes, this is Maserati's first attempt at an SUV. But heaven knows they spent long enough getting it ready – and it's not as if Jaguar didn't get it right first time round with the F-Pace. Next to that vehicle, and indeed to the Porsche Macan and Range Rover Sport, the Levante lacks the performance and dynamic skills to compete.
What it does have is a good driving position, and there are several nice touches in a cabin that's leather-clad as standard. There's nothing ground-breaking going on with its boot and rear seats, though, and if you want the luridly garish premium leather in our photos it'll add more than two and a half grand to the bill.
On that subject, our test vehicle would have cost £70,174 – against a list price of £54,335. There's no mistaking that this is a handsome, luxurious SUV with a premium image to go with its exotic badge… but at that sort of money, it's simply not good enough to live with the alternatives.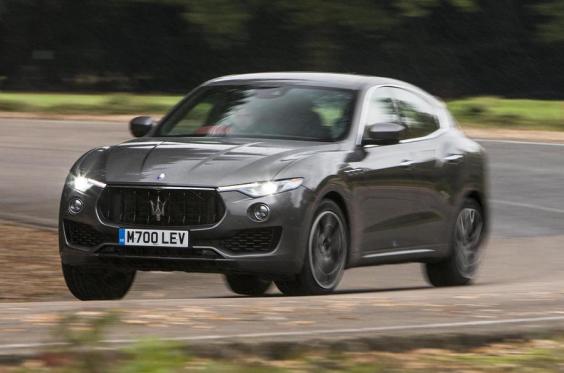 Maserati Levante Diesel
On sale Now 
Price: £54,335 
Engine:  V6, 2993cc, turbocharged, diesel
Power: 271bhp at 4000rpm 
Torque: 443lb ft at 2000-2600rpm 
Gearbox: Eight-speed automatic 
Kerb weight: 2205kg 
Top speed: 143mph
0-62mph: 6.9sec
Economy 39.2mpg
CO2/BIK tax band: 189g/km, 35% 
AUTOCAR
Reuse content