Since the basis of this GT, the normal Ceed hatchback, recently got the makeover treatment it's no surprise that they've done the same for their higher performance version. The front end has been upgraded, the brakes and wheels are bigger, the suspension is firmer and it has to be said it looks a treat inside and out. 
However the engine remains the same, with a whisker over 200bhp coming from its turbocharged 1.6-litre four-pot. That allows a decent amount of shove but it's never going to get the pulse really racing, it's just pretty good, as it was in the previous incarnation. 
It doesn't sound bad either, but then you begin to realize something doesn't sound quite right. And that's because the car has a 'sound symposer' which is a bit of electronic doo-dah that is meant to make the experience in the cabin sound so much more exciting and sporty. Frankly, if you need an artificial soundtrack then the engine really isn't doing what it ought to do. A bit weird.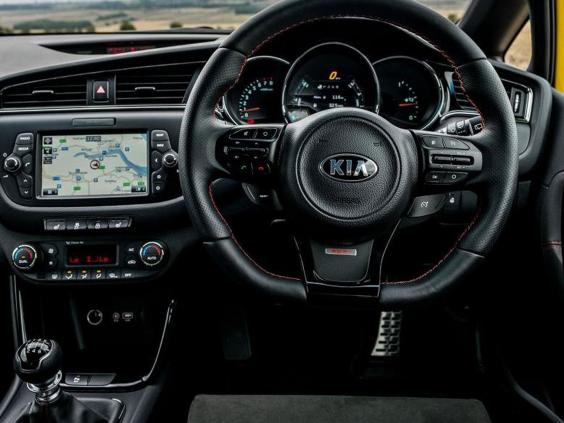 While your ears are wondering what's going on, you can actually enjoy some fairly sharp steering and handling. It's all quite direct, as is the six-speed manual box. It's fun to drive and it looks just great. 
But it doesn't sound that great and the performance needs more than a bit of extra noise to impress. The Proceed GT certainly looks the part and it's well over £4000 cheaper than a Golf GTi, but it doesn't go like a Golf GTi. But if you're prepared to accept that it doesn't go as well as it looks, then this could be a bit of a bargain. But you may want to turn the stereo up when you're driving.

Kia Proceed GT 1.6 T-GDI manual
On sale October
Price: £23,105; Engine 4 cyls, 1591cc, turbocharged petrol
Power: 201bhp at 6000rpm
Torque: 195lb ft at 1750-4500rpm
Kerb weight: 1356kg
Gearbox: 6-speed manual
0-60mph: 7.3sec
Top speed: 143mph
Economy: 28.2mpg
CO2/tax band: 170g/km / 29%

Reuse content