This is a case of twins, but not identical twins. The Renault sibling shares 60% of its components with its successful sister, the Qashqai, along with the same engine options and the same platform. But 95% of the parts you actually see are different, according to a rather sensitive Renault. 
The version we're testing here is the one that we suspect most buyers will go for as it has the most economical engine, the 1.5-litre turbodiesel. Given that the equivalent Renault is usually cheaper than the Nissan version, this entry-level diesel could well represent the sort of saving that proves a clincher. 
Although you can get this engine in the Qashqai, in the Kadjar it seems to just work really well. It can manage some overtaking on twistier roads and won't cause you any problems on the motorway either, although obviously you need to work it to a certain degree.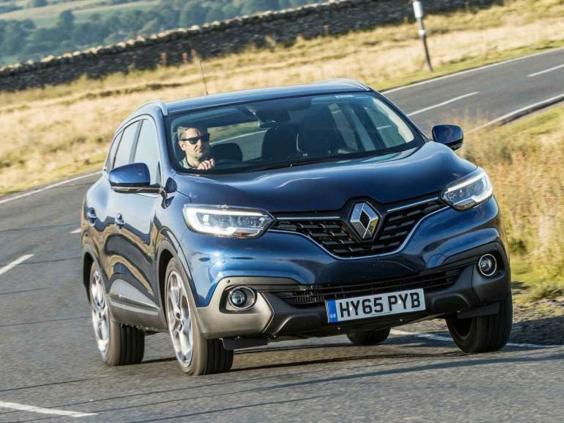 The benefits include a reasonably quiet response and some serious financial savings. Renault claim a combined fuel figure of 74.3mpg which is impressive, along with a claimed CO2 figure of just under 100g/km. Add in what should be good resale values and you have a sound business proposition. 
It actually is slightly less economical, with higher emissions and higher noise levels if you opt for the 19in alloys, so it makes all kind of sense to stick with the 17in choice, which also give a smoother ride. The handling is perfectly reasonable and the ride is fairly well controlled. 
Inside there's plenty of space for four adults and there's also that big cargo area that can take 527 litres of kit. In this trim the cabin also gains sat-nav – obviously – as well as a host of other useful stuff and is the trim we'd go for. The interior quality may not be quite as good as the Qashqai's but it's not far off, and there's a good infotainment system too. 
So the Kadjar is like the Qashqai, only cheaper. In this form it undercuts the Nissan by over £2000, yet it seems to be able to do everything the Qashqai can do. There's a sound financial argument why the French sibling comes out ahead of its British/Japanese rival. And you get an equally unfathomable name thrown in for good measure. 

Renault Kadjar 1.5 dCi 110 Dynamique S Nav
On sale: Now
Price: £22,395
Engine: 4cyl, 1461cc, diesel
Power: 109bhp at 4000rpm
Torque: 192lb ft at 1750rpm
Kerbweight: 1394kg
Gearbox: 6spd manual
0-62mph: 11.9sec
Top Speed: 113mph
Economy: 72.4mpg (combined)
CO2/tax band: 103g/km, 18%

Reuse content