You may well be puzzled already. A rally-bred Japanese performance car getting just a single star rating? What is going on? Are the reviews now being written by the Caravan Club?
After all, we're talking about a near-300bhp, four-wheel drive, rally-influenced car that looks like it has never apologized in its life. We'd better explain.
There's one engine on offer, a 2.5-litre flat-four turbocharged petrol unit. But this isn't like the one that Porsche is now using. At first it seems quite heady as the powerband feels like it's a crouching animal, waiting to spring, tensing as the revs rise, and then leaping as they pass 3000rpm. It all comes in with a mighty rush, which is quite exciting.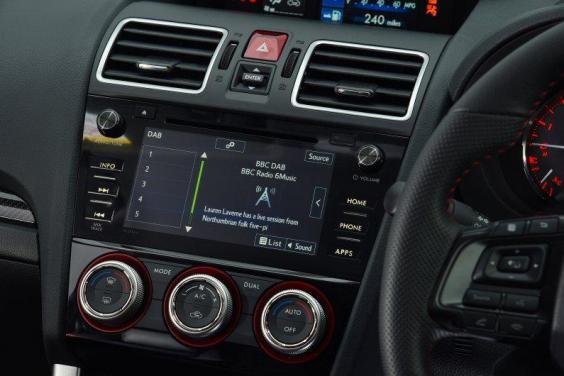 It's a job to keep up with it given the short gearing, so you're stirring the rather difficult gearbox a lot and hitting the rev limiter more often than you'd imagine. And that's it. Then you notice how hard it is to drive it normally, how often you have to change gear, how much you have to keep the revs up to avoid it getting a bit bogged down.
When you attack some corners you can feel the four-wheel drive shuffling things around to keep traction, but the steering feels oddly weighted and there's a real lack of feedback to feed your confidence. There's plenty of grip as you work the gearbox and hold tight to the wriggling wheel in your hands.
Try and back off and take it easy and you realise how firm the suspension is, never getting to comfortable at any point. It's quite wearying and wearing. This isn't like a Golf R, this feels like a car built back in the last century.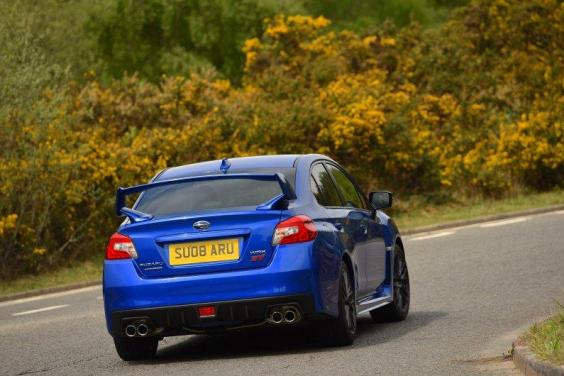 Nowhere is this more apparent than in the cabin. The infotainment is alright if slow while that odd info screen in the centre of the dashboard is both hard to read and hard to navigate. It all just feels – old.
On the other hand it is spacious. Those in front and rear all get decent headroom and legroom and the boot is sensibly spaced, helped by 60/40 folding seats for longer items, given that there's no hatchback at the rear. There are also a lot of stowage bins and bits around the cabin, including a useful shelf under the heater controls where you can stash your phone – just don't look at it while you're driving.
There's also a decent amount of kit on board, including leather and Alcantara sports seats, dual-zone climate control, USB charging points, cruise control and more – not forgetting four exhaust pipes and a rear wing the size of something you'd find on a small plane.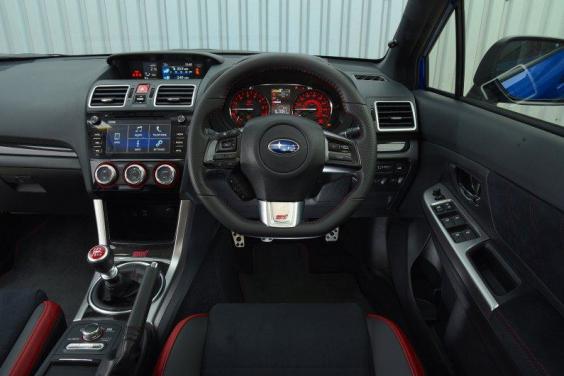 Overall, at around £32,000, the WRX STI is about the same price as a VW Golf R. For that money you get a bigger car that stands out more with lots of kit and a fair bit of horsepower, brutally delivered. What's not to like?
Well, let's talk money. In the first year the WRX STI is going to cost you £1700 in first-year charge. The VW Golf R will cost £500. This is largely because of the emissions. They are, and here's a figure to ponder, 242g/km. That's more than a Porsche 911 Turbo S, with its far superior performance. 
For company buyers that means you'll be paying through both nostrils to have this in the car park. And you'll also spend a lot of time having money hosed out of your wallet at the pumps. If you can manage 30mpg you'll be doing really well – but not driving it how it was intended, and in the only way where it is enjoyable.
Time was when these sorts of car were all the rage, and they deserved their moment in the sun. But time has moved on, and cars are now so much quicker and so much more technologically advanced, so they're economic to run and can be comfy or full-on at the flick of a finger. And for the WRX STI, it's time gentlemen, please.
Graham Scott is a write for WhatCar.
Reuse content