We all know, don't we, that a car is a statement, even when it supposed not be. Someone in a 15-year-old Hyundai Accent might be saying to the world either "yes I'm skint but I don't care about cars" (because if they did they'd drive an even more ropey old BMW, or something); or "I'm quite well off but I have better things to spend my money on than a car like going to the theatre and stuff". One of the two, variations on a theme. Even the default car of modern motoring, a new VW Golf, says that you're not boring enough to actually be "into" cars, but you can afford something decent and tasteful, and you know enough to make this particular choice.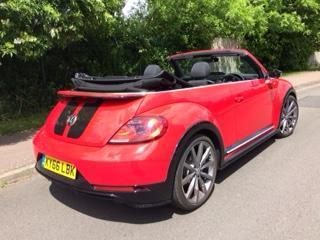 Which brings me rather neatly to the Beetle Cabriolet R-Line. This is the second iteration of the revived Beetle, which of course has nothing in common with the original Hitler-inspired, Porsche-designed one with the engine in the back. The one which, improbably with those origins, wound up Disneyfied as the anthropomorphised "Love Bug", Herbie. This modern Cabriolet (ie convertible) is based on the oh-so sensible Golf, but is anything but sensible.
Obviously, it's less practical and the pastiche styling is a matter of taste, but with the roof cut it also loses a little structural integrity. With the R-Line option – a sporty styling kit with go-faster stripes – it adds big alloy wheels and some unwisely thin tyres. That all adds up to an awful lot of disturbance if you try to hurry along on Britain's pocked roads. I ought not to exaggerate, though. On smoother roads the ride and handling are surprisingly balanced.
My test car was also equipped with most powerful engine option, the 2-litre diesel, so it could also beetle through its smooth seven-speed automatic gearbox with some alacrity. The boot is a little hatch at the back, deliberately reminiscent of the engine compartment on the original Cabriolet, a variation on that original Beetle theme, dating back to 1949. They've even stuck some plastic bits on the side to remind you of the old vestigial running-boards they used to make them with.
Really, though, the biggest thing that links this 2017 re-imagined Beetle to its forebears is that it is made in Mexico, where the last of the originals came off the line only in 2015. The Beetle Cabriolet is also a car that only suits a singleton or couple; the rear seats are unusable if the front ones have to be pushed back, and the glove box on the slabby dash isn't quite large enough for gloves. The boot does have a "ski hatch" into the cabin, though, should you need to transport anything much longer than a baguette. As I say, this isn't a Golf.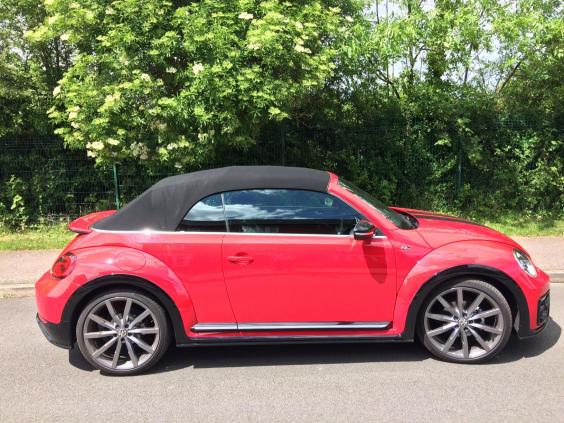 Having said all that, I loved it. Like the current Fiat 500, Mini and Ford Mustang, I applaud these retro-rides, no matter how silly and how cynical the marketing behind them may be. Blatantly, modern manufacturers are taking old classics and reworking them, but with none of the original bravery in design or trend-setting flair. The purist in me despises that, but I am just grateful that these alternatives are around, some even growing ubiquitous. The statement that the Beetle Cabriolet makes about you is that you care about cars and you are so self-confident that you can go around top-down in this sort of mash-up with Barbie Girl blaring out. You care nothing for dignity. Suits me. 
The spec
Volkswagen Beetle Cabriolet R-Line TDI
Price: £27,540
Engine capacity: 2-litre diesel; 6-speed DSG
Power output (PS): 150
Top speed (mph): 123
0-62 mph (seconds): 9.3
Fuel economy (mpg): 57.6
CO2 emissions (g/km): 129
Reuse content