As social support worker Theresa Yemisi Williams served the most vulnerable people in her community, she was keeping what she felt was a shameful secret. In the day, the 54-year-old worked to help the homeless. Unbeknownst to her colleagues and those she was helping, Williams also had nowhere to go. Every night after work she would retire to her car rather than her safe, warm home she had raised her children in. 
Having lost her three bedroom home in Tilbury, Essex in 2011, due to just £5,000 of debt, Williams would use the shower and bathroom intended for those in sheltered housing, and would covertly eat breakfast, lunch and dinner at the facility in Ilford, east London.
"No one at work knew, I kept it quiet because I was ashamed, and I didn't tell my friends," recalls Theresa. "I had a good job."
Spurred on by her traumatic experience, Williams continues to fight homelessness. In late 2016, she organised a conference at the University of East London which explored the housing first model pioneered in the US, Canada and Finland. She hopes her story will highlight how anyone, including those with stable jobs, are at risk of finding themselves with nowhere to turn.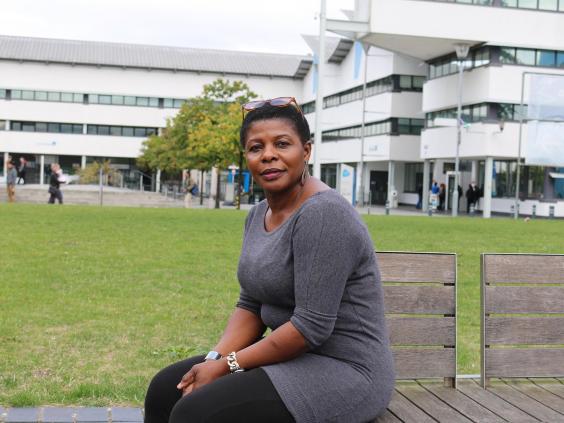 More than a quarter of a million people are homeless in England, according to analysis of official figures by the charity Shelter. Separate figures released in December 2016 show that more than 124,000 homeless children spent Christmas in temporary accommodation.  
Having worked for housing trusts and charities for homeless and vulnerable people since she arrived in the UK from Nigeria in 1996, her twin daughters, aged 15 at the time, and her 17-year-old son joined her a decade later. Like many, she bought a home during the property boom and was quickly drowning under repayments of £1000 a month.
Her first mistake, she says, was going part time in order to pursue a degree in nursing and take her career to the next level. 
"I had to leave university after six months but the damage was already done. I couldn't keep up with the mortgage and I was given a few months leeway to pay £600 but I was struggling to even pay that back because I had to feed three children."
 Before long, her mental health deteriorated and she simply couldn't cope. "At that stage I should have asked for support but I didn't know how to ask. I buried my head in the sand wishing the problem to go away." Williams stopped opening her letters, and therefore was unaware her home had been repossessed.
"I didn't know the police were coming to lock the door," she says. 
One evening after working a night shift at a homeless charity in Ilford, East London, Williams returned home at midnight to find an eviction notice reading "do not enter" on her door. With just three hours to pack up her belongings, Williams called her children - who were in their first years at university - to ask which of their childhood possession she should save. With no money to pay for storage, the collection of belongings she could retrieve was sparse. 
"I was scared. I was confused. I thought of committing suicide but I had to think of the children. It was late in the night and I couldn't wake up anyone or pay for somewhere to sleep. So I drove and went to a car park and I slept in the car park in Tilbury."
The feeling of being homeless while working to help those in the same condition is something that Williams says she cannot put into words. She admits that she was sometimes sceptical and judgemental of some people who used the services before, but that her situation gave her a profound sense of empathy, tinged with shame.
The causes of homelessness
The causes of homelessness
1/7 Family Breakdown

Relationship breakdown, usually between young people and their parents or step-parents, is a major cause of youth homelessness. Around six in ten young people who come to Centrepoint say they had to leave home because of arguments, relationship breakdown or being told to leave. Many have experienced long-term problems at home, often involving violence, leaving them without the family support networks that most of us take for granted

2/7 Complex needs

Young people who come to Centrepoint face a range of different and complex problems. More than a third have a mental health issue, such as depression and anxiety, another third need to tackle issues with substance misuse. A similar proportion also need to improve their physical health. These problems often overlap, making it more difficult for young people to access help and increasing the chances of them becoming homeless

Getty Images/iStockphoto

3/7 Deprivation

Young people's chances of having to leave home are higher in areas of high deprivation and poor prospects for employment and education. Many of those who experience long spells of poverty can get into problem debt, which makes it harder for them to access housing

Getty Images/iStockphoto

4/7 Gang Crime

Homeless young people are often affected by gang-related problems. In some cases, it becomes too dangerous to stay in their local area meaning they can end up homeless. One in six young people at Centrepoint have been involved in or affected by gang crime

Getty Images/iStockphoto

5/7 Exclusion From School

Not being in education can make it much more difficult for young people to access help with problems at home or health problems. Missing out on formal education can also make it more difficult for them to move into work

Getty Images/iStockphoto

6/7 Leaving Care

Almost a quarter of young people at Centrepoint have been in care. They often have little choice but to deal with the challenges and responsibilities of living independently at a young age. Traumas faced in their early lives make care leavers some of the most vulnerable young people in our communities, with higher chances of poor outcomes in education, employment and housing. Their additional needs mean they require a higher level of support to maintain their accommodation

Getty Images/iStockphoto

7/7 Refugees

Around 13 per cent of young people at Centrepoint are refugees or have leave to remain, meaning it isn't safe to return home. This includes young people who come to the UK as unaccompanied minors, fleeing violence or persecution in their own country. After being granted asylum, young people sometimes find themselves with nowhere to go and can end up homeless

Getty Images/iStockphoto
"I felt ashamed at the same time because I was tapping into the resources meant for them. It was like I was part of them but not part of them."
The repossession triggered more devastation. Williams received a call from her daughter's then boyfriend to tell her that she had attempted suicide. Unknown to Williams, her daughter had previously been cutting herself in an attempt to deal with the pain of the situation. 
As someone in full-time work without any small, dependant children, the local authorities could not help Williams. So, after two weeks sleeping in her car, she found a room in shared accommodation for £300 a month, where she lived for 18months. Eventually her children and her grouped together and they now rent a home together in Basildon. 
Williams sees her story not only as a cautionary tale for others, but proof that there is life after homelessness. 
"I want people to know that it can happen to anyone and start thinking of how to get support before they become homeless. I want people to know you always have a second chance and your world can be what you want it to be if you follow your faith you should seek support and get on your feet. In this country the support is there if you look. I want people to learn from my story. I lost my property because of £5000 not a lot. If I had found help sooner, maybe I'd still be in my home."
Reuse content