The unequal number of women in comparison to men in science is not an unfamiliar unfairness and the issue again stirred discontent at this year's World Science Festival. During a discussion held in New York on 3 June, an audience member spoke out after hearing a moderator talk over a female physicist.
Theoretical physicist Professor Veronika Hubeny was the only woman on the panel of six that spoke on the topic: "Pondering the imponderables: The biggest questions of cosmology."
Attendee Marilee Talkington shared her account of the talk after being outraged that Professor Hubeny was "barely given any opportunity to speak."
When the moderator for the event, author Jim Holt asked Professor Hubeny to describe her theories, Ms Talkington says that he "without letting her answer, proceeded to answer for her and describe HER theories in detail without letting her speak for herself."
"We could clearly see that she was trying to speak up. But he continued to talk over her and dominate the space for several minutes," she says.
By this point Ms Talkington says she had reached "full outrage" at the "beyond blatant" sexism.  
"With my hands shaking, I finally say from my seat in the 2nd row of the audience, as clearly, directly and loudly as possible; "Let. Her. Speak. Please!" The moderator stops. They all stop."
The moment where Ms Talkington spoke out can be heard at 1:05:38 in a video of the discussion below.
In her account, Ms Talkington describes the ensuing "explosion" of applause from the audience and attendees congratulating her after the talking for having spoken out.
When leaving the aisles, Ms Talkington describes one attendee saying to her: "Was that you? Oh god, what he was doing was horrific. Thank you. I wanted to do something but didn't know how."
Ms Talkington's Facebook post has since been shared over 14,000 times with commenters thanking her for speaking out at the talk.
"I hope it gives others courage to speak up in the moment when they witness the public silencing of women, even if it's scary, so that at some point it is no longer scary to speak up and no longer 'an event' and eventually no longer even necessary," Ms Talkington told BuzzFeed News.
Professor Hubeny also responded applauding Ms Talkington's "heroism in standing up for what you believe in!" However, she says: "I genuinely did not feel affronted or discriminated by the moderator's behaviour. It seemed more amusing to see him try posing a question in a way that at the same time tried answering it."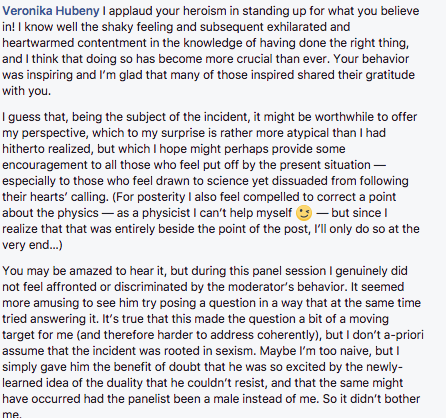 Professor Hubeny added in a statement to BuzzFeed News: "It did feel somewhat challenging to make my reply because of being spoken over, but I did not ascribe it to sexism. I can easily imagine the moderator was just overzealous and unfortunately clumsy in recognising how it could appear to others."
"Once again, let me stress my appreciation Marilee, of how you bravely stood up for your principles and values! Well done!"
Reuse content