Tiffany Dufu's first day back at work after her maternity leave and giving birth to her first child ended with her tearfully slouched over toilet in a blouse drenched in her own breast milk.
She had tried to cram the pressures of returning to work and being a new mother into a stressed six-hour period – which meant she forgot to pump her breasts between the back-to-back meetings and email catch ups.
As she writes in her new book Drop The Ball: "My breasts had exploded, and my vision of a future in which I gracefully managed both career and home had been obliterated."
A slow and steady period of 'figuring it out' succeeded before Dufu concluded that she just could not do it all, at least in the way society expected. Women have been told they can have it all outwardly but then subtly they are consistently told, through family models and advertising, their primary role is to be a wife and mother, she says.
"We're told, 'It is fine for you to conquer the world and be a powerful executive but everything still has to be managed beautifully on the home front – if it is not then you're a failure in one way or the other'. The truth is that is impossible," she told The Independent.
Women at work around the world
Women at work around the world
1/25 Coventry, United Kingdom

Cilene Connolly, 32, a Royal Mail postwoman, poses for a portrait during her postal round. "Fortunately, I haven't been faced with gender inequalities in my role as a postwoman," Connolly said. "I've had a great response from my customers for being a female delivering their post, women in particular are always pleasantly surprised to see a female face."

Reuters

2/25 Los Angeles, California

Tara McCannel, 44, Associate Professor of Ophthalmology, M.D., Ph.D., Director of the Ophthalmic Oncology Center at the UCLA Stein Eye Institute of the David Geffen School of Medicine at the University of California, Los Angeles (UCLA). "Knowledge, in abilities, in how the clinical practices go, in appearance," McCannel said."Women just can't be themselves or just think: 'Oh I'm just going to do my work,' and focus on the job. There are these other things that need to be considered because it's not completely equal even though things are getting better.

Reuters

3/25 Almaty, Kazakhstan

Julia Argunova, 36, a mountaineering instructor, poses at 3,200 meters (10,499 feet) above sea level in the Tien Shan mountains. "Physical strength benefits male colleagues in some situations on harder routes. But, women are more concentrated and meticulous. In general, women are better at teaching. My main professional task is to teach safe mountaineering."

Reuters

4/25 Moscow, Russia

Pilot Maria Uvarovskaya poses for a photograph in the A320 flight simulator at the Aeroflot training centre at Sheremetyevo airport. "Much more can be done by the women themselves to solve such problems (gender inequality)," said Uvarovskaya.

Reuters

5/25 Santiago, Chile

Claudia Concha Parraguez, 45, a pole dancing instructor, poses for a photograph in a gym. "Some students with low self-esteem smile more and feel beautiful after training. But because of the poor mentality of their husbands, who do not see this activity as a sport and associate it with something sexual, they stop attending classes," Parraguez said.

Reuters

6/25 Seoul, South Korea

Jeung Un, 27, a freelance photographer, poses for a portrait at a site which protesters have occupied. "Most news outlets prefer to employ male photographers. I feel strongly about gender inequality. When I cover violent scenes, sometimes I am harassed and hear sexually-biased remarks,"

Reuters

7/25 Nice, France

Merylee, 26, a soldier does her rounds on the sea-front. The parity in the army already exists, it is the uniform that takes precedence over gender," Merylee said.

Reuters

8/25 Rio de Janeiro, Brazil

Lina Maria da Silva, 62, a babysitter, poses for a photograph with the children she takes care of at her home in the Cantagalo slum. "I've never suffered mistreatment at work. I have always felt a lot of affection from the families I have worked with," Silva said.

Reuters

9/25 Nairobi, Kenya

Christine Akoth, 38, a metal painter: "I have experienced gender bias at my work where sometimes I'm denied contracts because of who I am and maybe my marital status. Some female colleagues have been treated unfairly because of their sex and even exploited,"

Reuters

10/25 London, United Kingdom

Dr Catherine Reynolds, 37, a scientific researcher at Imperial College: "Women are very well represented at junior levels in Biological Sciences research. At a senior level it is still true that there are fewer female professors in science, but the gap is slowly closing," Reynolds said. "More policies that promote flexible working and that support staff in taking career breaks (both men and women) are an essential way in which it is possible for employees, especially those with young families, to realise their full potential in the workplace."

Reuters

11/25 Amman, Jordan

Khawla Sheikh, 54, a plumber and a certified trainer, poses at her home's basement, where she gives plumbing training courses to other women. "Housewives are more comfortable to have a woman plumber in their house in the absence of their husbands," said Sheikh. "To tackle gender inequality, I think that all operating sectors must provide equal opportunities for men and women in all fields and each woman must believe in her capabilities and skills that she has in order to convince the others."

Reuters

12/25 West London, United Kingdom

Sarah Hunter, 31, England women's rugby captain and RFU University Rugby Development Officer for the South West, poses for a photograph at The Stoop rugby ground. "I think that if we¿ïre the right person for the right job in the workplace then so be it and the same for men," Hunter said. "I¿ïve worked for the RFU, and being what is deemed as a male sport perhaps in the past, I was welcomed into that environment and I personally haven¿ït experienced gender inequality in the workplace, so I think that I¿ïve been very fortunate in the career that I¿ïve had and in the jobs that I¿ïve had that I¿ïve been seen for the person that I am and not for the gender that I am."

Reuters

13/25 Agusan del Sur, Philippines

Filipina Grace Ocol, 40, is a backhoe operator. Ocol, a mother of three, said, "There are a few female workers that can drive big trucks and backhoe. If men can do it, why can't women do it? I'm better than the men, they can only drive trucks here but I can drive both."

Reuters

14/25 Hasaka, Syria

Laila Sterk, 22, is a Syrian Democratic Forces (SDF) female fighter: "Before becoming a fighter, I was suffering from inequality in society. But after joining the Syrian Democratic Forces (SDF), I didn't encounter that anymore," said Sterk. "This is due to the fact that when men want to join the SDF they attend educational courses about women fighting alongside them. Therefore the woman fighter leads the military campaigns just like any man."

Reuters

15/25 Andernos, France

Valerie Perron, 53, an oyster farmer, poses for a photograph on her boat. "It must not be forgotten that it is women, moms, who raise the boys. It is therefore up to us to change the mentalities by raising the boys at their youngest age, in a spirit of parity and equality with the woman. We must change the mentalities of early childhood education. A boy can play with dolls and a little girl with small cars," Perron said.

Reuters

16/25 Kathmandu, Nepal

Januka Shrestha, 25, a Tuk Tuk driver, poses for a picture. There is no difference in a vehicle driven by a woman and man. While driving on the road people sometimes try to dominate a vehicle especially when they see a woman driving it. People have even used foul language toward me. When this happens I keep quiet and work even harder to prove that we are as capable as men," Shrestha said.

Reuters

17/25 Hanoi, Vietnam

Phung Thi Hai, 54, carries bricks at a factory. Hai is among a group of 25 women working at a brick factory where she has to move 3,000 bricks a day to the kiln. "How unfair that a 54-year-old woman like me has to work and take care of the whole family. With the same work male labourers can get a better income. Not only me, all women in the village work very hard with no education, no insurance and no future," Hai said.

Reuters

18/25 Mexico City, Mexico

Jauna Diaz, 43, a street sweeper, poses for a photograph as she woks on the street. "In my previous job my boss gave preference to male colleagues and women always were paid later. Thats why I changed jobs," Diaz said. "To tackle gender inequality I think there needs to be more communication and information about women's rights in the work place."

Reuters

19/25 Istanbul, Turkey

Serpil Cigdem, 44, an engine driver, poses for a photograph at Yenikapi station. "When I applied for a job 23 years ago as an engine driver, I was told that it is a profession for men. I knew that during the written examination even if I got the same results with a male candidate, he would have been chosen. That¿ïs why I worked hard to pass the exam with a very good result ahead of the male candidates. In my opinion, gender inequality starts in our minds saying it¿ïs a male profession or it¿ïs a men job," said Cigdem.

Reuters

20/25 Beijing, China

Deng Qiyan, 47, a mother of three and a decoration worker at contraction sites, poses for a photograph at an apartment building under construction. "Sometimes (gender inequality) happens. But we cannot do anything about that. After all, you have to digest all those unhappy things and carry on," Qiyan said.

Reuters

21/25 Lima, Peru

Rocio Larranaga, 53, a surfer and surf instructor, poses for a photograph at Redondo beach. "I am the first woman to represent my country in national and international competitions since 1977," said Larranaga. "In 1995 I became a surf teacher. Lots of women surf and they are very good at it. I hope that in the future women have the same quota as men in professional competitions."

Reuters

22/25 Tunis, Tunisia

Chrifa Nimri, 69, a fisherwoman, arranges a net after returning from fishing at the seaport Sidi Bou Said. "At the beginning of my fishing career all the world told me that the trade was for men but now all my colleagues respect and call me captain," Chrifa said.

Reuters

23/25 La Paz, Bolivia

Elizabeth Mamani, 36, a reporter at Radio Union, poses inside Bolivia's national congress building. "When I started in this job, I did feel discrimination (from officials who controlled the access of members of the press to events). To counter discrimination in this profession, we as women, must excel, we must prepare ourselves in every field," Mamani said

Reuters

24/25 Karachi, Pakistan

Mehwish Ekhlaque, 26, a bike rider and trainer, poses for a photograph with her bike. "When I planned a Pakistan Bike Tour many of my male colleagues gave me a piece of advice not to do it as it's neither safe nor easy for a woman. But I did it," Ekhlaque said.

Reuters

25/25 Tokyo, Japan

Shinto priest Tomoe Ichino, 40, poses for a photograph at the Imado Shrine. In general, people think being a Shinto priest is a man's profession. If you're a woman, they think you're a shrine maiden, or a supplementary priestess. People don't know women Shinto priests exist, so they think we can't perform rituals. Once, after I finished performing jiichinsai (ground-breaking ceremony), I was asked, 'So, when is the priest coming?'," Ichino said. "When I first began working as a Shinto priest, because I was young and female, some people felt the blessing was different. They thought: 'I would have preferred your grandfather.' At first, I wore my grandfather's light green garment because I thought it's better to look like a man. But after a while I decided to be proud of the fact that I am a female priest and I began wearing a pink robe, like today. I thought I can be more confident if I stop thinking too much (about my gender)."

Reuters
Dufu believes at some point in women's lives it hits them that it is impossible to both be successful professionally and perform "flawlessly" at home. But when this happens it does not mean women are the failure, and, through her new book, she is striving to make women understand it is society's expectations of women which are in fact flawed.
Dufu, who now has a day job as chief leadership officer of Levo – a technology platform for professional women – while also being a renowned public speaker, writer and board member of several non-profit organisations supporting young women, realised that while she was advancing for the rights of women on a public platform, she was harbouring "dirty feminist secrets". Namely, that, at home, she had not been challenging the gender inbalance.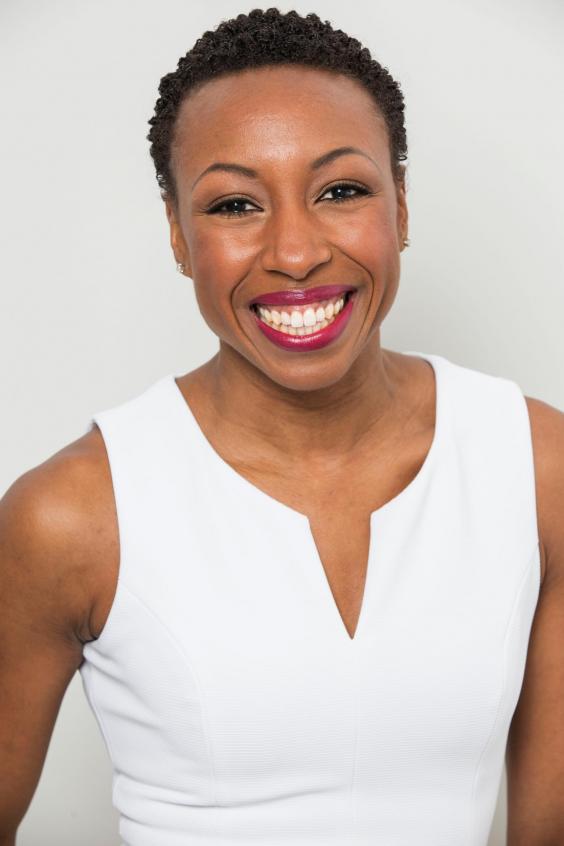 "I was on Stepford Wife auto pilot," she explains. "There was always this disconnect that I hadn't come to terms with, because as modern, empowered women, we don't want to admit we are not in the driving seat of our own lives and we have succumbed to gender norms."
Dufu says for the first eight years of her marriage to her college sweetheart Kojo the household responsibilities "fell along traditional gender lines". She cooked, cleaned, washed and moved around the country as her husband's job changed. But after having her baby, and experiencing that particularly soul-destroying first day back at work, she realised she was begining to resent Kojo.
This continued for a long period until Dufu decided to drop the ball at home, let up a lot of the micro-managing she had been doing, and call on her husband for his help in their domestic life as well as their financial life. This involved extending practises from her job into her home life. So, as she had assigned her juniors tasks at work, she later divvied up chores like cleaning the bathroom sink and vacuuming between herself and Kojo – who was more than happy to come on board and the two of them created what they dubbed a 'Management Excel List (MEL)'.
While she devotes her book and activism to women, she also thinks men need to drop the ball too. Their ball is the "unrealistic expectation that men should strive to be breadwinners at all costs" even at the cost of meaningfully engaging with their family and supporting the women in their lives, Dufu says.
In the book, she tells the story about when Kojo worked abroad in Dubai and was trying to get a job in the US partly because he missed his family. However, when he explained that he wanted to return to the US to prospective employers and peers he said it was because his wife was "nagging" him. When Dufu confronted him about it, he responded: 'Am I supposed to tell people I miss my family? That I want to take my kids to school? That I'm tired of my toddler thinking I live in a screen through Facetime? I can't say that.'"
"It is a very difficult ball for men because they are not allowed to express their commitment to their family at a way that does not jeopardise their manhood… Women are allowed to use our families as a justification to why we make decisions in our careers but men are not," she says.
Dufu decided to cultivate all her realisations about dropping the ball in a book when she noticed a pattern after all her public speaking engagements. After speaking up for the rights of women and girls on important topics like equal pay, affordable childcare and flexible working hours it would almost always end with personal questions by women in the audience, the most common one being: "How do you do it all?" She would respond time and time again with the same reply: 'I expect far less from myself and more from my husband than the average woman.'
"The woman [the audience] were seeing on stage was a very evolved woman – the new and improved Tiffany – after I had gone through my own struggle with figuring out how I was going to be successful in life… I'm able to have it all because I don't do it all," she explains.
That is the ultimate takeaway from Dufu's book: Women can successfully flourish at work and in their personal lives, whatever this may entail, but in order to do so "we have to drop unrealistic expectation of doing it all". 
Drop the Ball: Achieving More by Doing Less by Tiffany Dufu, published by Penguin Life at £14.99, is out now.
Reuse content