The insurance costs for this year's floods could top £1.5bn and end up adding around £15 to the average annual household cover.
The insurance industry has to date only published figures relating to storm damage over Christmas and the New Year, but even by 8 January the bill had climbed to £426m.
On Monday, accountancy firm PwC revised its forecast for the flooding cost in December and January upwards to £630m.
But with floods spreading in recent days to more high-density and high-cost areas such as Surrey, the bill could treble by the time the floods recede, insurance industry insiders reckon.
The last similar catastrophe was the floods of 2007, which ended up costing insurers around £3bn.
This time around, the most severe predictions put the bill at a possible £1.5bn. If the clean-up cost is that high, it could lead to a 5 per cent rise in buildings cover, which would work out as a £10 to £15 hit for each household.
However, there are set to be higher bills ahead for homes hit by floods under new proposals included in the Government's Flood Re agreement with the insurance industry, which is due to come into force next year.
Under the plans, a fund will be set up to provide payouts on properties that insurers are unwilling to cover.
The insurance industry will be asked to pay the premiums for the high-risk properties, through a levy of £180m a year, which is the equivalent of £10.50 a year on all household insurance policies.
But the industry has promised that it will not pass on the extra costs to all households. Instead, those in flood-prone areas will pay up to £540 a year for the flood-insurance element of their buildings insurance.
The proposals are aimed at ensuring no homes are left uninsurable, but they exclude leasehold flats, SMEs and private rented properties which, according to the British Property Federation, will mean that more than 5m homes and 4m businesses will not have access to the scheme. Ian Fletcher, director of policy at the Federation, warned: "By excluding millions of properties from its new flood insurance scheme, the Government is exposing people's homes and livelihoods to risk, greater financial burden and insecurity."
Insurers this week warned that thousands of homes in the Thames Valley and Somerset Levels, the areas worst-hit by current flooding, could be affected by the loophole.
How could the floods hit your property value? Homes that get flooded can see their values fall by as much as a fifth, especially if they are hit more than once. Potential buyers are obviously deterred by the clean-up costs and soaring insurance premiums.
But there is little evidence that floods actually make a home unsellable. Tewkesbury in Gloucestershire, for instance, was hit by severe floods in 2007 but while prices took a dip, average property values in the town have held up reasonably well.
It's a similar story at Cockermouth in Cumbria, which was hit by floods in 2009.
In fact, some buyers look to flood-hit areas to pick up a bargain, reckoning that spending a few grand on decent flood protection could make the deal worthwhile.
Alex Gosling, managing director of online estate agent HouseSimple, warned: "Homeowners may not see a noticeable drop in the price of their property if the flooding is a one-off event, but those with properties that are flooding repeatedly face the biggest headache.
"If buyers are going to struggle to secure mortgages on a property that has a high risk of flooding, or insurance premiums are going to be sky high, then that will have a detrimental impact on the price of the property.
"Plus it's much easier for buyers these days to identify areas of flood."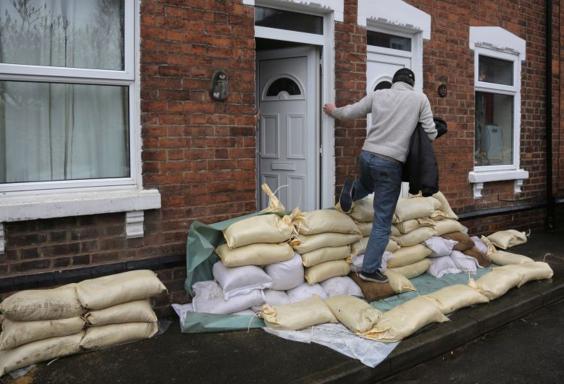 Homes that have not been flooded but are close to flood-hit areas could also find their property values falling as buyers prove reluctant to take the risk.
The Environment Agency has suggested that one in six homes in England is now at risk of flooding, which potentially leaves millions facing a hit to their home values.
Specially highly sought-after homes with water views may find the premium they have previously been able to charge for their view disappears as fears grow about flooding.
But James Wyatt of the Surrey estate agent Barton Wyatt said owners of riverside homes need not worry over the long-term: "People have short-memories – the floods of 2014 will be a distant memory in five years' time, and the lure of a riverside property will be as strong as ever."
The risk can be minimised by anti-flood measures but still may not be enough to make homes prove attractive to the wide number of potential buyers needed to achieve a decent price.
If you are forced to make a claim due to flooding, insurers have promised to speed things and made a number of other commitments to help those who have been hit.
Axa is typical in that it has pledged £1,000 as emergency payments for affected homes as well as offering alternative accommodation and setting up a 24-hour helpline.
"As soon as the flood waters retreat, we will be there to help our customers rebuild their lives by offering every ounce of support we can and by processing their claims as quickly and as sympathetically as we can," Paul Evans, chief executive if Axa, promised.
Katie Lomas of Direct Line said: "We have put our emergency action plans into place. We have people on the ground in affected areas and on the phones ready to help customers make a claim. Our priority is getting people back in their home as quickly as possible."
If your insurer fails to deliver on its promises, you can take your claim to the Financial Services Ombudsman. It said this week that it finds in favour of the consumer in more than four out of 10 complaints about building insurance it receives.
Meanwhile, if you're worried about potential flood damage to your home, the Ombudsman advises there are things you can do to protect yourself.
Speak to your home insurer to find out what you're covered for. Even if you have to pay higher premiums, it pays to know you're covered if something goes wrong.
Ask your insurer if they have any tips or requirements for preventative measures that you could take.
Keep copies of your insurance documents in a safe place. Scan and save the documents too in case the originals are damaged.
Take pictures of your property to show the condition it was in before flooding. This could help you out in a claim.
Simon Douglas, director of AA Insurance, said: "If there is a real prospect of your home being flooded, move valuable items and small items of furniture upstairs or place them on tables or worktops."
He advises people to be especially careful to protect family heirlooms, pictures or documents that can't be replaced: "Such things may have little monetary worth but considerable emotional value. It would also be good advice to move your car to higher ground if you can, away from potential flood water.
"Keep your phones fully charged, your important documents handy and keep warm, waterproof clothing ready in case the emergency services advise that you should evacuate your home. As you leave, make sure your doors and windows are locked, too."
Looking for credit card or current account deals? Search here