Marston's, one of the No Pain, No Gain portfolio's long-term constituents, has rolled out another set of acceptable figures, confirming my faith in the brewer and pub owner. The shares are, as I write, around 168p, just a fraction below their 12-month high.
There was once again an interim loss, reflecting a series of adjustments, but underlying profits improved 2 per cent to £29.6m and the half-time dividend was lifted 4.2 per cent to 2.5p a share.
Since the group was recruited in the summer of 2009, Marston's, under  the chief executive Ralph Findlay, has been in the throes  of sorting out its sprawling pub estate. When the portfolio pounced, this had a membership of more  than 2,200, thanks in part to takeover activity. The current strength is around 1,630, with the brewer continuing its policy of developing a chain of managed pub/restaurants and increasing its stock of accommodation.
New-builds, as Marston's refers to its pub/restaurants, have already topped 100, with a further eight opened in the first six months and 17 due to appear in the second half. In the next five years they  could hit 500. Some of them  include accommodation and the group is busy increasing rooms for letting.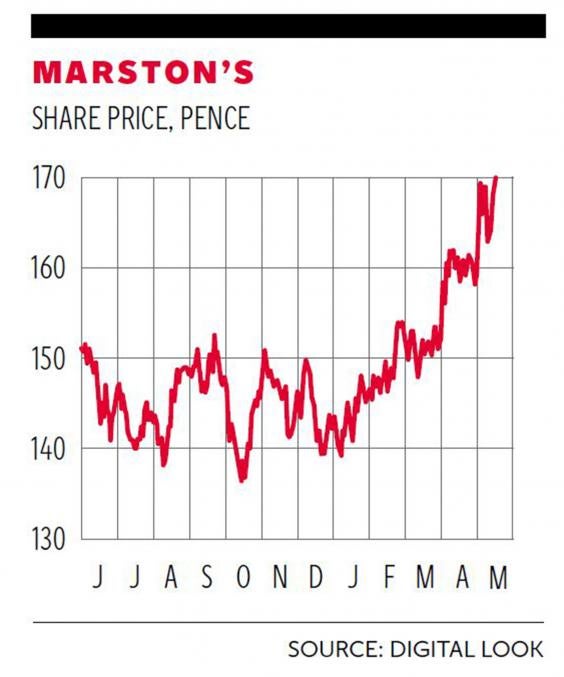 The brewer is famed for such beers as Pedigree, Brakspear and the recently acquired Wainwright, which arrived following a deal with the family-controlled Daniel Thwaites of Blackburn.
In the six months it sold 65 pubs – mostly, I suspect, low-barrelage outlets. Exceptional costs, largely of a  non-cash variety, had an impact on the half-year statutory figure, although the loss was reduced. Marston's, recruited at 95p, currently offers a dividend yield of around 4 per cent.
Now, from one of the longest-serving constituents to one of the shortest, Interserve, which joined in March and is, after some hesitation, recording a modest gain. In a trading update, the chief executive Adrian Ringrose said the international service and construction group had made a "good start" to its financial year, with a number of significant contracts clinched.
The poorest-performing portfolio member is SnackTime, a vending business.
I paid 119p for the shares just after I alighted on Marston's. It was a decision I have since regretted and, to pile on the agony, I keep wondering why I held on as the price declined and is now a mere 8p.
But there is no point in back jobbing, as the old City saying goes. To add insult to injury, any sale would now produce so little for the portfolio coffers that I might as well swallow my pride and continue to hang on.
As the shares indicate, SnackTime has experienced a disastrous time. Indeed  it has been helped by the Russian billionaire Boris Belotser- kovsky, who has pumped money into the business. Although he now controls the firm, he is shelling out  even more cash.
The company's bankers want £300,000 injected. The first £100,000, at 10p a share, will arrive this month from directors and senior management, with the Belotserkovsky camp providing £25,000. The Russian has agreed a further £200,000 by the end of November.
With a new chief executive, Mark Stone, and the support of Mr Belotserkovsky, who has extensive vending interests, I am hoping for a SnackTime revival. But it has a long, hard haul ahead and I don't think the portfolio will ever get its money back. 
@yourmoney@independent.co.uk
Looking for credit card or current account deals? Search here
Reuse content