Education and publishing group Pearson is set to announce that it is selling its Financial Times newspaper to a global, digital news company, according to a report.
Pearson, which has owned the salmon-pink business-focused newspaper for 60 years, issued a statement in response to an earlier report claiming it was to announce the sale of the title imminently.
The group said it had noted "recent press speculation and confirms that it is in advanced discussions regarding the potential disposal of FT Group".
"There is no certainty that the discussions will lead to a transaction. A further announcement will be made if and when appropriate," it added.
Journalists at the FT said they were "none the wiser".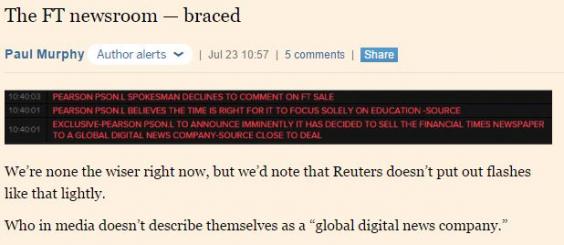 A sale of the business-focused newspaper has long been rumoured and several potential buyers were said to have been interested in a deal.
The decision reflects Pearson's attempt to focus purely on education, in which it has built up a world leading publishing business.
Reuters earlier said that a the British firm had decided to sell the FT to a "global, digital news company".
The @FTAlphaville rolling markets coverage is gold right now pic.twitter.com/cNzIAlYxYV

— Jessica Elgot (@jessicaelgot) July 23, 2015
The sale was expected to be revealed shortly, Reuters said, citing a source familiar with the transaction.
The City responded positively to the news, sending Pearson shares up 2.5% at 1239p.
Reuse content