Pearson has confirmed that it has agreed the sale of the Financial Times to Nikkei, a publisher of business and technology magazines based in Tokyo, Japan, for £844 million, payable in cash.
The agreement excludes the group's London property at One Southwark Bridge and Pearson's 50 per cent stake in The Economist. Pearson has also committed to make a contribution to its pension plan of around £90 million.
Subject to the normal checks, the deal is expected to close by the end of 2015.
John Fallon, Pearson chief executive, said that Pearson had been a proud owner of the FT for nearly 60 years, but that it was selling it now to concentrate fully on its education business. "We've reached an inflection point in media, driven by the explosive growth of mobile and social. In this new environment, the best way to ensure the FT's journalistic and commercial success is for it to be part of a global, digital news company," he said.
Here's the key "why I'm selling the @FT" part of @Pearson CEO @JohnFallon's note to employees pic.twitter.com/VKTgPzbN7X

— Peter Spiegel (@SpiegelPeter) July 23, 2015
Tsuneo Kita, chairman and group CEO of Nikkei, said he was also proud to be "teaming up" with the FT.
Pearson acted swiftly to confirm reports that began circulating this morning about a potential sale.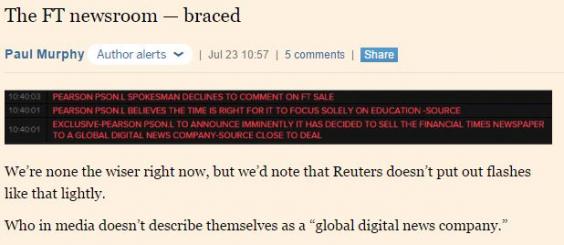 Journalists at the FT said they were "none the wiser" when the news first broke.
Reuse content