An armed robbery has been caught on camera by a passing Google Street View car in South Africa.
Images taken along Junction Road in Johannesburg showed the attack on a security firm van in February.
As the Google car approaches on the other side of the road, a white BMW can be seen pulling up behind the ADT vehicle.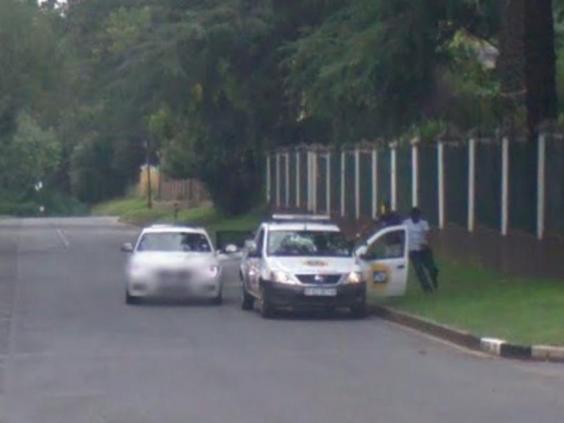 Two men then jump out and open the passenger door as their accomplice waits in a getaway car.
As the Street View car passes, a man in a large green and yellow hat can be seen holding the driver at gunpoint as he is bundled out of the van and on to the grass verge.
Seemingly either unaware or unconcerned by the mounted cameras, the robbers drag the security guard out of his vehicle and appear to search him.
By the time the Google car disappears from sight at the end of the road, the robbers are driving away and their victim cannot be seen.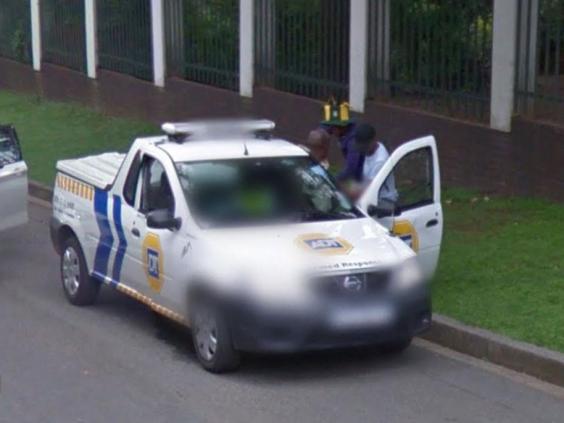 ADT is the largest security firm in South Africa and its vehicles, containing armed security guards trained as paramedics, patrol requested areas and respond to emergency calls from clients.
In the armed robbery images, the company's signs can be seen on display on the fences surrounding large properties and a guard post is just metes away.
ADT security guards are prime targets for hijacking by criminal gangs, as they often carry weapons, ammunition and body armour, the International Business Times reported.
A spokesperson for the company told The Independent that Google Street View had captured a "bona fide" incident where an employee's gun was stolen.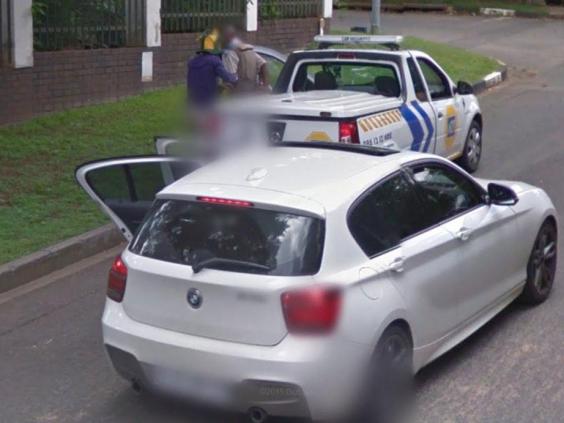 Theunis Kotze, general manager ADT Inland Region, said: "It was an opportunistic crime where an ADT Reaction Officer was held at gunpoint by two criminals in Johannesburg. No one was injured in the incident. The Reaction Officer's weapon was stolen.
"The South African Police Services (SAPS), along with ADT, investigated the incident but no arrests were made at the time.
"The Google Streetview pictures recently shared on social media and brought to the attention of ADT could possibly assist in furthering the investigation and will be looked into by SAPS and ADT."
Police recorded more than 4,200 crimes in Bramley, where the hold-up took place, in 2014, including nine murders, 495 robberies and 79 carjackings.
Reuse content