Amazon's new range of Kindle Fire tablets have hit the UK, with two new high-end devices available. The 7-inch HDX will cost £199 for the Wi-Fi version and £269 for the 4G-enabled device, with these shipping on 13 November and 27 Novemeber respectively.
For the larger, 8.9-inch tablets, the Wi-Fi only Kindle Fire HDX will set you back £329 (and ship on 19 November) whilst the larger-screened 4G device retails for £399 and begins shipping on 13 December.
Both sizes of the new Kindle Fire HDX have been given improved screens and hardware as well as an update to Amazon's Fire OS (now on version 3.0) and a new feature that might be the key selling point – a 'Mayday' button that puts users in immediate contact with an Amazon expert any time of day or night for free.
The Mayday feature is free of charge - allowing users to push a button to be put in contact with Amazon customers support (either video or audio depending on your connection quality) who you can then ask for help. The support staff can view your screen (though can request to disable this for entering passwords), draw on it to point out buttons, and even take direct control if you get stuck.
The new HDX models will be the first tablets to use Qualcomm's quad-core Snapdragon 800 processor which, at 2.2GHz, is reportedly three times faster than the previous generation. Both sizes also come with 2GB of RAM (double that of the last generation) and improved screens.
The 7-inch device has a resolution of 1920x1200 giving it a ppi of 323 (equal to Google's revamped Nexus 7) whilst the 8.9-inch has a whopping 2560x1600 resolution and a ppi of 339. The devices also have new angular backs with repositioned power and volume buttons and both are lighter than the previous generation.
Whilst the HDX are the new high-end models powerful enough to compete with Google's Nexus range, the Fire HD gets a less substantial hardware update but a significant price cut. There's a faster processor (1.5GHz up from 1.2GHz) inside thinner and lighter body, with prices starting at £119 for the 8GB version and £139 for the 16GB.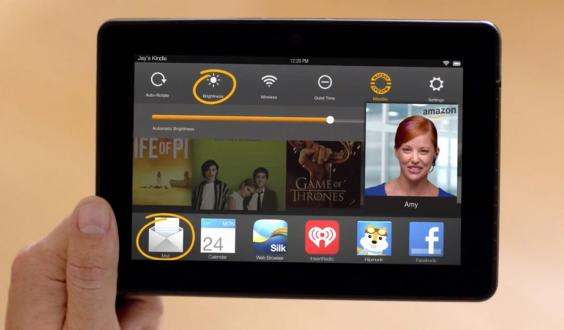 The new Fire OS (Amazon's own take on the Android operating system) now supports a grid display for apps (identical to the traditional 'app drawer') and multi-tasking – just swipe from the side to see what apps are running.
Some of Amazon's in-house software has also been updated with its X-Ray feature (an app that links up with TV shows and films to offer information such as which actors are on-screen) now covering music; adding lyrics that automatically scroll along in time with the song.
Amazon is the latest company to announce new tablets ahead of this year's holiday season: Argos launched their £99, 7-inch MyTablet at the beginning of the week,  Tesco launched a new £119 Hudl tablet last month; Microsoft has refreshed its Surface range with two new devices and Apple are set to reveal an updated iPad and iPad mini on 22 October.
Analysts from IDC are even predicting that the fourth quarter this year will be the first time tablet devices will out-sell desktops, with the more portable computers set to overtake annual sales of traditional PCs in two years' time.