The fallout from the mounting accusations of sexual assault being levelled at Donald Trump has taken another twist after several crucial Republican donors told the party leadership to cut all links with its presidential nominee.
In another development that has few, if any, historical precedents in modern US politics, they said they believed the flood of allegations of sexual assaults, which Mr Trump has denied, are threatening to further damage the party's image and long-term future.
The New York Times reported that the demands came as Mr Trump continued to try and brush off claims from a growing number of women who said he had assaulted them over the years.
At a rally in Florida, the 70-year-old candidate labelled the accusations as "outright lies" and said the media was conspiring with his opponent to try and undermine him.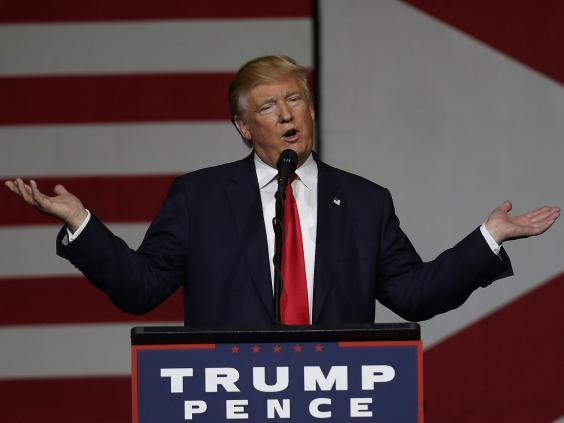 Yet despite Mr Trump's denials about the assaults, which followed the emergence of a 2005 video recording in which he boasted about sexually assaulting women, the donors said the party should disavow its candidate and concentrate on so-called "down ticket" races such as Senate and House seats.
"At some point, you have to look in the mirror and recognise that you cannot possibly justify support for Trump to your children – especially your daughters," David Humphreys, a Missouri business executive who contributed more than $2.5m (£2m) to Republicans since 2012, reportedly said.
Bruce Kovner, a New York investor and philanthropist who has given $2.7m (£2.2m) to Republicans over the same period, said: "He is a dangerous demagogue completely unsuited to the responsibilities of a United States president."
He added: "Even for loyalists, there is a line beyond which the obvious moral failings of a candidate are impossible to disregard. That line has been clearly breached."
Mr Kovner argued that the Republican National Committee should shift its attention to candidates who reflected its core values, like free markets and limited government.
"I hope the RNC. sticks to candidates who articulate these principles," he said.
Mr Trump has never had anything other than a tense relationship with the senior leadership of the party, many of whom he has attacked and dismissed as Washington insiders.
In the aftermath of the publication of the Access Hollywood recording, many of the top Republican leadership, including House Speaker Paul Ryan, said they would not campaign with Mr Trump and could not support him. They stopped short, however, of withdrawing their endorsement of the candidate.
Mr Trump hit back, saying that he felt the "shackles had been lifted" from him by their actions, and he criticised Mr Ryan as a weak leader. 
Mr Ryan told fellow members of the House and Senate that they should concentrate on their own reelection battles, a comment that was taken to indicate that he believed the presidential race had already been lost.
But the issue is not simple. Many Republicans in tight races believe they require the backing of Mr Trump's supporters if they are to win their contests and are continuing to stick with him.
The issue underscores the pressure and disharmony within the Republican establishment, few of whom wanted Mr Trump as their candidate for the White House.
Reuse content