Shares in Lufthansa and Airbus were down 4.17 per cent  and 2 per cent respectively on Tuesday as details of a plane crash emerged. See live updates here.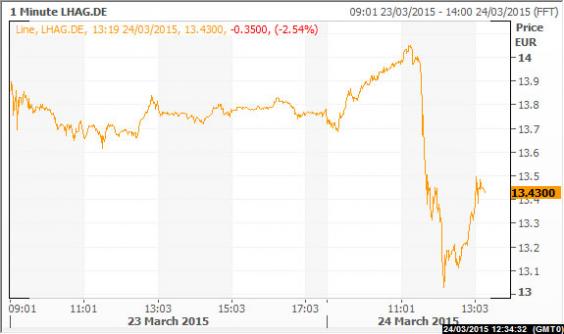 The Airbus A320 was operated by Germanwings, which is owned by the German airline Lufthansa. The plane was travelling between Barcelona and Dusseldorf when it crashed in Southern France.

It sent a distress signal 46 minutes after takeoff, but the cause of the crash remains unclear. 142 passengers, two pilots and four flight attendants are believed to be on board. French President Francois Hollande says no survivors expected The A320 is Airbus' best-selling single-aisle aircraft and is used for both shorthaul and intercontinental routes. At its annual results in February, Airbus said it was increasing production of the A320s to 50 per month to meet growing demand.
Passenger aircraft crashes in last twelve months
Passenger aircraft crashes in last twelve months
1/7 8th March 2014 - Malaysian Airlines MH370

The international passenger plane, carrying 227 passengers and 12 Malaysian crew members, disappeared en route to Beijing from Kuala Lumpur. An investigation into the plane's disappearance is still ongoing.

Getty Images

2/7 17th July - Malaysian Airlines MH17

Malaysian Airlines Flight 17, from Amsterdam to Kuala Lumpur, was shot down over Ukraine. There were 283 passengers and 15 crew on board. There were no survivors.

EPA

3/7 23rd July - TransAsia Airways Flight 222

TransAsia flight, carrying 58 people, crashed en route from Kaohsiung to Penghu, Taiwan. There were 10 survivors.

Wikipedia

4/7 24th July - Air Algerie

International passenger flight from Ouagadougou, Burkina Faso, to Algiers, Algeria came down in Mali with 110 passengers and six crew on board. There were no survivors.

5/7 28th December - AirAsia Flight 8501

AirAsia Flight 8501 disappeared en route to Singapore from Surabaya, Indonesian, carrying 155 passengers and seven crew. The wreckage was discovered in January but there were no survivors.

AP

6/7 9th March - Villa Castelli helicopter collision

Two helicopters collided mid-air near Villa Castelli, killing all ten people on board. Three of those killed were well known French athletes partaking in a reality TV show.

7/7 24th March - Germanwings Airbus A320 crash

A stele in memory of the victims of the Germanwings Airbus A320 crash is pictured in the small village of Le Vernet, French Alps, near the site where a Airbus A320 crashed on 24 March
Reuse content