Disney's chief Bob Iger recently announced that his media and merchandising empire would soon be launching one of its biggest ever theme-park expansions: a "jaw-dropping new world", sprawled across Disney's parks in Florida and California, exploring the Big Mouse's newly purchased mega-franchise, Star Wars.
With the latest film (episode seven of a planned nine) set to hit movie theatres in December, the world is already in the first hours of what Disney hopes will be an infinite, imaginary empire, its Star Wars blockbusters and theme parks fuelled by, and helping fuel, Disney's store-conquering merchandising machine.
Even before Disney assumed control of the Star Wars brand in 2012, the $180bn (£115bn) behemoth was the strongest merchandising force in the galaxy, with Marvel, Pixar and box-office giants such as Frozen helping bring the company billions in revenue every year.
But with the help of the Jedi knights and decades-old grandeur of the Star Wars universe, analysts said Disney had set its sights on nothing less than world domination of theme parks, toys and beyond for potentially decades to come.
Following Star Wars: The Force Awakens this year, the media giant has two more films in the works, taking it through to 2020.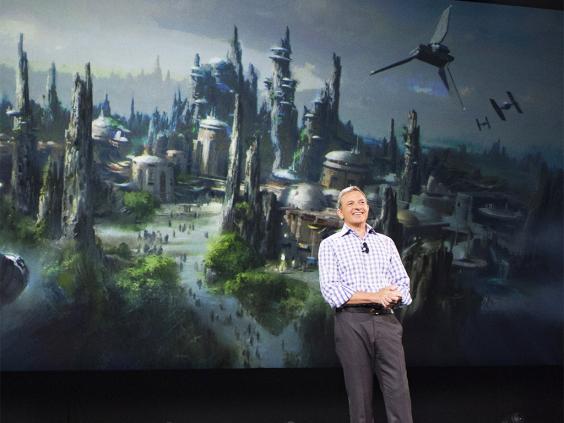 "The canon is big enough that they can spin off stories for the rest of time," said Len Testa, the co-author of The Unofficial Guide to Walt Disney World.
Mr Iger has not said when the elaborate theme parks will  open, although construction on the park in Anaheim, California, will start in 2017. But analysts agree that it hardly matters. During their construction, Disney theme parks will profit from Star Wars through a few smaller moneymakers: Star Wars Launch Bay, a courtyard of costumed characters and film props, opening later this year; Season of the Force, a limited-time event starting early next year with themed space-food offerings and fireworks shows set to the Star Wars score; and even a remodeling of the famed Space Mountain roller-coaster, which will soon be Hyperspace Mountain.
The hype over Disney's theme parks lands only a few weeks before "Force Friday" – Disney's stores, online shops and global retailers  will open at 12:01am on 4 September to unveil new apps, books, collectibles, toys, "lifestyle accessories" and other merchandise.
Disney is already showcasing lines of Star Wars merchandise, including a $399 Return of the Jedi poster and a $149 R2-D2 model with a swiveling arm and drinking glasses – both of which you can buy with your Star Wars credit card.
Force Friday is being turned into consumer spectacle along the lines of Black Friday; fans have even kept countdowns. Disney has also announced collaborations with seven big consumer brands – Cover Girl/Max Factor, Duracell, the car maker Fiat Chrysler, the breakfast cereal giant General Mills, Hewlett-Packard, Subway and Verizon – which have each developed their own marketing campaigns.
"Every lightsabre, every action figure, every Lego set tells a story for generations of Star Wars fans," said Josh Silverman, an executive of global licensing at Disney Consumer Products.
Disney's Star Wars rollout in coming weeks will probably best even that for Frozen, the cheeky princess tale that became both the highest-grossing animated movie in history and Disney's 11th franchise to drive more than $1bn in annual retail sales.
But it doesn't stop there. Disney Cruise Lines will run eight one-day Star Wars cruises in the western Caribbean next year, including meet-and-greets with characters such as Chewbacca. Even the way visitors get into Disney's parks, via the wrist-worn MagicBands, have been given the Star Wars treatment: limited-release bands with Luke Skywalker and a stormtrooper sell for $24.95.
Star Wars: The Force Awakens in pictures
Star Wars: The Force Awakens in pictures
1/3 Star Wars: The Force Awakens

The new light saber in Star Wars: The Force Awakens

Star Wars

2/3 Star Wars: The Force Awakens

JJ Abrams' seventh Star Wars, The Force Awakens

Star Wars

3/3 Star Wars: The Force Awakens

Storm Troopers in the Star Wars: The Force Awakens teaser trailer

Star Wars
The Force Awakens premieres in December, and Morgan Stanley analysts this summer projected it would make more than $2.3bn in ticket sales worldwide, making it the second-biggest box-office seller in history, between Titanic (released in 1997) and Avatar (2009).
Star Wars holds unprecedented cross-generation appeal – many viewers of the 1977 original are still fans today – and a virtually unstoppable media powerhouse. Even the second trilogy, which launched with Episode I: The Phantom Menace in 1999 – which, with its interstellar trade embargoes and Jar Jar Binks, was widely panned by critics – grossed $2.5bn worldwide.
But Mr Iger has said the Star Wars marketing machine comes with its own risks, including the possibility of burn-out among toy buyers.
As he told Bloomberg Businessweek in 2013: "I don't want to over-commercialise or over-hype this. It's my job to prevent that."
© Washington Post
Reuse content