When The Donald arrived in Atlantic City, it was a boom town – a playground for New Yorkers who fancy a flutter out of town. Donald Trump plonked no fewer than three massive casino resorts in its neon-lit centre: the Trump Marina, the Taj Mahal and the Borgata.
That was in the 1980s, 1990s and 2000s. But now a very different Atlantic City is gracing Jersey Shore – a city in the grip of a looming crisis.
This week, Trump Entertainment Resorts announced it was shutting the Trump Plaza, a hotel and casino employing more than 1,000 locals. It was the fourth of its kind in recent months, taking the jobs cull to 8,000 – one in five of the city's population.
He of the fringe no longer controls the business, having seen his stake chipped away by a series of bankruptcy court procedures since the 1990s. But the outspoken tycoon still has a view: "I'm very sad for Atlantic City. I spent many years there, as you know," he told The Philadelphia Inquirer. "I feel badly, but Atlantic City is a different place now. What's happening in Atlantic City is happening all over the country."
He continued: "Atlantic City is getting clobbered – 75 per cent of the casinos in Atlantic City are bankrupt or going through bankruptcy. The other 25 per cent are on the respirator."
The reason, he said, is simple: "There are too many."
It its heyday, Atlantic City was the jewel of the New Jersey shore, boasting the only casinos east of the Mississippi and attracting at least 30 million gamblers and holidaymakers every year from throughout the eastern US. Tough rules in neighbouring states prevented gambling emporiums from trading, leaving residents with no choice but to head out of state to play in "AC".
Fed up with seeing their residents spending their hard-earned pay in New Jersey, in 2006 and 2012 Pennsylvania and Maryland opened casinos. Massachusetts passed a Bill legalising them in 2011, and last year New York State voted to deregulate.
They may have been nearly 40 years behind but they have been catching up fast, with casinos appearing at an astonishing rate.
Atlantic City, once dubbed America's playground, is losing its fizz. It is learning that, despite being the nation's fun park since the 1800s, its past is not enough to keep it alive in the future. That famous boardwalk, with its shades of the 1920s gangster glamour recreated in the hit TV series Boardwalk Empire, is becoming emptier by the month.
For a local economy where the gambling industry has traditionally made up 70 per cent of the property tax base, it is fast realising that it has to diversify or die.
Its peak was in 2006, when the "win" for its casinos reached $5.2bn, but since then that jackpot has fallen every year, to just $2.8bn (£1.6bn) in 2013 – the lowest in 25 years.
Municipal bond experts at the ratings agency Moody's recently downgraded Atlantic City's credit rating in the face of dwindling gambling industry tax revenues, an increasing debt burden and the relative poverty of its residents.
Moody's said: "Median family income is 56 per cent of the national median … The unemployment rate (15.3 per cent) as of July 2013 is well above state and national averages. Poverty is exceptionally high, with  24 per cent of the city's population below the poverty level."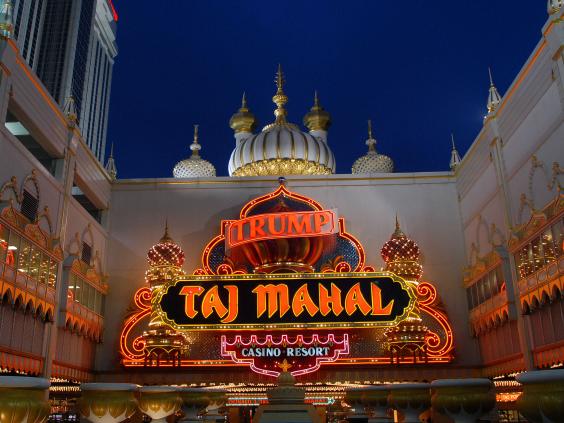 It added: "The city's casinos accounted for approximately 70 per cent of its tax base in 2012 – a very substantial industry exposure which makes the city particularly vulnerable to tax appeals and downturns in the industry."
Atlantic City's casinos have been successfully appealing against their tax bills – which are calculated using a combination of factors including income and recent sales of comparable properties – losing the town a fortune in income.
The total value of its properties has fallen from more than $20bn in 2010 to $11bn in this year. So, to survive, Atlantic City has to become more than a gambling destination.Howard Cure, managing director of municipal bond research at Evercore Wealth Management, says the city has to diversify – like Las Vegas has done. There, gambling now makes up only one third of revenue at casinos, with restaurants, retail and entertainment making up the rest.
"Short term, I think they are in for some difficult times," said Mr Cure. "Longer term, they really need to figure out a way to stabilise their business … they are under a lot of pressure."
Atlantic City's Mayor and economic development officials are alive to the challenge. They have vowed to make the town less reliant on gambling and more of an all-round resort for holidays, conventions, concerts, leisure and retail – and possibly even a technology hub and college campus town. "Consider that Atlantic City was host to nearly 39,000 slot positions [machines] in 2006," says the Atlantic City Mayor Don Guardian. "Pennsylvania, New York and Maryland have since nearly doubled the number of regional slot positions, adding 36,000 – with more to come.
"Fortunately, this trend of increased supply and competition isn't a surprise to Atlantic City. We're making significant progress in our transition to a destination that relies less on casino gambling and more on a comprehensive mix of attractions to draw tourists to the Jersey Shore."
Mr Guardian said his city would undergo a "transition from casino-centric market to multi-faceted tourism destination", and that non-gambling sectors in the town were "showing significant and sustained growth".
The city has a "Casino Reinvestment Development Authority" whose executive director, John Palmieri, said: "In Atlantic County, non-gaming revenues have increased by $240m, from $4.72bn in 2010 to $4.96bn in 2013.
"Within Atlantic City, non-gaming revenues have increased by more than $160m in just two years and are now approaching $1bn annually."
Liza Cartmell, chief executive of the Atlantic City Alliance, said: "We're proud to host A-list performers such as Lady Gaga, who did a sold-out show at Boardwalk Hall earlier this summer, and feature top-flight entertainers in free concerts.
"We just concluded the Sand Sculpting World Cup and look forward to welcoming AVP pro beach volleyball back to Atlantic City in the months to come."
Caesars Entertainment, the largest casino operator in Atlantic City, is investing $126m in a new convention centre.
"Atlantic City's revitalisation won't happen overnight, but as we continue to diversify our offerings, attract new investment, maximise our material assets and identify new and innovative ways to promote our differentiating characteristics, Atlantic City will grow stronger and stand taller for having experienced its recent challenges," said Mr Guardian.
Bruce Springsteen, no less, perhaps New Jersey's most famous son, wrote some poignant lyrics in his song "Atlantic City" that currently ring true:
"Gonna be a rumble out on the promenade and the gamblin' commission's hangin' on by the skin of its teeth …
Well I guess everything dies, baby, that's a fact
But maybe everything that dies some day comes back."
Well, Atlantic City is not dead yet – and there is an army of people working hard to make sure that it does come back.
Reuse content