Ask anyone at Ford what kind of business they work  for and the answer you will get is not a carmaker, it is a "mobility company".
While the manufacture and design of vehicles has changed dramatically in its 113-year history, the American giant has ostensibly always been a carmaker. Now it is much more than that.
The wheels of change are in motion at Ford, which says it is at "an inflection point" – a phrase more frequently used by start-ups on the verge of hitting the big time.
But the Detroit-based group is under no illusion that it is make or break as driverless cars become a genuine prospect and as ride-sharing companies such as Uber make it less desirable to own a car.
"We've been very intentional about expanding our business to become an automaker and a mobility company," Ken Washington, Ford's vice-president of research and advanced engineering, explained at this week's Mobile World Congress trade show in Barcelona.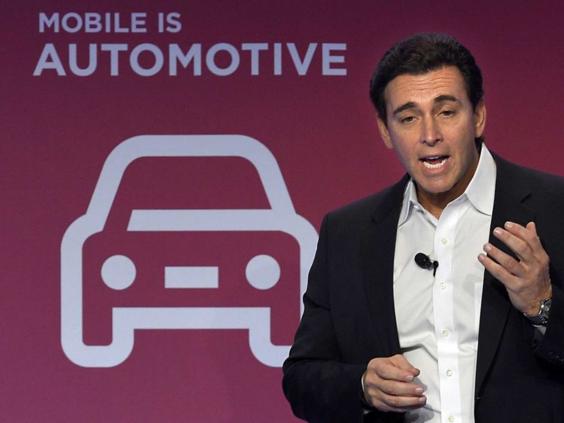 "The kind of tech for which we've been known for over a hundred years is the kind of tech mindset we're bringing to our mobility journey. 
"So we've set about putting a strategy in place to become a mobility provider. That involves connectivity, new modes of mobility, autonomous vehicles, data and analytics, and consumer experience. Increasingly, we're making progress on all five fronts."
That might all sound rather fuzzy, but there's a good reason for that: Ford is still not exactly sure what the future of cars will look like. 
However, it is a mark of Ford's conviction in its new direction that it had the largest presence of any carmaker at Europe's premier technology event, which is inundated with smartphones, tablets, wearables, and an assortment of other gizmos.
In two years since Mark Fields took charge as Ford's chief executive, the landscape of the industry has changed completely. Carmakers are battling against falling sales, while the cars themselves are becoming cheaper but also more reliable, meaning they need to be replaced less often. 
And then there is Uber. The ride-sharing start-up phenomenon, which is now more highly valued by investors than Ford, has changed the game with cheap trips and easy booking, making owning a car in the city even more optional.
But Uber's success has brought with it plenty of negative press, including concerns about its background checks – which have in the past allowed murderers and rapists to become drivers – and bans across big cities.
Business picture of the day
Business picture of the day
1/31 G7 world leaders say Brexit poses a serious risk to global growth - Friday May 27

Seven leaders have warned of the risk to global economy if Britain votes to leave the European Union in a referendum next month. The UK leaving the European Union would "reverse the trend towards greater global trade and investment, and the jobs they create, and is a further serious risk to growth," leaders said in a joint declaration at the G7 meeting in Japan.

Reuters

2/31 Fast food workers demonstrate for better wages - Thursday May 26

Demonstrators calling for an increase in the minimum wage to $15-dollars-per-hour protest outside of McDonald's corporate headquarters on May 25, 2016 in Oak Brook, Illinois.

Getty Images

3/31 Steelworkers march in London as Tata sale talks continue - Wednesday May 25

Hundreds of steelworkers from across the UK marched through Westminster to keep up pressure for government help for their industry

AP Photo/Kirsty Wigglesworth

4/31 Google Paris headquarters raided as part of tax payment probe - Tuesday May 24

The message 'I'm feeling lucky' is seen on the facade of the entrance of Google's Paris headquarters on May 24, 2016 in Paris, France. Google's headquarters in Paris were raided by French investigators on Tuesday morning as part of an investigation over alleged tax fraud. Ministry of Finance is seeking €1.6 billion ($1.79 billion) in back taxes from the US Internet giant Google.

Getty Images

5/31 Bayer offers to buy Monsanto for $62 billion cash - Monday May 23

Monsanto DeKalb brand hybrid corn sits in the hopper of a Case IH planter in a field in Princeton, Illinois, US. Bayer, on Monday, made an unsolicited $62 billion all-cash offer to acquire Monsanto to create the world's biggest supplier of farm chemicals and genetically modified seeds, a proposed acquisition that would be the biggest corporate deal by a German company.

Getty Images

6/31 Fracking approval under consideration - Friday May 20

Councillors in North Yorkshire on Friday considered whether to approve fracking in England for the first time since a ban on the technique was lifted in 2012. Campaigners say approval would set a "dangerous precedent".

Getty Images

7/31 'Oppenheimer Blue' diamond sells for £40m, setting new record - Thursday May 19

The world's most expensive diamond has set a new record after it was sold at auction - for more than £39 million. At 14.62 carats, the 'Oppenheimer Blue' was the largest Vivid Blue diamond ever to go under the hammer.

Reuters

8/31 Mitsubishi Motors president to resign over fuel scandal - Wednesday May 19

Mitsubishi Motors President Tetsuro Aikawa will step down as the Japanese automaker looks to regroup from its widening fuel economy testing scandal with the backing of Nissan Motor. Aikawa, 62, and Executive Vice President Ryugo Nakao will leave their positions effective June 24, according to a statement Wednesday.Prior to the scandal, Mitsubishi was the sixth biggest carmaker in Japan and ranked 16 worldwide.

Reuters

9/31 Harmony of the Seas: Biggest cruise ship in the world docks in Southampton - Tuesday May 17

The worlds largest cruise ship, the 361 metres long, Harmony of the Seas, arrives in port for her mayden voyage, in Southampton, Britain May 17, 2016. The 362-metre-long Harmony of the Seas cost $1 billion (£700 million) and is larger than the Eiffel Tower.

Reuters

10/31 Barclays to sell secret London gold vault - Monday May 16

Barclays has sold its metals business, including a secret gold bullion vault in London which can hold up to 2,000 tonnes of gold. ICBC Standard, China's biggest bank, expects the purchase to be completed in July. Barclays decision to exit the business comes as US and EU regulators investigate whether 10 banks, including Deutsche Bank and Barclays manipulated prices of precious metals such as silver and gold.

Getty Images

11/31 Bank of England warns EU referendum vote could damage UK economic growth - Thursday May 12

The Governor of the Bank of England, Mark Carney, warned today that a majority vote to "leave" in next month's European Union referendum carried the risk of a "technical recession" for the UK. His words came as the Bank slashed its growth forecasts citing uncertainty created by next month's Brexit referendum - and warned, in addition, that a vote to leave could push up unemployment, send the pound plummeting and result in a spike in inflation.

Getty Images

12/31 EU blocks Three's takeover of O2 - Wednesday May 11

European Union Commissioner for Competition Margrethe Vestager talks to the media after the EU Commission prohibited Hutchison's proposed acquisition of Telefonica UK, at the EU Commission headquarter in Brussels on May 11, 2016. The European Commission shot down Telefonica's blockbuster sale of British telecom giant O2 to Hong Kong group Hutchison on fears it would inflict higher prices on British consumer

Getty Images

13/31 Budweiser just renamed its beer to "America" - Tuesday May 10

The beer, formerly known as Budweiser, is going for what it calls "patriotic packaging" this summer. The brand name on most cans and bottles will read "America", and will include phrases from the Pledge of Allegiance and lyrics from The Star Spangled Banner and America the Beautiful. "We thought nothing was more iconic than Budweiser and nothing was more iconic than America," Tosh Hall, creative director at JRK, told Fast Co Design.Anheuser-Busch InBev, the Belgian-Brazilian brewing giant, filed the America label for approval from the Alcohol and Tobacco Tax and Trade Bureau, and has received the go ahead for use on 12-ounce cans and bottles.

Budweiser

14/31 Canadian wildfires push up oil - Monday May 9

Crude rose as expanding wildfires in Canada knocked out about 1 million barrels a day of output. Futures increased as much as 2.9 per cent in New York and 2.5 per cent in London. The blaze has led to cuts equivalent to about 40 percent of Canada's oil-sands production, based on IHS Energy estimates.

Reuters

15/31 Hotel Chocolat founders make £20m each from stock market debut - Thursday May 5

Angus Thirlwell and Peter Harris share £43.5m of £55.5m raised through flotation of luxury chocolate company

Getty Images

16/31 BHP Billiton faces £30bn compensation claim over Brazil dam disaster - Wednesday May 4

BHP Billiton and its partner Vale are facing a 155bn real (£30bn) claim from Brazilian prosecutors over a dam collapse last year at one of their iron ore mines, which killed 19 and left 700 homeless. Shares in the London-listed BHP plunged almost 10% after the charges were revealed into what is being called Brazil's worst ever environmental disaster.

Getty Images/ Douglas Magno

17/31 Australian Craig Wright claims he is Bitcoin creator Satoshi Nakamoto - Tuesday May 3

Australian businessman Craig Wright has claimed to be the person behind "Satoshi Nakamoto", the mysterious identity that created much of the technology behind the online cash system. Sato

REUTERS/Benoit Tessier/

18/31 Museums face ethics investigation over influence of sponsor BP - Friday April 29

Protesters carrying umbrellas take part in a flashmob performance, protesting against British Petroleum's (BP's) sponsorship of the British Museum in central London on September 13, 201

NIKLAS HALLE'N/AFP/Getty Images

19/31 Volkswagen bosses to be paid £49m despite record losses after emissions scandal - Thursday April

Volkswagen is to pay 12 current and former managers €63.24 million (£49m) for 2015, a year of record losses for the company following its global emissions scandal.

Reuters/Fabrizio Bensch

20/31 Comcast 'in talks to buy DreamWorks for $3bn' - Wednesday April 27

Comcast, the parent of Universal Pictures, is in talks to acquire DreamWorks Animation for more than $3 billion, the Wall Street Journal reported, citing people familiar with the discussions. Buying the maker of the "Shrek" and "Kung Fu Panda" movies would bolster Comcast's collection of animated films as the largest US cable provider searches for ways to grow amid a trend of cord-cutters dropping TV for online video services like Netflix.

21/31 Scottish Power fined £18m for poor customer service - Tuesday April 26

Scottish Power has agreed to pay £18 million for failing to treat its customers fairly. The fine – of which up to £15 million will be paid to vulnerable Scottish Power customers and £3 million to charity - is the third biggest penalty given to one of the major six energy providers. It follows an investigation by the industry regulator Ofgem into the firm's customer service.

PA

22/31 BHS goes into administration with 11,000 jobs under threat - Monday April 25

BHS has filed for administration, putting 11,000 jobs at risk. Administrators Philip Duffy and Benjamin Wiles of Duff & Phelps said BHS had "no alternative but to put the group into administration to protect it for all creditors". The group will continue to trade as normal while administrators look for someone to buy the chain. READ MORE BHS on the brink of collapse: everything you need to know The high street store has been unable to find £60 million in emergency funding needed to pay wages and rent and stop it going under.

Getty Images

23/31 New £20 note design and personality unveiled by Bank of England - Friday April 22

Artist JMW Turner and his painting The Fighting Temeraire will feature on the new design of the Bank of England's £20 note to enter circulation in 2020. The English Romantic artist was chosen from a list of public nominations - the first time the Bank has asked who should appear on a specific banknote. The note, to be made of polymer, will eventually replace the current £20 note featuring the economist Adam Smith.

The Governor and The Company of The Bank of England

24/31 Mitsubishi office raided in Japan as shares slide towards record low on fuel economy test scandal - Thursday April 21

The offices of Mitsubishi have been raided in Japan after the company admitted to falsifying fuel economy data, sending shares plummeting 35 per cent in two days. Investors watched in horror as the stock price fell a further 20 per cent on Thursday to trade around 583 yen following a raid on the Mitsubishi plant in the central Japanese city of Okazaki. Trading was halted due to the surfeit of investors trying to sell stock. More than third of the company's value evaporated in the sell-off.

25/31 Oil tumbles as Kuwait strike ends - Wednesday April 20

The oil price is in retreat this morning after Kuwaiti workers ended a three day strike. Brent crude has slumped by 2.5 per cent already, down over $1 to $42.95 per barrel, as traders anticipate more oil flowing from Kuwait again. Workers had walked out on Sunday, protesting against austerity cutbacks that will hit their wages and benefits. It's not clear what concessions they have been handed.The strike by oil workers has slashed Kuwait's output, but the state oil firm, Kuwait Petroleum Corp, said it had managed to restore some affected production

Getty Images

26/31 Netflix shares nose-dive on growth and pricing fears - Tuesday April 19

Netflix shares plunged nearly 11 per cent in after-hours trading on Wall Street over fears the video streaming company's growth is stalling as it faces an attack on its market share from Amazon. Numbers were lower than analysts, who had anticipated 580,000 in the US and 3.5 million globally, were looking for. It has 81.5 million users worldwide.The video streaming group, home to House of Cards and Marco Polo, posted a first-quarter profit of $28 million (£19.6 million), up $4 million on last year.One reasons for the slowing growth is that the company has been pushing up its charges. It is also facing tough competition from Hulu and Amazon, which unveiled a new monthly subscription pricing model yesterday.

27/31 The Treasury Brexit equation - Monday April 18

These are the equations at the heart of the Treasury's economic model, which is designed to quantify the impact of Britain leaving the European Union. It's this model that produced the result cited by Chancellor George Osborne today that the economy could be 6 per cent smaller in 2030 (relative to staying in the EU) and each household £4,300 worse off.

28/31 Chinese growth slides - Friday April 15

China's economy grew at its slowest pace since 2009 in the first three months of the year, although there were signs that the world's second-largest economy was stabilising. The so-called Dragon economy grew 6.7 per cent in the first quarter, official figures showed. That was down slightly on the previous quarter's 6.8 per cent but in line with Beijing's forecasts. Chinese banks issued nearly double the amount of new loans in March than in February while retail sales growth accelerated from 10.2 per cent to 10.5 per cent and industrial output advanced from 5.4 per cent to 6.8 per cent, well ahead of expectations.

Qilai Shen/Bloomberg via Getty Images

29/31 Fifty biggest US companies stashing $1.3trn offshore - Thursday April 14

The 50 biggest US companies, including Coca-Colam Walt Disney, Alphabet (Google) and Goldman Sachs, have more money stashed offshore than the entire GDP of Spain, Mexico or Australia, collectively keeping about $1.3t trillion (£0.91trillion) in territories where the money does not count towards US tax, according to a new report by Oxfam.

Denis Kartavenko (c)

30/31 Activists seek transparency in Panama Papers aftermath in Berlin - Wednesday April 13

Activists wearing suits throw fake money into the air while demanding greater transparency in new legislation following the ongoing Panama Papers affair on April 13, 2016 in Berlin, Germany

by Sean Gallup/Getty Images

31/31 IMF warns Brexit will create 'severe global damage' - Tuesday April 12

The IMF has slashed the UK's growth forecasts for this year, saying uncertainty created by the Brexit referendum in June is already hurting the domestic economy. It is a major intervention from the IMF into the referendum debate. The IMF's managing director Christine Lagarde has previously spoken about the negative economic impact of Brexit. But this is the first major warning from the Fund itself. The IMF cut its 2016 GDP growth forecast for Britain to 1.9 per cent, down from the 2.2 per cent it projected in January. After Japan, it was the joint second largest downgrade handed out to any country in the G7.

Getty Images / John Lamparski
Uber's plight has played into Ford's hands, Mr Washington explained: "It caused us to look at it as an opportunity to enter into the ride-service business, but in a very broadly defined term. Ride service for us means enabling people to ride when they don't want to drive. That could be riding a shuttle bus, riding a taxi that you hail with an app, or riding a personally owned car that you share with another person or with family – and it could mean riding an Uber-like vehicle that is paying somebody to drive."
Ford is trying to plant a flag in the immature parts of the ride-sharing industry, as well as the more established sections dominated by Uber. This approach makes sense when you consider that the car market is currently worth around $2.3trn (£1.6trn), compared with the $5.4trn market for all forms of transportation. 
The company launched 30 "mobility" experiments last year, part of a heavy investment in sharing. These included a shuttle bus ride-sharing app in the US; a car-hire service in London called GoDrive, for one-way trips that cost just 17p per minute; and GoPark in Islington, north London, an app that reserves parking spots for users.
Even the way in which its own cars are operated is evolving. Gone are the days when you had to risk leaving the key on top of the tyre so another family member could pick the car up.  Now with the FordPass app, several people, most likely in the same family, can gain access to a vehicle with their smartphone, tying whole families into owning the same make of car.
Ultimately, Ford predicts we will all be paying Spotify-style subscriptions for transport in future. In return, we will be able to jump into different Ford cars. Fancy a convertible for the weekend? Or a van to lug around furniture? It will soon be possible.
Far-fetched? Jörg Ullrich, Ford's consumer marketing boss, doesn't think it is. "Nobody would have believed a few years ago that we'd all be paying subscriptions for music – but that's the way it's gone," he said.
Whether drivers are aware of it or not, they are being subconsciously massaged for the transition to driverless cars – the "endgame" that Mr Washington and his team at Ford believe will be "technically possible" in just four years.
"Ride service is likely to be the first application of autonomous vehicles," he explains. "But for that application to become a reality the technology has to mature so we're squarely focused on that technology."
Perfecting the technology is one thing, getting regulators to approve self-driving cars is another altogether, especially with the threat posed by hackers, who could potentially take control of a car.
"Whenever you introduce a new, disruptive technology into society that has the promise of changing people's lives, it always raises questions on a policy front and legal front, and even on an ethics front," Mr Washington said.
Ford's tech man believes those questions have to be addressed "as an industry", which includes other carmakers as well as tech giants venturing into driverless cars, such as Google. "The industry has to advance the conversation with policymakers so that we can smartly inform them about what kind of policies should be in place," he added.
"Those conversations are beginning to happen so I'm cautiously optimistic that when the technology is ready, we'll have thoughtful policies in place."