Ask anyone at Ford what kind of business they work  for and the answer you will get is not a carmaker, it is a "mobility company".
While the manufacture and design of vehicles has changed dramatically in its 113-year history, the American giant has ostensibly always been a carmaker. Now it is much more than that.
The wheels of change are in motion at Ford, which says it is at "an inflection point" – a phrase more frequently used by start-ups on the verge of hitting the big time.
But the Detroit-based group is under no illusion that it is make or break as driverless cars become a genuine prospect and as ride-sharing companies such as Uber make it less desirable to own a car.
"We've been very intentional about expanding our business to become an automaker and a mobility company," Ken Washington, Ford's vice-president of research and advanced engineering, explained at this week's Mobile World Congress trade show in Barcelona.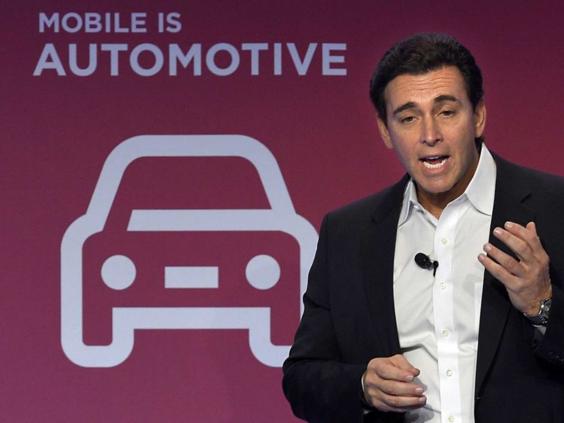 "The kind of tech for which we've been known for over a hundred years is the kind of tech mindset we're bringing to our mobility journey. 
"So we've set about putting a strategy in place to become a mobility provider. That involves connectivity, new modes of mobility, autonomous vehicles, data and analytics, and consumer experience. Increasingly, we're making progress on all five fronts."
That might all sound rather fuzzy, but there's a good reason for that: Ford is still not exactly sure what the future of cars will look like. 
However, it is a mark of Ford's conviction in its new direction that it had the largest presence of any carmaker at Europe's premier technology event, which is inundated with smartphones, tablets, wearables, and an assortment of other gizmos.
In two years since Mark Fields took charge as Ford's chief executive, the landscape of the industry has changed completely. Carmakers are battling against falling sales, while the cars themselves are becoming cheaper but also more reliable, meaning they need to be replaced less often. 
And then there is Uber. The ride-sharing start-up phenomenon, which is now more highly valued by investors than Ford, has changed the game with cheap trips and easy booking, making owning a car in the city even more optional.
But Uber's success has brought with it plenty of negative press, including concerns about its background checks – which have in the past allowed murderers and rapists to become drivers – and bans across big cities.
Business picture of the day
Business picture of the day
1/33 Price of wine set to soar as production nears 20-year low - Friday 21 October

Vineyard manager Antonio Navarro looks at grapes ready to be harvested at the Casa Bianchi vineyard in San Rafael

Reuters

2/33 Banks consider 'moving London staff to Luxembourg to get access to EU' - Wednesday 19 October

The head of financial development for Luxembourg said a string of overseas banks and fund managers had explored moving London staff to the tiny country since the Brexit vote. Nicolas Mackel said there had been "strong interest" from US and other non-EU firms assessing their options since June's referendum.

Rex

3/33 The pound falls below €1.10 for the first time since March 2010 - Monday October 17

The pound has fallen below €1.10 for the first time in six and a half years, since March 2010. Sterling has been under pressure since Britain voted to leave the European Union. The pound has fallen by almost 20% against the against the dollar since the Brexit vote, trading below $1.22 and €1.10 on Monday.

4/33 Brexit: US banks are planning exodus from the UK, French minister says - Friday October 14

French finance Minister Michel Sapin said that US banks had confirmed to him they would move some activities out of Britain to other European countries as the UK prepares to leave the EU. Sapin revealed that the executives of major US banks have told him they were working on contingency plans, after their meeting last week in Washington.

5/33 Tesco running out of products like Marmite and PG Tips amid Brexit price row with Unilever - Thursday October 13

Tesco has removed a number of popular products such as Marmite, Bovril and PG Tips from its online store following a price row with supplier Unilever over the plunging pound. Multinational household goods giant Unilever has reportedly demanded a 10 per cent price rise in its products, including those made in the UK, to offset the higher cost of imported goods.

Reuters

6/33 FTSE falls after record mid-session high - Wednesday October 12

Britain's index of leading shares slipped on Wednesday from record highs reached in the previous session, partly reflecting currency moves which weighed on some of its global companies The blue-chip FTSE 100 equity index, which hit a record high of 7,129.83 points on Tuesday, fell 0.5 percent to 7,038.22 points. The FTSE 250 mid-cap index fell 0.4 percent but also remained near record highs reached this month. The dollar dipped while sterling rebounded a touch from a brutal sell-off this month, as British Prime Minister Theresa May's offer to give lawmakers some scrutiny of the process behind Britain's plans to leave the European Union calmed market fears of a "hard Brexit".

Getty Images

7/33 Samsung Galaxy Note 7 permanently discontinued - Tuesday October 11

Samsung finally bowed to pressure, permanently ceasing production of its fire-prone Galaxy Note 7. The move came after replacement versions of its flagship phone phone - which Samsung claimed were safe - also burst into flames. October 12 2016.

Reuters

8/33 Oliver Hart and Bengt Holmström awarded Nobel prize for economics - Monday October 10

Two academics recognised for their work on contract theory, which can be applied to everything from CEO pay to privatisations.

Getty Images

9/33 Pound value plunges 6% in 2 minutes in mysterious flash crash - Friday October 7

The British pound has suffered a sudden collapse hitting a new 31-year low against the US dollar in mysterious circumstances, sparking market chaos in "insane" early trading. The drop was sterling's biggest since Britain voted to leave the EU in June. Sterling plunged more than 6 per cent to $1.1841 in two minutes, prompting traders to speculate about a possible trigger.

10/33 Pound sterling value hits another new 31-year low against the dollar amid hard Brexit fears - Wednesday October 5

Sterling has continued its "slippery decline" as ongoing fears over the consequences of "hard Brexit" haunt investor attraction towards the currency. The currency has fallen below the "psychologically important" $1.27 level, down 0.3 per cent to $1.2695 in early trading on Wednesday, extending Tuesday's selloff.

AFP/Getty

11/33 Pound drops to 31-year low Against dollar on brexit concerns - Tuesday October 4

Sterling's broke through its post-referendum low to reach levels not seen in over 30 years. sterling hit an intraday low of $1.2736 on Tuesday morning. That surpasses the post-referendum low of $1.2798 reached on the day after the vote, which was the lowest level seen since the mid-1980s.

Getty

12/33 Philip Hammond ditches George Osborne's 15% corporation tax cut target - Monday October 3

Chancellor Philip Hammond has apparently rejected the plan of his predecessor George Osborne to slash corporation tax to just 15 per cent in the wake of the UK's Brexit vote. In early July Mr Osborne said he wanted to push the levy on company profits to 15 per cent as a bold signal to global companies that the UK is still "open for business" despite the vote to leave the EU. In his speech to the Conservative Party conference in Birmingham today, Mr Hammond made no reference to that 15 per cent goal, merely referencing the existing policy for the levy to decline to 17 per cent.

AFP/Getty

13/33 Global stock markets rally as OPEC agrees to slash oil production for first time since 2008

The Organisation of the Petroleum Exporting Countries (OPEC) has struck a deal to cut production for the first time in eight years, sending crude prices surging. READ MORE Oil price surges as Russia, Saudi Arabia promise co-operation In a decision led by a rapprochement between Saudi Arabia and Iran, who had repeatedly clashed during previous meetings, OPEC ministers decided to cut production by 750,000 barrels a day, down to 32.5 million barrels.

Rex

14/33 Apple to move London HQ to Battersea Power Station - Wednesday September 28

Apple is to establish a new London headquarters at Battersea Power Station, one of the city's most recognisable landmarks. The tech giant will occupy about 500,000 square feet of space across six floors of the central Boiler House from 2021, moving 1,400 employees there from eight offices around the capital. It will account for 40 per cent of the development's total office space.

Getty Images

15/33 Yahoo hack: World's biggest data breach could compromise Verizon deal and cost hundreds of millions of dollars

Yahoo revealed it has been hit by what could be the biggest data breach in history, with half a billion user account details stolen. While its users are still digesting the news, the massive breach could also have bigger implications and compromise Yahoo's recent agreement with Verizon, its future parent company, costing it hundreds of millions of dollars.

Reuters

16/33 Facebook chief Mark Zuckerberg to give $3 billion to 'cure, prevent or manage all disease' - Thursdsy September 22

Mark Zuckerberg and his wife Priscilla Chan have pledged more than $3bn (£2.3bn) toward a plan to "cure, prevent or manage all disease within our children's lifetime". The couple pledged the money as the next big investment by their philanthropic company, the Chan Zuckerberg Initiative, which is also focused on education, poverty, and equality.

REUTERS

17/33 OECD halves UK growth forecast due to EU referendum vote - Wednesday September

The OECD has slashed its 2017 growth forecast for the UK in half as a result of the Brexit vote and warned of "very high" uncertainty ahead. The multilateral economics institution had projected UK GDP growth next year of 2 per cent in June, but today reduced that to just 1 per cent in its latest Interim Economic Outlook. ADVERTISING inRead invented by Teads That was easily the largest downgrade for any major advanced economy.

Getty

18/33 Sports Direct bows to pressure and announces independent review of working practices - Tuesday September 20

Never underestimate Mike Ashley's capacity to spring a surprise. A matter of days after a tumultuous, and indeed historic, AGM at which the Sports Direct boss's independent shareholders voted against the re-election of his chairman Keith Hellawell and backed a trade union motion calling for an independent review into governance and working practices at the business, he appears to have caved in. At least on the latter.

PA

19/33 Kate Moss launches her own talent agency 'to create stars' - Monday September 19

One of the world's most iconic models of her generation, Kate Moss, has announced plans to start her own talent agency this month.In an interview with the Business of Fashion she revealed that her new venture – the Kate Moss Agency – won't only look after emerging models but will also sign actors and singers. Her announcement coincided with London Fashion Week.

20/33 Deutsche Bank shares plunge 8%after it refuses to pay £10.6bn fine - Friday September 16

Deutsche Bank shares slumped after receiving a $14 billion (£10.6 bn) claim from the US Justice Department to settle an investigation into the firm's sale of residential mortgage-backed securities, a figure the German lender said it's not willing to pay. "Deutsche Bank has no intent to settle these potential civil claims anywhere near the number cited," the company said in a statement early Friday in Frankfurt. "The negotiations are only just beginning. The bank expects that they will lead to an outcome similar to those of peer banks which have settled at materially lower amounts."

Bloomberg

21/33 John Lewis posts 75% profits slump - Thursday September 15

John Lewis Partnership, the owner of John Lewis and Waitrose, has reported a 75 per cent drop in profits for the six months to July, citing "deep structural changes in the retail market". Half-year profits have sunk to £56.9m, down by £167.1m on last year. The profits slump includes an exceptional charge of £25m for the write-down of property assets it no longer plans to develop for Waitrose. But even excluding the exceptional charge, profits for the latest half year were down 14.7 per cent to £81.9m.

Getty Images

22/33 French prosecutor seeks 3 years' jail for ex-minister over foreign bank account - Wednesday September 14

France's financial prosecutor on Wednesday sought a three-year jail term for former budget minister Jerome Cahuzac, who was forced to quit government three years ago over the discovery that he owned a secret bank account abroad. Cahuzac, 64, a plastic surgeon by profession who was appointed budget minister when Socialist President Francois Hollande took power in 2012, stands accused of tax fraud and money laundering.

Getty Images

23/33 Bank of England first polymer banknote enters circulation - Tuesday September 13

Cash machines across the UK will start to dispense the Bank of England's first plastic £5 note on Tuesday morning and it is designed to be safer and stronger.Each note is expected to last around five years - two and a half times longer than their paper counterparts - because of the durability of the polymer material.

Getty Images

24/33 Apple chief executive, Tim Cook lashes out at European Commission tax ruling - Thursday September 1

The ruling that Apple must pay the Irish government €13 billion Euros in back taxes over its "sweetheart" deal in the country ignited fury in the company's boss who called it "maddening" and "political".

AFP/Getty Images

25/33 ITV withdraws bid for Peppa Pig owner - Wednesday August 25

ITV withdrew its £1bn offer for Entertainment One, owner of the popular children's television franchise "Peppa Pig," the company said in a statement.

Getty Images

26/33 Scotland's North Sea oil revenues collapse 97 per cent leaving £14.8bn budget hole - Wednesday August 24

Scotland's revenues from North Sea oil have collapsed by 97 per cent in the past year as oil prices have plummeted, reigniting a fierce debate over whether an independent Scotland could finance itself. Scottish Liberal Democrat leader Willie Rennie said: "The nationalists' case for independence has been swallowed up by a £14 billion black hole." Taxes collected from oil production fell from £1.8 billion in 2015 to just £60 million in 2016. The gap between tax revenues and what Scotland spends is now 9.5 per cent, or £14.8 billion, compared to a 4 per cent deficit for the UK as a whole.

Reuters

27/33 Swiss watch exports to UK rise as sterling falls -Tuesday August 23

Swiss watch exports to the UK rose by 13.4% in July as tourists exploited the drop in the value of the pound to snap up luxury goods. The Federation of the Swiss Watch Industry said watches worth 110.2m Swiss francs (£87m) were exported to the UK last month, the best figures since November 2015.

Getty Images

28/33 Public borrowing worse than expected in wake of referendum vote - Friday August 19

The public finances were weaker than expected in the wake of the Brexit vote, official figures showed today. July has traditionally been a month of surplus for the public finances as it is one of the four months when companies pay a share of their annual corporation tax dues over to HMRC. City of London analysts had expected a surplus of £1.6bn.

Getty

29/33 Surprise jump in retail sales in July after EU referendum vote - Thursday August 18

There was no sign of British shoppers reining in spending in the wake of the EU referendum result, one of the first "hard" post Brexit vote set of statistics has shown. Retail sales jumped 1.4 per cent in July, more than reversing the 0.9 per cent decline in June, according to the Office for National Statistics.

PA

30/33 Unexpected fall in joblessness post Brexit vote - Wednesday August 17

The UK claimant count unexpectedly declined last month, suggesting the British labour market held up reasonably well in the wake of the Brexit vote.

Rex

31/33 Inflation rises in wake of Brexit vote - Tuesday August 16

Consumer price inflation picked up in the wake of the UK's Brexit vote, hitting its highest rate since November 2014. The Office for National Statistics said the annual rate of CPI inflation was 0.6 per cent, up from 0.5 per cent in June and slightly higher than City of London analysts had been expecting.

PA

32/33 Sports Direct warehouse staff who were underpaid could receive £1m back pay - Monday August 15

Thousands of workers at British retailing group Sports Direct's warehouse are set to receive back pay totalling an estimated £1 million for non-payment of the minimum wage, Britain's largest union confirmed. The back pay follows an admission by Mike Ashley, the founder of Sports Direct, that his company has broken the law by falling to pay the national minimum wage at a hearing of the House of Commons Business, Innovation and Skills (BiS) select committee in June.

Getty Images

33/33 Eurozone GDP growth rate halves in second quarter - Friday August 12

Eurozone growth slipped back in the second quarter of the year and dried up entirely in Italy, the bloc's most troubled large economy. Eurostat reported that the single currency's aggregate GDP expanded by 0.3 per cent in the three months to June, down from the 0.6 per cent rate in the first quarter. This was in line with the statistics agency's "flash" estimate from 29 July.

Getty
Uber's plight has played into Ford's hands, Mr Washington explained: "It caused us to look at it as an opportunity to enter into the ride-service business, but in a very broadly defined term. Ride service for us means enabling people to ride when they don't want to drive. That could be riding a shuttle bus, riding a taxi that you hail with an app, or riding a personally owned car that you share with another person or with family – and it could mean riding an Uber-like vehicle that is paying somebody to drive."
Ford is trying to plant a flag in the immature parts of the ride-sharing industry, as well as the more established sections dominated by Uber. This approach makes sense when you consider that the car market is currently worth around $2.3trn (£1.6trn), compared with the $5.4trn market for all forms of transportation. 
The company launched 30 "mobility" experiments last year, part of a heavy investment in sharing. These included a shuttle bus ride-sharing app in the US; a car-hire service in London called GoDrive, for one-way trips that cost just 17p per minute; and GoPark in Islington, north London, an app that reserves parking spots for users.
Even the way in which its own cars are operated is evolving. Gone are the days when you had to risk leaving the key on top of the tyre so another family member could pick the car up.  Now with the FordPass app, several people, most likely in the same family, can gain access to a vehicle with their smartphone, tying whole families into owning the same make of car.
Ultimately, Ford predicts we will all be paying Spotify-style subscriptions for transport in future. In return, we will be able to jump into different Ford cars. Fancy a convertible for the weekend? Or a van to lug around furniture? It will soon be possible.
Far-fetched? Jörg Ullrich, Ford's consumer marketing boss, doesn't think it is. "Nobody would have believed a few years ago that we'd all be paying subscriptions for music – but that's the way it's gone," he said.
Whether drivers are aware of it or not, they are being subconsciously massaged for the transition to driverless cars – the "endgame" that Mr Washington and his team at Ford believe will be "technically possible" in just four years.
"Ride service is likely to be the first application of autonomous vehicles," he explains. "But for that application to become a reality the technology has to mature so we're squarely focused on that technology."
Perfecting the technology is one thing, getting regulators to approve self-driving cars is another altogether, especially with the threat posed by hackers, who could potentially take control of a car.
"Whenever you introduce a new, disruptive technology into society that has the promise of changing people's lives, it always raises questions on a policy front and legal front, and even on an ethics front," Mr Washington said.
Ford's tech man believes those questions have to be addressed "as an industry", which includes other carmakers as well as tech giants venturing into driverless cars, such as Google. "The industry has to advance the conversation with policymakers so that we can smartly inform them about what kind of policies should be in place," he added.
"Those conversations are beginning to happen so I'm cautiously optimistic that when the technology is ready, we'll have thoughtful policies in place." 
Reuse content