Yes! Traders need to know the severe repercussions
In Money Never Sleeps, Oliver Stone's underrated sequel to Wall Street, we learn that Gordon Gekko served 14 years in a maximum security American prison after being handed "one of the harshest sentences ever given to a white-collar criminal".
Well, life has imitated Hollywood with the 14-year sentence delivered to Libor manipulator Tom Hayes by Mr Justice Cooke at Southwark Crown Court on Monday. But does Mr Hayes deserve the Gekko treatment? Some in the City of London feel the sentence was over the top.
It's double the porridge time ladled out to the most notorious British rogue trader, Nick Leeson. And Leeson had destroyed a 233-year old bank. More recently UBS's Kweku Adoboli only got a sentence half as long for losing $2.3bn in unauthorised trades from his London office.
Who lost money from Tom Hayes' manipulation of Libor? Well that's being tested in the civil courts. Many business owners and mortgage holders whose financial products were linked to Libor suspect they got stiffed and are demanding compensation. But some borrowers will have unwittingly gained of course, finding the rate was manipulated in their favour at various times. Swings and roundabouts then?
This misses the point quite spectacularly. Like Gordon Gekko with his trading on insider information what Tom Hayes did was undermine the integrity of financial markets. Societies rely on a belief in the integrity of these markets which facilitate trade and investment. If we can't trust what happens in the capital markets we'll end up ultimately end up with less trade and less investment, to the detriment of our prosperity. Manipulating exchange rates is not a "victimless crime". We're all victims of it.
Yes, it's a stiff sentence. But we need a strong deterrent. The opportunities for manipulation of Libor regarding other interest rates are legion. "Not even Mother Teresa wouldn't manipulate Libor if she was setting it and trading it," Hayes told the Serious Fraud Office.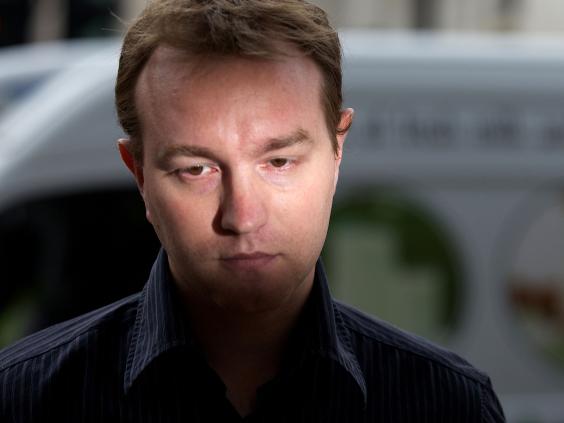 That's precisely why we need traders to be acutely aware of the severe repercussions that will befall them if they cross the line.
This is a practical matter of ensuring compliance with the law. The only alternative is to have a regulator peering over the shoulders of every single trader – around the clock and around the world. Regulators simply do not have the resources for that.
But shouldn't allowances be made for the fact that Hayes wasn't acting alone. That's, after all, the nature of conspiracies. Many other traders were at it, too. Did managers know, tacitly condoning it? Isn't Hayes being made into a scapegoat for an inher- ently lawless and amoral culture? Hayes himself described the broking market as the "Wild West".
That analogy doesn't really work though. In the old West cattle rustlers tended to find themselves swinging from trees, lynched by angry townsfolk. A 14-year jail sentence, by comparison, looks positively civilised.
Ben Chu
Business news in pictures
Business news in pictures
1/50 United goin down

Manchester United's absence from the Champions League hurt more than the fans' pride last year - it also dented the bottom line. Revenues at the New Uork listed club dipped 8.8 per cent to £395.2m in the year to June, triggering a £1.2 million loss after broadcasting and sponsorship deals dried up. The club said it was now looking to raise $400m from a share issue.

GETTY IMAGES

2/50 Star Wars boosts economy

Production of the next Star Wars movie has brought an economic impact of some £150 million to Britain, according to company accounts. The seventh movie in the series, The Force Awakens, will be released in December.

3/50 Natalie Massenet Leaves Net-a-Porter

The Net-a-Porter founder Natalie Massenet decided to quit the online fashion retailer during "a summer of reflection" that included a spectacular 50th birthday party on the Almalfi coast.

Rex

4/50 I'll keep working, says Mayer

The chief executive of Yahoo, Marissa Mayer, said that she was expecting twin girls in December. She said she would "approach the pregnancy and delivery the same way as I did with my son three years ago, taking limited time away and working throughout". In 2012, she took two weeks off when her first child was born.

GETTY IMAGES

5/50 World's richest lose $182b

Warren Buffett, the world's third richest person, lost $3.6bn in last week's market slump. Fears that China's economy is slowing took many indices into correction territory. The turmoil has wiped $182 billion off the wealth of the 400 richest billionaires, according to research by Bloomberg.

Getty

6/50 City for sale

London City Airport was put up for sale by the American hedge fund Global Infrastructure Partners, which also owns Gatwick and Edinburgh airports. It is expected to fetch around £2 billion

Getty

7/50 Kicking up a skink Down Under

An Australian court has overturned approval for Adani's Carmichael coal mine in north Queensland, based on concerns over the impact of the project on the endangered yakka skink (pictured). Standard Chartered is under renewed pressure to stop financing the deal

8/50 Scope to do more in the City?

Damien Hirst's 7m statue, Charity, has been installed in the shadow of the Gherkin in London. It is based on an old Scope collection from the 1960s and has provoked a debate about the City and disability. The Lord Mayor of London says the City does not employ enough disabled people.

Reuters/Corbis

9/50 Thousands more take a look at Sky

Drama and football are a winning formula for Sky, which has recorded its best growth for 11 years, gaining 124,000 UK customers in the past quarter. Sky paid £4.2bn for Premier League rights, but also has 35 dramas planned, following successes such as the 'The Enfield Haunting' (pictured) with Timothy Spall.

10/50 FirstGroup suffers over lost lines

FirstGroup, the bus and rail operator, is paying the price for losing a string of rail franchises last year. Rail revenue will be "substantially lower" in 2015 after some big franchise losses, including ScotRail. The division lost out on tenders for the East Coast and West Coast (pictured) mainlines, which went to Virgin Trains.

GETTY

11/50 US retail rush hour slows down again

US retail sales unexpectedly fell in June as households cut purchases of cars and a range of other goods. Sales fell 0.3 per cent, while economists had forecast a small rise.

AFP

12/50 Blockbusters aid Pinewood expansion

Pinewood Studios revealed it is having to turn away major films until the five new stages it is building come on stream next summer. The group still saw operating profits rise from £4.9m to £5.8m in the past year, which saw it host the new Star Wars and Avengers films (Scarlett Johansson, pictured, stars in 'Avengers: Age Of Ultron') as well as the latest Bond release, 'Spectre'

Marvel 2015

13/50 Rogue trader freed

Kweku Adoboli, the former UBS trader who was convicted of the UK's biggest banking fraud, has been released from jail after serving half of his seven-year sentence. He was imprisoned in 2012 on two counts of fraud that resulted in losses of £1.4bn, the largest trading loss in British banking history

Getty

14/50 Burberry's autumn ad campaign

Burberry is launching its autumn ad campaign today with a cast of models including the singer Tom Odell and the actress Holliday Grainger

Burberry/Testino

15/50 Sneak peak at console battlefield

Videogame titans Microsoft and Sony vied for attention ahead of the industry's annual E3 conference yesterday, giving fans sneak peaks of the latest games for their Xbox and PlayStation consoles, including Sony's new 'Assassin's Creed Syndicate'

Getty Images

16/50 High street shops hit by exodus

The number of Britons out shopping has fallen for the second month in a row. High streets saw 1.5 per cent fewer shoppers and shopping centres 2 per cent fewer in May compared with a year ago. Only out-of-town retail parks saw a rise, with 1.4 per cent more visitors, the British Retail Consortium said. Overall shopper numbers fell by 1 per cent.

Getty

17/50 Argentina hit by strikes

Daily life ground to a halt in Buenos Aires yesterday amid a 24-hour general strike protesting against moves to limit pay rises and increase taxes.

AFP/Getty Images

18/50 Duty rises blamed for beer woes

Beer sales are still "fragile" after a decade of "devastating" duty hikes, according to the British Beer and Pub Association. The industry lobbyists said sales in pubs and shops were up 1.5 per cent in the past year, but fell by 0.8 per cent in the first quarter. Sales have fallen 24 per cent in the past decade.

19/50 New Look in push for men

New Look is planning a menswear push after poaching Christopher Englinde, H&M's menswear chief. Like-for-like sales at the fashion chain rose 5 per cent

Victoria Middleton

20/50 Court halts Airbus insider trading trial

A French court has quashed an insider trading case against seven current and former Airbus executives as well as Lagardère and Daimler, who were investors in the plane maker. Judges said the trial was dropped as they had all been cleared by France's market regulator AMF, and it would have breached safeguards against double prosecutions

21/50 Alibaba hits back over 'fake' claims

Alibaba has hit out at Gucci's owner, Kering, for "wasteful litigation instead of the path of constructive co-operation", after the French luxury giant filed a lawsuit in New York alleging the Chinese online retailer allows sales of fake goods on its websites. Gucci unveiled its Fall-Winter 2015-2016 women's range at this year's Milan Fashion Week

Getty Images

22/50 Hats off to Ralph Lauren

The upmarket US clothing company Ralph Lauren saw sales climb 1 per cent to $1.9bn (£1.2bn) in the quarter to 28 March. The company said it opened several stores across key markets around the world, fuelling momentum for its luxury accessories business. However, net income decreased to $124m, compared with $153m in the same quarter last year, partly as a result of exchange-rate impacts.

EPA

23/50 With this ring… arts sales jump

Sotheby's raised $380m (£241m) in its New York contemporary art sale, a day after rival Christie's sold a Picasso for a record $179m, with the auction house describing bidding as a "rush for art". The top lots included Roy Lichtenstein's 'The Ring (Engagement)' Estate of Roy Lichtenstein

AP

24/50 Brewdog's dead cat bounce

Brewdog parachuted taxidermy "fats cats" holding its latest prospectus out of a helicopter over the City of London as the Scottish brewer looks to drum up publicity for its latest "punk" fundraising. The craft beer group has already raised £5m of the £25m it is seeking from investors to fund a new brewhouse and set up a US operation

25/50 Change at the top for Alibaba

Chinese ecommerce giant Alibaba replaced its chief executive yesterday. Daniel Zhang, chief operating officer, will replace Jonathan Lu. The move follows the share price briefly dipping below $80 this week, its lowest since its New York flotation in September.

ChinaFotoPress/ChinaFotoPress via Getty Images

26/50 Put that light out

New York City officials have been informed by the American Government that the Big Apple's dazzling neon billboards violate a 2012 highways ruling and must be taken down. The city could forfeit up to $90m (£59m) in federal highway money if it fails to comply. New York is debating getting an exemption from the rule.

AP

27/50 Lionsgate wants the lion's share

Lionsgate yesterday announced plans to finance and co-invest in up to 25 British independent films over the next four years. The Canadian-US entertainment company has previously invested in such UK films as A Little Chaos, starring Kate Winslet

28/50 Tillman planning a 'new Jaeger'

The fashion entrepreneur Harold Tillman (centre) has spoken out against the way Jon Moulton's Better Capital has run Jaeger since taking it over from him and declared he would start a rival business to serve disappointed Jaeger customers. Mr Tillman said turnover at the group had fallen and losses widened since the private equity firm took over.

2011 Getty Images

29/50 Aer Lingus: end in sight to Irish talks with IAG

Aer Lingus, the Irish carrier being bid for by British Airways' owner IAG, yesterday said it is hopeful talks between its suitor and the Irish government will conclude soon. Ireland owns a 25 per cent stake in the airline, which posted a €48m (£35m) first-quarter loss yesterday but said its long-haul business had performed well

30/50 Weir sheds more jobs in oil slump

Slumping orders for oil and gas projects in the wake of the oil price collapse have forced the engineer Weir to cut another 125 jobs. Since the start of the year, the US oil-rig count has more than halved, sending orders in Weir's oil and gas division down 23 per cent in the first quarter. Weir has already shed 1,300 staff in the past year

31/50 Williams F1 team drives into the red

Formula 1 team Williams drove £34m into the red for 2014 after the worst season in its history. A fall in prize money for 2013 – paid a year in arrears – meant the Frankfurt-listed group went into reverse after a £12m profit the year before. But Williams said this year's figures would be better after it finished third in the 2014 Constructors' Championship. Its driver Felipe Massa, pictured in Bahrain, is 5th in this year's driver's contest

32/50 Rivals roar as Harley stalls

A strong dollar allowed US motorcycle-maker Harley-Davidson's foreign competitors to undercut its prices in the first quarter, hurting its sales and market share and prompting it to lower 2015 shipment forecasts. The news sent its shares down 10 per cent in early trading

33/50 Climate changes for BP

BP will be more accountable for its role in climate change after 98 per cent of investors backed a resolution to make it more transparent on the issue. BP's annual shareholders' meeting was held in London yesterday and attracted a protest against offshore oil drilling.

34/50 Car sales lift in Europe

Demand for new cars in Europe soared last month, particularly in Spain and Portugal where sales increased by more than 40 per cent on March last year. Meanwhile UK sales were up 6.1 per cent on March 2014, according to the European Automobile Manufacturer Association.

35/50 Ricci heir guilt of tax fraud

Arlette Ricci, the heir to the Nina Ricci perfume and fashion fortune, has been convicted of tax fraud by a Paris court, after hiding millions in an offshore HSBC account. Ms Ricci, 73, was sentenced to a year in prison and ordered to pay a €1m (£72,000) fine.

Rex

36/50 Camden set for a makeover

Teddy Sagi, Camden Market's new Israeli billionaire owner, has appointed Mace as project manager to oversee the redevelopment of Camden Lock Village, with 170 homes as well as shops and offices in the north London district.

Getty

37/50 All aboard the iron ore train

Australia is reportedly examining how BHP Billiton and Rio Tinto shift billions of dollars in iron ore profits through low tax hubs in Singapore.

AFP/Getty Images

38/50 Shell's Arctic plans under fire

Greenpeace activists have climbed aboard a Shell oil rig in the Pacific Ocean bound for the Arctic. They plan to camp under the rig's main deck in protest against the oil giant's plans to restart drilling off the coast of Alaska. The group said the six protesters would occupy the underside of the Polar Pioneer's main deck but would not interfere with the vessel.

Vincenzo Floramo / Greenpeace

39/50 GoDaddy off to flying start in New York

GoDaddy shares jumped 34 per cent as they started trading on the NYSE Wednesday, valuing the website group at more than $5bn (£3bn). The firm, which manages 59 million web domains – a fifth of the world's total – raised $460m. It sponsors race car driver Danica Patrick (pictured with chief executive Blake Irving) and is backed by private equity firms KKR and Silver Lake

EPA/ANDREW GOMBERT

40/50 The first lady of high street banks

Shriti Vadera, a former adviser to Gordon Brown, has become the first female chairman of a UK high street bank, succeeding Sir Terry Burns at the helm of Santander UK. Baroness Vadera will be paid £650,000 and work alongside Santander's new CEO, Nathan Bostock

Paul Morigi/Getty Images

41/50 Sterling returns for Compass

Compass could see £30m added to its annual profits, thanks to the strength of the pound. The catering giant, which serves up strawberries and cream at Wimbledon each year, said underlying revenues are up 5.5 per cent in the first half, while gains from sterling against the euro, yen and Brazil's real are set to offset any weakness of the pound against the dollar

Peter Macdiarmid/Getty Images

42/50 Serco sells Australian rail unit

Serco has sold its Great Southern Rail to the Australian private equity firm Allegro Funds in a £2.5m deal. The disposal of the luxury business, which runs tourist trains such as The Ghan (pictured) across Australia, is part of the outsourcing group's move to focus on core businesses under its new chief executive, Rupert Soames

Mark Metcalfe/Getty Images

43/50 Italian Retailer Yoox eyes Net-a-Porter

The Italian internet retailer Yoox in the latest contender to swoop in with an offer for the luxury fashion business Net-a-Porter that could value the London-based firm at £1.3 billion

Splash News/Corbis

44/50 Li Ka-shing buys O2 for £10bn

Li Ka-shing's Hutchison Whampoa has finalised a £10.25bn deal to buy the UK mobile business O2 from Spain's Telefonica. Hutchison, the Hong Kong conglomerate that already owns Three in the UK, entered exclusive talks with Telefonica in January.

AP

45/50 Jaguar climbs high in the City

A Hollywood stuntman in a Jaguar XF crosses the River Thames by highwire to promote the latest model. The stunt was supported by 34mm-wide carbon wires.

PA

46/50 Pubs get protected

New rules have been announced to mark Community Pubs Day today which protect local pubs and give communities a greater say in planning processes.

Oli Scarff | Getty Images

47/50 Tesco jet still left on shelf

Tesco has been forced to cut the price of its Gulfstream G550 jet by £3.5m in an attempt to shift it. The retailer has already sold three of its fleet of five jets since October but has cut the price of the 14-seater jet from $35m (£23.5m) to $30m. It also still has a Hawker 800XP.

Getty

48/50 Uber called to account in Paris

Uber's Paris offices have been raided by French police as part of an investigation into its UberPOP service that lets anyone offer taxi rides. The French headquarters of the US taxi-booking app have been targeted by authorities as part of investigations into the feature, which is not available in the UK, that allows non-professional drivers to sign up

Reuters

49/50 P&G on the scent of a sale?

Procter & Gamble is believed to be looking at a sale or IPO of some of its beauty brands, which range from Herbal Essence shampoos to Olay creams and Boss perfumes (as advertised by Sienna Miller, pictured). Shares in the US consumer products giant rose 2 per cent on the prospect of a sale yesterday, even though P&G said the report, on Bloomberg, was "speculation"

50/50 Blackpool pier is on sale for £12.6m

Blackpool's central pier has been put up for sale by its owner Cuerden as the attractions organiser looks to restructure its operations. The group is asking for offers of about £12.6m for a package of three piers – including Blackpool's 19th-century central and southern piers and a third in Landudno in Wales

Getty
No! 14 years is only one year less than for murder
First things first. I am not, in any way, saying Tom Hayes doesn't deserve to spend a very long time in the Big House.
He was the greedy ringleader in a very dirty game of serious corruption, who, as the prosecution said, learned to cajole, beg and bribe other brokers into fixing Libor.
He was a serial offender, even corrupting his own younger stepbrother to get involved in his scam.
He changed his plea from guilty to innocent in a gamble that he could work his persuasive skills on a jury.
But 14 years? That's only one year shy of the mandatory minimum for murder.
To be less emotive about it, 14 years is 12 months more than the sentence doled out by the English courts to the hedge fund boss Magnus Peterson earlier this year after he duped pension funds, charities and other investors into handing over millions of pounds by lying about his Weavering group's investments.
Fourteen years is precisely the same sentence now being served in the US by Jeff Skilling, the former Enron CEO who committed one of the biggest frauds in corporate history. Skilling lied about hundreds of millions of dollars of losses at the company he turned from a safe and effective energy utility into a financial trading monster.  Enron's subsequent collapse cost 20,000 employee's jobs and destroyed the pensions of many more. 
Skilling was on a salary of $132m in his last year at the fraudulently propped-up company. Hayes got paid well for cooking the Libor number too – he earned £1.8m in one year from UBS. But his personal takings from his fraud were of a totally different order than those of Skilling.
On a human level, the likes of Peterson and Skilling were deliberately cooking the books of the companies they ran to the huge and direct cost of investors and staff. They knew precisely who their victims were – in Skilling's case working with them in the office every day – but carried on their crimes anyway.
Hayes' manipulation of Libor had no clear, identifiable human victim. Some days he moved Libor up a fraction of a per cent, some days down, depending on where the bank's trading position was at the time.  It's possible that just as many people whose transactions were based on Libor made money as lost it. The main victim in his actions was the trustworthiness of his bank, UBS and the financial markets.
Yes, this is bad, but surely it makes him more comparable to the rogue financial traders like  his former colleague Kweku Adoboli, Nick Leeson and Jerome Kerviel, who were given between three and seven years by the justice systems of the UK, Singapore and France.
An example needed to be made of Hayes, as the leader of his rotten crew. A message needed to be sent to the public and the City. But the stiffness of his sentence muddies the effect of that message. Far from feeling that justice has been done, we end up feeling sorry for the scumbag.
Jim Armitage
Reuse content