Dotcom décor hasn't moved on. In the offices of YPlan there are beanbags, bowls of fruit, table football, fake-grass carpets, plus a ping-pong table that Rytis Vitkauskas swears is used for board meetings.
What has changed in the past 20 years is the cast of characters trying to get their internet ideas off the ground. In London, today's web entrepreneurs are as likely to be from Leeds as Lithuania, as Mr Vitkauskas proves. The other difference is that for this new goldrush, the picks and shovels aren't laptops but smartphones – or watches, if Apple's latest gadget catches on.
YPlan is an app that helps users to decide what to do that night; it's one of a crowd of "20 cool start-ups in the surrounding mile" of its office in Farringdon, north London, Mr Vitkauskas says. In a grey V-neck and jeans, he's a clean-cut frontman with a broad and beaming face in a sea of hipster beards and chunky glasses. YPlan commanded plenty of buzz when it launched two years ago. Now it must prove it can live up to the hype.
Connections help. The Hollywood actor Ashton Kutcher is an investor and the first time we met, Mr Vitkauskas was having a quiet lunch with Brent Hoberman, the lastminute.com veteran.
In many ways YPlan is a latter-day lastminute.com, matching users with nothing to do that night to tickets for a selection of West End shows and music gigs. The difference is mobile technology has narrowed the sales window but increased the opportunity for those nimble enough to take it. Almost 90 per cent of YPlan's sales are made within 48 hours of an event starting.
"We compete primarily against you sitting at home and watching TV," Mr Vitkauskas, 30, explains. The app has been downloaded and activated 1.5 million times, roughly half of those in London – YPlan sits on at least one in four of the capital's iPhones. Last year it raised another $24m (£16m) to fund development, but it hasn't been all plain sailing.
Changing its business model meant laying off sales staff, although it has been recruiting engineers more recently. "It is not a rethink, it is actually an extrapolation of what we always realised we would have to do," Mr Vitkauskas says. YPlan, which employs 40 plus five more in New York, wants to manage more events and expand into more cities faster.
Mr Vitkauskas has been friends with his business partner, Viktoras Jucikas, a fellow Lithuanian, for 12 years; they met on the basketball court at Jacobs University in Bremen, Germany. Mr Jucikas moved to London to join the investment bank Goldman Sachs, where he created computer programmes for traders and Mr  Vitkauskas arrived later, working for venture capital firm Summit Partners after he completed his Harvard MBA. Before long, they were restless, and said to each other: "OK, if we are working 100 hours a week we may just as well do it for ourselves."
They crashed on friends' sofas in San Francisco and soaked up the latest technology trends. Mobile apps were taking off in the form of taxi service Uber. Then they had a lightbulb moment.
"We sat there one night thinking: let's go out and do something fun. We didn't know the city, so we Googled 'things to do tonight in San Francisco'. An hour later we were still Googling." They returned to London and got cracking. At Summit, Mr Vitkauskas had looked through 2,000 business plans a year, met 100 hopeful entrepreneurs – and made just one investment. He knows the importance of having a "very crisp story" ready for potential backers.
Kutcher came on board early, discovering YPlan when he was spending a lot of time in Notting Hill because his girlfriend, Mila Kunis, was filming in London. He heard about the app, used it to go to a concert at the Royal Albert Hall, emailed soon after and got involved.
"He is a very shrewd product person, a lot more shrewd than people give him credit for. It is no surprise he has been involved in Airbnb and Uber since the very early days."
Mr Vitkauskas loves London. There are "incredible brains" to hire from British universities and the Enterprise Investment Scheme helped YPlan attract early-stage investors, including former Booking.com co-founder Andy Phillipps and business angel Sherry Coutu, with tax breaks. Even bringing staff here from abroad wasn't that tricky.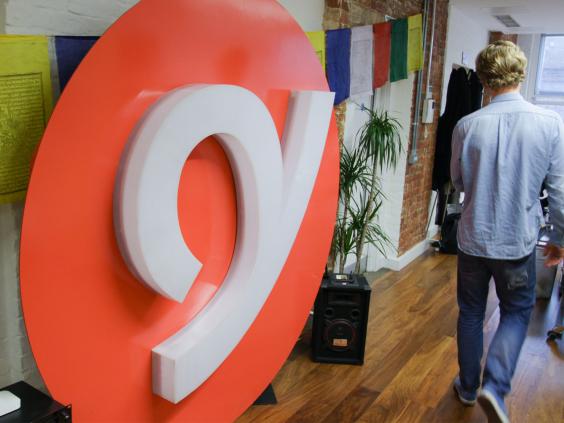 "By and large we were able to secure visas," Mr Vitkauskas says – a big contrast to the United States, where "even as a highly educated, highly skilled founder or executive who will create a lot of jobs, to come in there and just start, it is impossible, basically".
He also met his wife, Simona, another Lithuanian, in London. She works in strategy at taxi app Hailo, but they try not to talk shop.
Despite neighbours including Belarus, Lithuania has made a big show of looking west for its future, not east, adopting the euro only in January this year.  Mr Vitkauskas's parents "aren't particularly happy" with the currency, "but they'll get used to it. Prices start converging across the different countries but salaries won't for a long time."
He left the country 12 years ago, but not before he developed a taste for entrepreneurialism. Aged 14, he began a company that specialised in computer assembly and network installation – as he puts it, "nothing sexy whatsoever".
In the early 1990s, soon after the fall of the Berlin Wall, no one in newly independent Lithuania had a computer, especially not in a lower-middle class family such as his. So he went halves with his parents after saving his lunch money for five years. Soon after, he took the device apart one day when his parents were away, and then rebuilt it.
"When I pressed the power button, the computer worked. That was the big a-ha moment for me. I thought: oh, it's like Lego, it's not that difficult."
The company followed when Mr Vitkauskas figured out that separate components cost less than the end computer "so clearly there is a margin if you can just put it all together". By the age of 19, he had graduated from high school. His father, a professional musician as well as a sociology professor, told him to get his education. The firm, which by then employed five people, was closed.
"It was serendipitous that I discovered a passion for computers and then I discovered a passion for business, and then I got into a good college with the money to pay for it."
He started working on his MBA application in his first year at college. "Everybody thought I was crazy. When I got in I was 21 years old – I was the youngest guy in class."
The ambition and drive is still there, but is that enough for YPlan to make it big?
App happy: background business
Education: BA in economics and social science from Jacobs University, Bremen, Germany, in 2006, then MBA from Harvard Business School two years later.
Career so far: Joined venture capital firm Summit Partners in 2008 as vice-president, focused on finding software and consumer online investments. Launched YPlan in late 2012 and became chief executive.
Personal: Splits time 60:40 between homes in Belsize Park, London, and Tribeca, New York. Married 18 months ago to Simona, who works in strategy for taxi app Hailo. Relaxes by fishing "about once a year" and watching and playing basketball "whenever I can".
Reuse content