It's a scandal that's been going on for years but yesterday the Financial Conduct Authority made it official: Britain's savers are being ripped off.
How? Savers are being let down by banks and building societies which omit to tell them about the best interest rates or fail to make clear how poor the rates paid on existing deposit accounts are.
After a year-long investigation the Financial Conduct Authority has announced plans to overhaul the £700bn savings market.
The watchdog wants providers of cash savings accounts to set out more clearly that the longer an account is held, the more its interest rate is cut. It also wants banks to display prominently the lowest rate of interest any of their customers receives.
It wants consumers to be given clearer, more timely information to help them compare accounts with alternative products and to know how to switch if they want to. It said it must be made easier for consumers to view and manage accounts with different providers in one place.
Finally, it has told providers to make the switching process as easy as possible so that consumers are not put off moving their money. To that end, the watchdog has demanded a cut in the current 15-day switching time for cash Isas.
The FCA has been forced to act after its investigation revealed that around £160bn was held in easy-access savings accounts that pay interest lower than or equal to the Bank of England base rate of 0.5 per cent.
Its investigation concluded that consumers find it difficult to know what rate they are on, or are put off from switching providers by the expected inconvenience, but that improving the timing and content of communications from firms to customers can encourage shopping around.
The study also showed that customers with long-standing accounts are particularly badly treated. Their loyalty is rewarded with lower interest rates than apply to more recently launched accounts.
And that works out as a lot of savers: the investigation discovered that around four-fifths of easy-access accounts have not been switched in the past three years.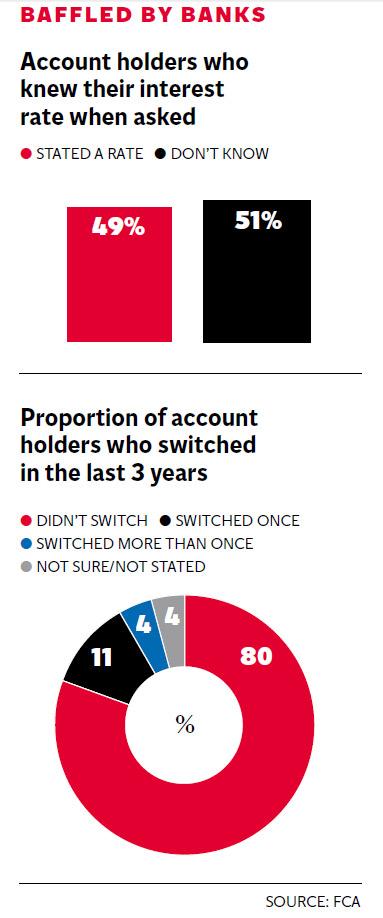 The problem, identified in the report, is that many people simply take the savings account offered to them by their current account provider. But that usually proves to be a costly mistake. The study showed that the big four current account providers attract most of the easy-access savings despite offering lower interest rates.
People don't move because they don't know that there are much better deals around or because they simply assume that the rate they are getting is competitive. But such inertia is costing Britain's savers about £1.4bn in interest each year, according to Anna Bowes of Savings Champion.
She bases that figure on the fact that the FCA's study found that £160bn of savings were held in easy-access accounts earning interest at no more than the Bank of England base rate of 0.5 per cent. If that money was transferred to what is currently the best easy-access account rate of 1.4 per cent, savers would get an extra £1.4bn in interest every 12 months.
"Any savers who believe that there is little to be gained by switching in today's low-interest-rate environment need to be aware that they could still make hundreds, if not thousands, of extra interest by moving," she said.
The proposals – which FCA's director of strategy and competition, Christopher Woolard, said "are designed to make the market more dynamic, working in everyone's interest" – are long overdue, although welcome.
Mr Woolard said: "In a good market firms should be competing to offer the best possible deal and consumers should have the information they need to help them shop around."
He added: "We want to see firms making simple information much easier to find. More also needs to be done to reduce the hassle for consumers to switch their savings."
The regulator stopped short of introducing a ban on introductory bonus rates but said it expects better communication to consumers on when the interest rate changes or the bonus period expires.
Richard Lloyd, executive director of Which?, responded: "For too long, banks and building societies have left customers trapped in savings accounts paying woefully low rates and losing out on billions. We expect to see the industry working with the regulator to make these recommendations a reality as soon as possible."
David Mann, head of money at uSwitch, said: "Many savers are confused about how much interest they're actually earning and so don't know if they could be better off elsewhere. For example, there are current accounts that pay out 5 per cent in interest up to balances of £2,000, yet some savings accounts offer a measly 0.5 per cent or less."
The FCA has given savings institutions until 18 February to respond to its proposals.