An alarming report, produced this week by John Healey, the shadow housing minister, and the Labour London mayoral candidate Sadiq Khan, contained the stark warning that the average deposit required to buy a home in the capital is set to hit £150,000 within five years.
But the speed of the growth in the required deposit for home buyers in recent decades is just as alarming as the forecast. And it's not just in London where deposits have been racing away. Research compiled for The Independent by estate agent Hamptons International lays bare how difficult it has become for many to make the switch from being renters to owners.
At the housing-market peak of 2007, average first-time buyer deposits were equivalent to around 74 per cent of average annual household earnings in England and Wales – around £32,000. The average figure today is equivalent to 91 per cent – £46,000.
Hamptons International's data shows that excluding inner and outer London, there are five English and Welsh cities where buyers can expect to fork out in excess of the "average" £46,000 deposit.
The picture differs between cities across England and Wales, says Fionnuala Earley, residential research director at Hamptons. In Liverpool, Middlesbrough and Swansea, deposits as a percentage of average local first-time buyer earnings are now less than at the peak of the market. 
That reflects the fact local house prices are still 20 per cent or more lower than their 2007 level. This is borne out by figures from Nationwide, showing the house-price gap between London and the rest of the UK has hit a record high.
But at the other extreme places such as Brighton, Oxford and York have had some of the biggest increases in deposit size as a proportion of local first-time buyer incomes. A first-time buyer in Brighton would need £71,000. Twenty years ago they would have only required £5,000, a 14-fold jump.
According to Miles Shipside of the property website Rightmove, the reason for the surge in deposit sizes in Brighton is because it has become popular for many who have been priced out of London.
"Brighton has seen an influx of buyers from London who can commute back to the capital in an hour, but be able to live in a fashionable area by the beach which offers more affordable prices," he says. 
Part of the reason for 2015 deposits in York jumping to £41,000 from £6,000 20 years ago, is because it is one of the fastest growing cities in the UK, claims councillor Chris Steward, leader of York City Council. He says the city now attracts 7 million tourists a year and is home to 200,000 residents, pushing prices up as supply is constrained.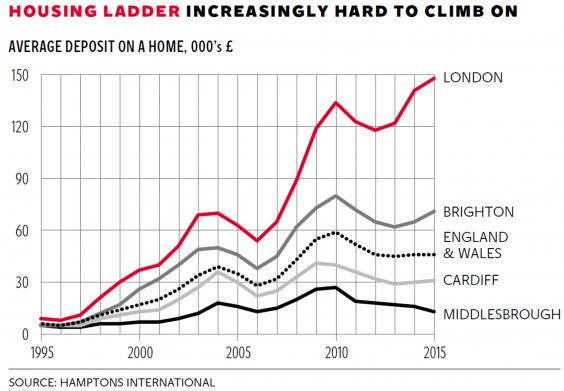 There is also a dearth of supply in Oxford. Between 2008 and 2015, just 146 new homes were built each year.
The reasons for the deposit hikes all stem from demand outstripping supply, and the Home Builders Federation says more homes of all sizes and types are needed, which could make deposits smaller because there would be more property choice. But can the imbalance really be fixed?
The Government seems to believe so, and Brandon Lewis, the housing minister, said in an interview last week that he hopes to build  1 million new homes by the end of this parliament.
A spokesman for the Department for Communities and Local Government says: "We're determined to ensure that anyone who works hard and aspires to become a homeowner has the opportunity to do so." He added that since 2010, more than 230,000 households have been helped into home ownership through Government-backed schemes such as Help to Buy. Plans are also in motion for giving housing association tenants the right to buy, which on paper could increase the number of homeowners in the UK.
However, Oxford Council's head of housing and property services, Stephen Clarke, has attacked the Conservatives' proposal, arguing that it will end up hindering councils from building new homes.
The campaign group Generation Rent is not convinced that building more houses is the sole solution. Dan Wilson Craw, its policy manager, says: "In the past 20 years, not only have we failed to build enough homes to keep up with demand, but the property market has become a popular place to park your money. That culture of speculation has fuelled house-price inflation and we need to go back to treating houses as homes."
Campbell Robb, Shelter's chief executive, believes the Government should use the autumn Spending Review on 25 November to show commitment to investing in "genuinely affordable homes". 
"Not addressing our dramatic shortage of homes has pushed up house prices and pushed millions of people into expensive and insecure private renting." He adds it is the Government's "last chance to show they are serious about turning around the housing crisis". 
House building might be static but deposit requirements are on the move. And if the depressing pattern of the past 20 years continues, then buying a house will only get harder.
Reuse content