The UK economy is not strong. Indeed there are broad-based signs that the economy has started slowing fairly sharply. And as a consequence it seems likely that the first estimate of GDP growth for Q1 2015, which will be announced just before the election on 28 April, will show much slower growth than in prior quarters, perhaps as low as 0.3 per cent versus 0.6 per cent in Q4 2014.
Supporting evidence for this slowing was provided last week in a bucketload of weak economic data published by the Office for National Statistics. Industrial production slowed and construction output fell. Company profitability, as measured by their net rate of return, also fell on the quarter.
The UK's trade deficit worsened by much more than had been expected. Goods exports were at their lowest level for four years. This mainly reflects a fall in exports of goods to non-EU countries, particularly to the United States, which also seems to be slowing. A big drop in non-farm payrolls there last week suggests that weakness is likely to continue for some time.
The value of trade in goods grew steadily from the beginning of 2007 to mid-2008. The onset of the global economic downturn in mid-2008 affected the economic performance of the UK's major trading partners and the value of both UK exports and imports fell sharply until Q2 2009. Growth in the value of trade in goods resumed from mid-2009 with improving global economic conditions. However, the value of both UK exports and imports has remained largely flat since mid-2011 with the continuing difficulties in many economies. On this rather bleak news the pound fell to $1.4587, its lowest level since 2010 and down from a high of around $1.71 in July 2014. 
Just as occurred in 2007 and 2008 before recession hit, there has been a rapid decline since last spring in what Keynes famously called "animal spirits", by which he meant the spirit of optimism or lack of it in the economy. This is especially true of business confidence, and to a lesser degree of consumer confidence, all of which grew strongly from the spring of 2013 as the UK economy grew through the spring of 2014, but have now gone into reverse. The unexplained rise in confidence in the UK in the spring of 2013 – which was repeated across the European Union – has now gone into reverse here.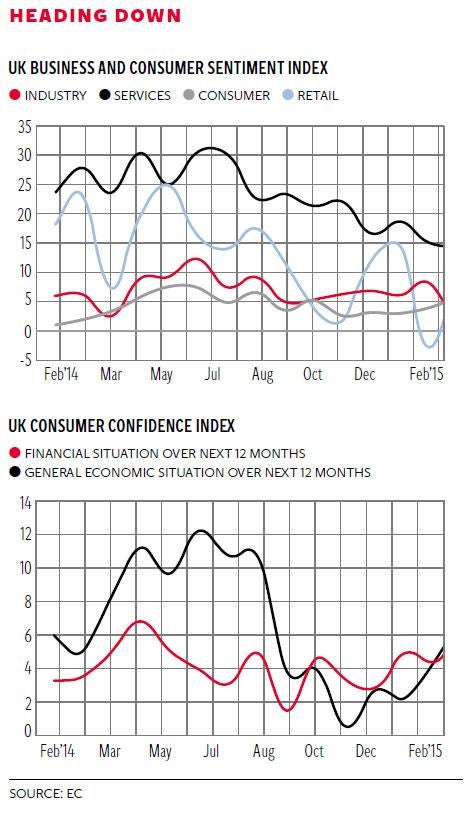 The most comprehensive and useful measure of business and consumer confidence for the UK is collected by the European Commission every month and is seasonally adjusted. Each month identical data is also collected in every member country of the EU so comparisons can be done easily. Separate data is also collected for retail, industry, services, and construction. Up to a dozen separate indicators are collected in each of the five surveys, and an overall confidence measure is calculated for each sector and for each country. These aggregate five indicators – four from business and one from the consumer – are then combined into an overall Economic Sentiment Index (ESI). The UK ESI was 114.7 in January 2014, 119.4 in June 2014, 113.8 in February 2015, and 111.1 in March 2015.
The first chart plots the sentiment indices for services, industry, retail, and the consumer. All three business surveys rise to a peak around July 2014 and then fall rapidly, and all are lower in March 2015 than they were in January 2014. Consumer confidence is higher than it was at the beginning of 2014 but lower than it was in July 2014.
The consumer confidence index is constructed by the EU as a combination of four questions relating to their financial situation and the general economic situation: what they think will happen to unemployment and to their level of savings over the next 12 months. The first two of these components are plotted in the second graph. Each is higher than at the beginning of 2014 but markedly lower than in July 2014.
Of particular concern in these data is what employers in the service sector say about expectations for employment over the succeeding three months. Employers in retail also report a big drop since April in their employment expectations. Of note among industry employers is the dramatic fall in their expectations of export order book levels and employment expectations since April 2014.
It turns out that there is lots of other supporting qualitative evidence to suggest that business confidence is falling. The Bank of England's agents produce scores every month on a host of business outcomes relating to business conditions, including turnover, output, prices, the labour market and capacity constraints. There have been sharp drops in costs and prices since the beginning of 2014, but these drops in prices have been accompanied by a weakening of almost all the other scores.
Between April 2014 and the most recent data for February 2015 retail sales values and consumer services turnover are both down. Output in manufacturing, services and construction are all down. The agents' scores for investment intentions in both manufacturing and services and profitability are all down since last spring. Employment intentions in manufacturing are down sharply.
The British Chamber of Commerce (BCC) Quarterly Survey for Q1 2015 found that almost all the national balances for both manufacturing and services weakened in Q1. In the BCC survey a number of key balances are now lower than their pre-recession levels in 2007. Intentions to raise prices fell sharply in manufacturing and slightly in services. The level of capacity utilisation eased in both sectors. Cashflow worsened. Confidence in both manufacturing and services fell. Profitability in both sectors fell. The net balance of companies saying their workforce had increased over the last three months fell. Manufacturing exports dropped sharply. Investment fell. This isn't good.
A slowing economy is not the message the Tories wanted to hear just prior to the election. Their "long-term economic plan" is in trouble. I still have no idea what it is anyway, and nobody else, including Tory ministers, the Prime Minister and the Chancellor, seem to have a clue either. Whatever it is, it hasn't worked. And down we go again.
Reuse content