At times like this – with the P-word (panic) starting to appear alongside the R-word (recession) – it is always best to go for the very long view. So the report by Credit Suisse Asset Management of long-term performance of different asset classes, just published, is especially welcome. This is one of two such annual studies, the other being the one done originally by stockbrokers de Zoete, the Z of BZW, and now produced under the Barclays wing. It isn't out yet; however, the big messages from these exercises don't change. On a very long view it is always better to hold equities rather than bonds, but there can be periods of several years when the reverse is true; that much of the equity return comes from reinvested dividends rather than capital appreciation; and that it is almost always wrong to hold cash. 
Those messages come through in the new Credit Suisse report, which is done in conjunction with the London Business School, but there is something more: a comparison between the three great financial crises of the past 120 years, those of the 1890s, of the 1930s and the one from 2008 to the present.
What can we learn from the two previous crises? It is a subtle outlook, and a lot depends on policy response, but let's start with the punchline. It comes from Jonathan Wilmot, managing director of Credit Suisse, and author of this part of the study: "Looking forward," he writes, "we think zero real returns for developed market bonds and 4–6 per cent for equities would be a good working assumption. That means real returns on a typical mixed portfolio of bonds and stocks will likely be 1–3 per cent, down from around 10 per cent per annum over the past seven years. That is bad news for retiring baby-boomers and will pose a structural challenge for the fund management industry."
Well indeed, and especially a challenge to the industry's cost structure. You can get away with the typical 1 per cent annual management charge if you are getting 10 per cent returns, but not if you are getting only 1 to 3 per cent. 
I will come back to how he reaches these conclusions in a moment. First, a look at the recovery. As you can see from the top graph, global industrial production has risen at a trend of 3 per cent for the past 35 years. There is a general perception now that somehow this trend has been broken, that there has been a permanent loss of output and wealth. I'm not sure this is true. As you can see, the four or five years before 2008 were exceptional, in that growth was clearly above the long-term trend, so some fall-back was to be expected. Since then we have recovered and close to trend and the question is whether we now fall back again or stick to it. For simplicity I have shown these two alternatives.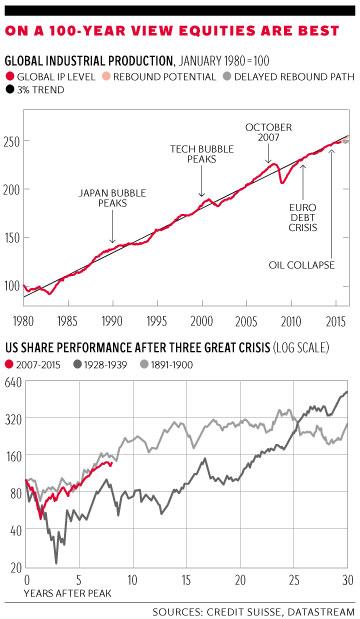 The main point here, surely, is that on the evidence so far the world economy is not in any sense broken, and if it continues to grow, companies operating in it will continue to do all right.
That does not, however, mean that the next decade will be easy for investors. Rather the reverse. First the outlook for bonds. Past experience suggests that financial conditions remain fragile for some years after a crisis, so bond yields remain low for seven to 10 years. After that the bear market in bonds begins. That would figure. We are seven years after the crisis now, and bond yields have remained exceptionally low. Those of us who expected the long bear market in bonds to have begun by now have been proved premature. But out there somewhere is a bear market, for the present ultra-low bond yields are unprecedented. Actually I think the turning point has been passed but who knows?
The outlook for equities is more positive, as the bottom graph shows. It shows what has happened to the real (ie inflation-adjusted) return on US shares during the 30 years after the three great crises. As you can see US shares are doing better this time than after the 1930s crash, but not as well as after the 1890s one. (UK shares, not shown, are doing worse than either. Mind you, the First World War did knock things back for us, though not for America.) Anyway, in all cases you eventually end up ahead; it just takes a while. 
That is what happened in the US and UK. If you want the really long global view, the data looks at markets in 26 countries since 1900. In every single country, equities beat bonds and bills (a proxy for cash) over the 116-year period. The excess return averaged 4.2 per cent a year over bills and 3.2 per cent a year over bonds.
Business picture of the day
Business picture of the day
1/35 UK businesses are already facing recruitment crisis as Polish workers head home - Friday February 15

After a Brexit vote in which a primary concern was too much immigration, some might be applauding the trend, but for important UK industries it is already creating a serious problem, and one that provides a preview of what may be to come for the wider economy.

Reuters

2/35 Global sales of UK food and drink hit the £20bn mark for the first time - Tuesday February 21

Global sales of UK food and drink have hit the £20bn mark for the first time in history, as the Government prepares to ramp up its focus on international trade following the UK's decision to leave the EU.

Getty

3/35 Plastics industry 'pressured UK Government to cut recycling targets' - Friday February 17

Recycling targets in the UK were cut last year after successful lobbying from the plastics industry, a freedom of information request by Greenpeace has revealed. The Government came under fire last year after it announced that targets for plastic recycling would be reduced from 57 per cent to a mere 49 per cent for 2016 and then increased by 2 per cent each year to 2020, to a maximum of 57 per cent by 2020.

AFP/Getty

4/35 Inflation hits 1.8% as post-Brexit pound weakness feeds through to high street - Tuesday February 14

UK consumer price inflation jumped to 1.8 per cent in the year to January, from a rise of 1.6 per cent in the year to December, as the slump in the pound since the Brexit referendum continued to trickle through to the high street. According to data from the Office for National Statistics published on Tuesday, January's rise was the biggest since June 2014. But the jump narrowly missed analyst expectations for a 1.9 per cent increase, just below the Bank of England's official 2 per cent target.

Getty Images

5/35 Lettuce crisis hits those who love it most: hungry British sea turtles - Friday February 10

The UK's vegetable crisis has not only gripped the country's supermarkets and healthy eaters, but also a bale of 12 hungry green sea turtles in aquariums across the country. Eight aquariums run by the company Sea Life are calling on visitors to spare lettuce or broccoli for their shelled inhabitants who, as a result of a shortage of some vegetables in the UK, are missing out on their favourite meals.

GREG WOOD/AFP/Getty Images

6/35 Tim Cook met Theresa May and said the UK would be 'just fine' post Brexit - Thursday February 9

The chief executive of Apple has told Prime Minister Theresa May that he is "very optimistic" about the UK's future outside of the European Union. Tim Cook met Ms May at Downing Street on Thursday morning and reiterated the tech giant's plans to build a new UK headquarters at the Battersea Power Station as proof of the company's support of the UK.

Getty

7/35 Brexit: Bank of England upgrades growth forecasts but still expects UK economy to be hit - Thursday Ferbruary 2

The Bank of England has dramatically upgraded its growth forecast for this year but stressed that households will still experience a major squeeze on incomes due to rising inflation. In its latest Inflation Report, the Bank upgraded its 2017 GDP growth forecast to 2 per cent, up from 1.4 per cent in November. The revision is certain to be seized upon by Brexiteers as evidence that the economy will not suffer from leaving the European Union and that previous economic warnings from the Bank have now been exposed as scaremongering. Yet the Bank's forecasts continue to project a growth slowdown in 2018 and 2019, with GDP expected to expand by 1.6 per cent and 1.7 per cent in those years.

Getty

8/35 Founder of Morrisons supermarkets dies at the age of 85

Sir Ken Morrison, the founder of supermarket chain of Morrisons, who was instrumental in growing the company into one of Britain's leading retailers, has died at the age of 85

Rex

9/35 Boohoo staff can get fired 'for smiling' - Monday January 30

Employers working for online fashion retailer Boohoo.com risk getting fired for smiling or checking their mobile phones, an investigation by Channel 4 has found. The investigation comes after online fashion retailer Asos was accused last year of exploitative working practises with staff reportedly unable to take regular water and toilet breaks for fears of missing targets. The company denied those allegations.

Getty Images

10/35 Tesco to buy wholesaler Booker in £3.7bn deal to create 'UK's leading food business' - Friday January 27

Britain's biggest retailer announced that it was merging with Booker, the UK's top food wholesaler, in a £3.7bn deal. In a joint statement, the two companies said that the combined group would bring benefits for consumers, independent retailers, caterers, small businesses, suppliers, and colleagues, and deliver "significant value to shareholders".

Tesco

11/35 Tobacco giant Imperial Brands scraps chief executive pay rise - Thursday January 26

The chief executive of Imperial Brands, the maker of Gauloises and Winston cigarettes, is unlikely to get a pay rise this year in what seems to be another battle over boardroom greed. Alison Cooper received a total pay package of £5.5m in the last financial year, up from £3.6m the year before. ADVERTISING inRead invented by Teads READ MORE Link between high executive pay and performance 'negligible' A new pay policy that would have had the effect of taking Ms Cooper's remuneration to £8.5m in 2017 was expected to be put to a shareholders' vote on 1 February. However, in an announcement to the stock exchange on Thursday, Imperial Brands said it would not put the policy to a vote as originally planned.

Rex

12/35 The Dow Jones Industrial Average has just reached 20,000 points for the first time ever - Wednesday January 25

Wall Street's Dow Jones Industrial Average stock index on Wednesday hit the 20,000 mark for the first time in its history. In morning trading in the US, the index added around 0.5 percent to surpass the psychologically important threshold and take its gains since this time last year to 23.8 per cent according to Thomson Reuters data.

Thomson Reuters Eikon

13/35 HSBC to close 62 high street branches in 2017 resulting in up to 180 job cuts - Tuesday January 24

HSBC plans to close 62 branches this year, resulting in up to 180 job losses, in response to the rising popularity of online and mobile banking, the bank announced on Tuesday. In a statement, HSBC said that over the past five years, the number of customers using HSBC branches had fallen by almost 40 per cent and 93 per cent of customers' contact with the bank is now done on the telephone, internet or via smartphone. A total of 97 per cent of cash withdrawals are made via an ATM.

Getty

14/35 Theresa May criticised by top economists for trying to 'have her cake and eat it' with Brexit - Wednesday January 18

Top economists and strategists have warned that Theresa May's vision of Brexit lacks credibility and clarity, a day after the Prime Minister delivered an agenda-setting speech on Britain's future outside the EU. In her speech in London on Tuesday, Ms May confirmed that Britain will leave the EU's single market to regain control of immigration policy and said that she wants to renegotiate the UK's customs agreement and seek a transition period to phase in changes all while remaining a "best friend" to the bloc.

Getty

15/35 Fiat loses $2.3bn in stock value plunge after diesel emissions accusation - Thursday January 12

Shares in Fiat Chrysler plunged on Thursday after US authorities said that the carmaker had violated the Clean Air Act by allowing excess diesel emissions in some vehicles. The US Environmental Protection Agency (EPA) accused the company of using software that allowed excess diesel emissions in just over 100,000 US trucks and SUVs sold since 2014. READ MORE Six senior Volkswagen employees charged over emissions scandal Shares listed in Europe were recently trading around 18 per cent lower on the day. Shares in the US fell 16 per cent before being halted from trading, wiping $2.3bn (£1.88bn) off the company's market value.

16/35 Rising inequality behind Brexit and Trump victory is top global threat for the next decade, says WEF - Wednesday January 11

A rise in global income inequality, that already helped spur the Brexit vote and Donald Trump's election victory, are expected to shape world developments over the next decade, according to the World Economic Forum. For a report published ahead of its annual summit in Davos next week, the WEF surveyed 750 risk experts and found that rising income and wealth disparity were cited as the most important trends in determining global developments over the next 10 years.

Getty

17/35 Mayor Sadiq Khan axes new Routemaster bus from the streets of London - Friday January 6

London Mayor Sadiq Khan has ended any hopes to purchase new Routemasters bus for the capital's streets as he tries to balance the books on London's transport budget. Once called 'Boris buses' named after his the previous mayor, every bus would cost around £350,000 each, or around £50,000 more than an ordinary bus. But the new mayor has promised to freeze purchases of the vehicles, which were criticised for being expensive and sauna-like conditions.

Getty Images

18/35 FTSE closes 2015 at record high - Friday December 31

Britain's blue chip FTSE 100 set a new record on the last day of trading of 2016 after climbing to record closing highs for two consecutive days. The blue-chip index gained 22 points or 0.3 per cent, to finish at 7142 points on Friday, its third closing high in as many days and a new intraday high.

AP

19/35 Hatton Garden: London's famous diamond quarter under threat from Brexit and rent hikes - Thursday December 29

London's world famous jewellery quarter could face extinction due to soaring business rates, rent rises and the aftermath of Brexit. Hatton Garden was the centre of the world's diamond market, but traders are fighting to bring back the glory days, as they are squeezed by rising rents and the uncertainty created by the UK vote to leave the EU.

Reuters

20/35 World's oldest bank Monte dei Paschi di Siena on brink of £17bn Italian state bailout - Thursday December 22

The world's oldest bank, Monte dei Paschi di Siena, is poised for a multi-billion state bailout after it admitted on Wednesday that a private rescue plan was unlikely to succeed. The Italian parliament looks set to step in to save Monte dei Paschi di Siena, recently judged the weakest of the European Union's major banks, over the next few days using a new €20bn (£17bn) rescue fund designed to prop up Italy's struggling lenders.

Getty Images

21/35 NHS overcharged by 12,000% for hydrocortisone tablets by drug company Actavis, CMA claims - Friday December 16

Pharmaceutical company Actavis has been accused of overcharging the NHS by raising the price of hydrocortisone tablets by more than 12,000 per cent over the course of eight years. Hydrocortisone tablets are used by people with adrenal insufficiency, a life-threatening condition where their adrenal glands do not produce enough natural steroid hormones.

AFP/Getty

22/35 Solar power becoming world's cheapest form of electricity production - Thursday December 15

Solar power is becoming the cheapest way to generate electricity, according to leading analysts. Data produced by Bloomberg New Energy Finance (BNEF) showed the cost of solar in 58 lower-income countries – including China, Brazil and India – had fallen to about a third of levels in 2010 and was now slightly cheaper than wind energy.

Jungle Herbs & Spices/Facebook

23/35 Italy's largest bank Unicredit plans to slash 14,000 jobs over next two years - Tuesday December 13

Getty

24/35 Donald Trump knocks $3.5bn off Lockheed Martin market value with one tweet - Monday December 12

Barely a week after taking shots at Boeing, Donald Trump took aim at Lockheed Martin's F-35 fighter jet programme, saying the cost was "out of control".Following the tweet on Monday morning, shares of the aerospace company plunged by more than 4 per cent in early trade. Based on the number of shares outstanding, the tweet has shaved just over $3.5bn from Lockheed's market value.

Getty

25/35 Brexit: Banks in 'advanced talks' over mass move to Paris, says French regulator - Thursday December 8

Leading international UK-based banks are in advanced stages of planning to shift operations to Paris as London braces for the impact of Brexit, France's chief financial regulator has said. Paris is among a number of European cities seeking to woo firms considering a move away from London to maintain their access to EU markets, and faces competition from Dublin, Frankfurt and Luxembourg, among others.

Reuters

26/35 Pfizer fined record £84.2m for overcharging NHS 2600% -Wednesday December 7

Drug firms Pfizer and Flynn Pharma have been fined nearly £90m by the UK's competition watchdog for "unfair" pricing to the NHS after hiking up the cost of an anti-epilepsy drug by up to 2,600 per cent. The Competition and Markets Authority (CMA) said these "extraordinary price rises" have costs taxpayers "tens of millions of pounds".

Getty

27/35 Prime Minister Theresa May visits constituency ahead of Small Business Saturday - Friday December2

The prime minister, Theresa May, visits butcher J&S Rook in her constituency of Maidenhead, ahead of Small Business Saturday

Stefan Wermuth PA Wire/PA Images

28/35 Oil prices soar as Opec countries agree first oil output cut in eight years - Wednesday November 30

Opec countries have agreed their first supply cut in eight years, sending the price of crude surging more than 8%.

29/35 Stores far from overwhelmed as Black Friday sales begins - November 25

People stream into the Apple store on 5th Avenue on Black Friday in New York . Crowds were thin at U.S. malls and stores on Black Friday morning, formerly the traditional start of the holiday shopping season, with stores opening earlier and online sales expected to take the biggest share of gains in retail sales over last year. In the New York and Chicago areas, shoppers said stores were less busy than previous years on the day after the Thanksgiving holiday. The pictures similar in the UK the action has shifted from high street stores to become a predominantly online event

Reuters

30/35 Nintendo shares jump after it announces the launch date for Super Mario Run - Wednesday 16 November

The hugely anticipated game is an attempt to capitalise on the smartphone gaming market after the phenomenal success of Pokemon Go.

Getty

31/35 Pound rises as High Court rules against Theresa May triggering Article 50 without Parliament - Thursday November 3

The pound has risen against all of its major peers on Thursday after the Government announced it cannot trigger Article 50 without parliament approval and the Bank of England said it is no longer expecting to cut interest rates this year.

32/35 Heathrow third runway poses 'serious obstacle' to fight against climate change - Tuesday October 25

Environmental groups expressed dismay at the Government's decision to give a third runway at the airport the go-ahead – and Greenpeace vowed to challenge it in the courts. Allowing Heathrow to expand will create "a serious obstacle" to meeting the UK's commitments on climate change and reducing air pollution, a leading scientist has warned.

Reclaim the Power

33/35 Nearly 10,000 people in China apply for one job - Monday October 24

Nearly ten thousands Chinese jobseekers are competing for one position: an officer worker at a political organisation.China's annual civil service recruitment drive began on October 15, with more than 27,000 vacancies on offer in over 120 central departments - drawing about 1.4 million applicants this year. Job seekers registering for the civil exams are required to pick the positions they are most interested in when they sign up for the test but one job was more popular than others. China's annual civil service recruitment drive began on October 15, with more than 27,000 vacancies on offer in over 120 central departments - drawing about 1.4 million applicants this year.

Reuters

34/35 Price of wine set to soar as production nears 20-year low - Friday 21 October

Vineyard manager Antonio Navarro looks at grapes ready to be harvested at the Casa Bianchi vineyard in San Rafael

Reuters

35/35 Banks consider 'moving London staff to Luxembourg to get access to EU' - Wednesday 19 October

The head of financial development for Luxembourg said a string of overseas banks and fund managers had explored moving London staff to the tiny country since the Brexit vote. Nicolas Mackel said there had been "strong interest" from US and other non-EU firms assessing their options since June's referendum.

Rex
My own main takeaway from this research, aside from the point that it is almost always right to be invested in equities, is that we are likely to have several more years of sullen, tricky markets, with low or lowish real returns. The only question in my mind is to what extent past experience was skewed by two world wars. We have seen a huge expansion of debt but not nearly as huge relative to GDP as those two wars generated. We also have not seen the physical destruction, let alone the political and human upheaval. So, on the assumption that there isn't another catastrophe of that order of magnitude on the horizon, could it be that the 30 years after the last crisis will be rather easier than the periods of 1890-1920 and 1930-60?
We see everything through the lens of the present. What is happening now, seen through the lens of, say 1910, is actually pretty normal. In fact, US real equity returns track that experience remarkably closely. That does not mean we should be Panglossian about the markets now, and I think that warning by Mr Wilmot to the fund management industry is most apt. But it is not, on past experience, time to panic. 
Reuse content