Nothing against Hull, but moving Parliament 200 miles north from Whitehall is daft. Generation Rent, the Campaign group, came up with this idea a few months ago, arguing that democracy could be done on the cheap in a city with some of the lowest property prices.
Another alternative to retaining Parliament in London, to build a new city based around the lower and upper chambers, is unfeasible given our draconian planning laws.
Canberra was built a little over a century ago as a compromise between Sydney and Melbourne, whose politicians were feuding over which city should be Australia's capital. It is a staggeringly dull place, encapsulated by the damning local legend "Canberra: it's not that bad".
Back in London, the Palace of Westminster hasn't done too badly given it was first built nearly a millennium ago, was largely reconstructed after the Great Fire of 1834, and was damaged by air raids 14 times during the Second World War.
But the Palace's crumbling innards don't do justice to the faux-gothic majesty of its dazzling façade. Moths ruin MPs' clothes, mice run up the legs of peers snoozing in the tearooms, iron roofs leak, the limestone brickwork is crumbling, and Big Ben is turning into the Leaning Tower of Pisa as the Palace slowly sinks into the River Thames.
As the most important office location in Britain, the Palace of Westminster is not fit for purpose. John Bercow, the House of Commons Speaker, has warned that the asbestos-filled Palace will have to be abandoned within two decades if thorough repair work does not get under way soon.
A report by a Deloitte-led consortium, to be published tomorrow, is expected to confirm earlier estimates that the cost of bringing this giant fire hazard up to 21st-century standards will cost around £3bn. The price will be an awfully lot higher if MPs and peers refuse to move out while that work is done.
Let's assume that they do agree to a full decampment. As The Independent on Sunday revealed two months ago, they will almost certainly spend several years a couple of hundred yards away in the Queen Elizabeth II Conference Centre – ministers took this off the "for sale" list of state-owned assets during the coalition years, realising it was the only suitable alternative site.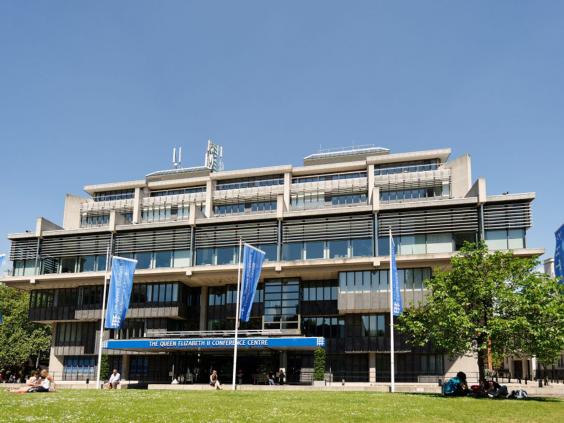 Sorry Hull, but MPs and peers need to be near the machinery of central Government, which is nearly all in the capital, while most politicians will be able to retain their offices in nearby Portcullis House and the Norman Shaw Buildings. As an MP who worked on decampment plans puts it, the QEII is a "no-brainer".
The preferred way of rescuing the Palace is to use an Olympic delivery partner-style model. This would involve an engineering firm, or a consortium led by one, managing the rebuild, as CH2M Hill, Laing O'Rourke and Mace did for the 2012 Olympic Park.
That team was undeniably successful, bringing the Games within its, admittedly revised, £9.3bn budget. The only criticisms the consortium, known as CLM, really received was for a profit margin that topped 40 per cent in 2011, though in fairness this was a reflection of the budget savings its experts had made.
The model has been subsequently hailed as one of the best methods of overseeing large, complex projects, and parliamentary clerks and commissioners are compelled by the arguments to appoint a delivery partner for the Palace of Westminster.
But the two projects are completely different. The Olympic Park was built on essentially disused land in east London: once the tricky tasks of decontaminating large volumes of polluted soil, demolishing existing structures, and undertaking archaeological digs were completed, the construction teams were essentially starting from scratch.
The Palace of Westminster is a fiendishly complicated site; even the access tunnel running underneath is crammed with several generations of technology, from telegraph equipment to broadband wiring. Engineers struggle to move around in there, while renovation experts are frightened that Acts of Parliament written on goatskin in the 15th century could crumble in their hands when they are removed from Victoria Tower.
An executive at a leading infrastructure engineer tells me his team recently had a good nose around Parliament in anticipation of this contract.
They reckon that £3bn is no more than a rough guess, as no one can predict what they will find in the foundations – a safer budget would be £4bn or more. There are even fears that work on the nearby Thames Tideway sewage project could send Big Ben toppling into the Thames, so unmapped and delicate are the structures that lie beneath the Palace.
In an age of austerity, spending £3bn on politicians' digs is going to be a tough sell to the public.
And damned are the companies that are seen to go significantly over that budget and the headlines that will follow when they, inevitably, make mistakes on such a difficult project.
The parliamentary estate might, then, struggle to find suitable bidders to take on this rebuild. Engineers could hardly be blamed for avoiding the Palace of Westminster contract like the bubonic plague, just as politicians did when the deadly infectious disease swept London in the 1660s. 
Reuse content