The Bank of England and the Treasury released data on the usage of their Funding for Lending Scheme in the second quarter of 2014 this morning.
The data shows participating commercial banks collectively drew down £3.2bn in cheap funding from the Bank of England in the three months to June.
However, over the same period net lending to firms declined by £3.9bn. Breaking this down, the stock of loans to big corporates was £3.5bn lower, while lending to small and medium-sized enterprises (SMEs) fell by £435m.
In an accompanying press release the Bank of England and the Treasury tried to accentuate the positive, noting that the overall contraction in net lending to SMEs was smaller than in the first quarter of the year (when net lending decline by £719m).
They also said that the SME figures were dragged down by bank slashing their exposure to real estate firms.
Nonetheless these are pretty clearly disappointing figures, given the authorities reconfigured the FLS last year to create more incentives for SME lending. Six months into 2014 and it's hard to discern the impact of the changes.
True, net SME lending from Lloyds grew by £384m in the quarter and by £99m at Santander. Aldermore increased net SME lending by £118m and Investec by £136m.
But this was offset by declines at the Royal Bank of Scotland (£360m), Nationwide (£501m) and Clydesdale (£439m). Other big players such as Barclays and HSBC are no longer participating in the scheme so we can't tell what they're doing on the small business lending front from this data.
Lobby groups like the British Bankers' Association have long argued that there's simply no demand for borrowing from small businesses. Organisations like the Federation of Small Business, on the other hand, claim the banks are structurally biased against SME lending.
The fact net credit is still not flowing to the sector despite the relatively rapid recovery over the past year and the incentive overhaul to the FLS would seem to support the idea of there being a supply problem.
As things stand the FLS still looks, in a certain light, like Funding for Deleveraging: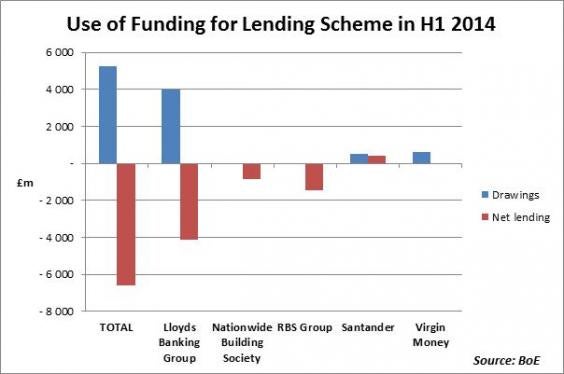 Reuse content