Christmas might be four months away, but at eight vast Amazon warehouses across the country preparations are about to begin for the online retailer's festive peak. And from Dunfermline to Hemel Hempstead, this means the internet giant is hiring.
Last year the firm recruited 15,000 seasonal workers but faced claims that it was paying them as little as £6.39 an hour, operating zero-hour contracts, frisking staff, timing their toilet breaks and pushing employees to meet "impossible" productivity targets.
This year trade unions and anti-Amazon activists are ready and taking the fight to the firm, which sold £4.3bn of goods in the UK last year. Whether the public will react and boycott the popular retailer, they admit, is another matter. Activists point to the example of temporary workers such as Richard Grady, from Luton, who worked at the Hemel Hempstead Amazon warehouse.
"I don't think I was treated fairly at all in my time there," Mr Grady, who worked for the firm from September to January, said. "The targets they set us were virtually impossible, sometimes only giving you 30 seconds to pick up an item that was 10 minutes away.
"I used to work in the motor trade as a manager, but I never had to put any of my staff under the types of pressure you'll find in an Amazon warehouse." Mr Grady is one of dozens of current and former Amazon workers who have come forward – many anonymously – after the campaign group Amazon Anonymous gained 60,000 signatures on a petition calling on the firm to pay the living wage of £7.65 an hour.
"If you are not paying the full living wage, then you are not paying enough for your staff to have an acceptable quality of life," said Bex Hay, one of three twentysomething organisers who run the campaign in their spare time. "It's about Amazon being a good corporate citizen by treating its workforce with respect. It's a major player in the UK economy and our fear is that other firms will copy its practices."
After the petition's success, Amazon Anonymous managed to post a listing on Amazon's website for a dummy book called Living Wages for Amazon Workers. It was quickly taken down by Amazon. More stunts are planned over the next few months. The campaign strikes a chord with Mr Grady after his time as an "Amazon Christmas Elf" came to an end abruptly, only weeks after he told the firm he had been diagnosed with cancer. Though he doesn't link his dismissal to his cancer, he said the firm didn't support him to a "great degree" during his illness.
"One evening just as I got on the bus to go home, one of the managers from the recruitment agency pulled me aside and told me not to come back in tomorrow," he said.
A fellow Amazon worker, Paul (not his real name), claims that he was dismissed in the same way earlier this year, despite having worked for Amazon on and off for more than nine years at the firm's Marston Gate warehouse near Luton. Like Mr Grady, he said he was told he had not kept up with "productivity demands" during his 10-hour shifts, which netted him as little as £280 a week.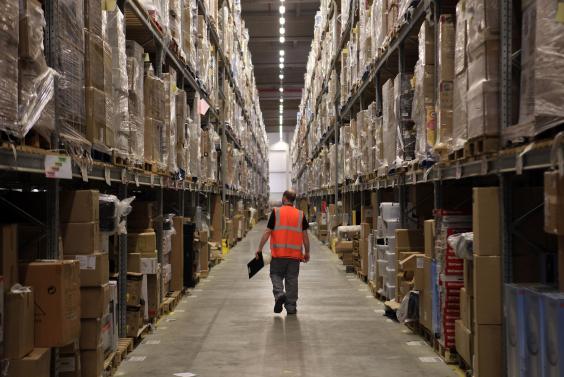 "You go through airport-style security every shift, so it feels like they treat you like a potential thief every time you come to work," Paul said. "And once you are in you are rushed off your feet with the pace of work and pressured by managers to hit what they call 100 per cent productivity – I'm not even sure how that's possible, but it's a brutal and dizzying pace."
Martin Smith, an organiser at the GBM union, said the union has heard many similar complaints since it started a campaign to call on Amazon to pay the living wage and willingly accept union membership in its warehouses. "The biggest issue we see is the impossible targets that Amazon sets for its workers, and our concern is anybody working at that rate will face serious health and safety problems."
The GMB is running an audit of working practices within Amazon, which will be published later in the year. Already it has found examples of the firm paying as little as £6.39 an hour and operating zero-hour contracts for staff referred by Jobcentre Plus, Mr Smith said. "The object of our campaign isn't to harm their business, but there appears to be an in‑built hostility to unions within Amazon, which sets up in rundown areas and enjoys huge de facto state subsidies from Tax Credits and local councils, while not paying all the corporate tax they should."
In May, Margaret Hodge, chair of the public accounts committee, urged shoppers to consider boycotting Amazon's British business after it paid just £4.2m in tax last year, despite selling goods worth £4.3bn.
Amazon says is continuing to invest in the UK – a ninth warehouse in planned in Kent – and add jobs, but the GMB argues up to 80 per cent of warehouse staff work on a casual basis, often employed by outside recruitment agencies on poor terms.
Amazon declined to make a spokesperson available for interview but rejected those figures and said it does not operate zero-hour contracts and pays all workers a minimum of £7.10 an hour. "Like most companies, we have performance expectations... Productivity targets are set objectively, based on previous performance levels achieved by our workforce."