Apple, the world's biggest public company, has lost more than $200bn in value in six months as the slump deepens for US technology stocks.
Shares in the iPhone maker have fallen from $132.97 in July to $94.95 today, meaning its stock market value has shrunk by a staggering $210 billion in value. 
Apple still has a market capitalisation of $527 billion, but it is a far cry from last April when it was tipped to become the world's first trillion dollar company.
Its shares, along with other American tech stocks, fell 2 per cent today to their lowest since August 2014 after computer maker IBM disappointed investors with low profit targets for 2016.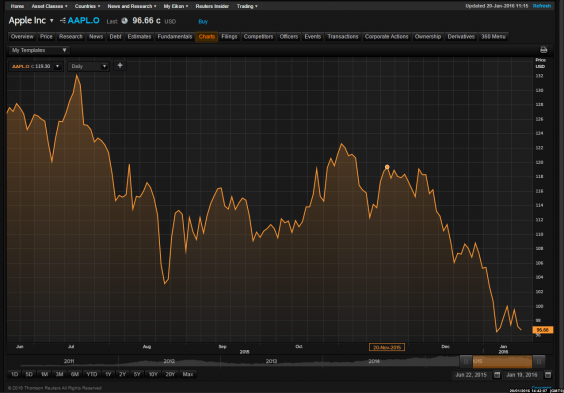 IBM beat Wall Street expectations with fourth-quarter earnings of $4.84 a share, but warned that this year it expects earnings per share of around $13.50, below the $15 analysts were anticipating.
Technology stocks held up relatively well last year amid the global stock market rout, but have come under severe pressure in the last few weeks. Since the start of the year, the Nasdaq Composite, the index composed mainly of tech firms, has crashed 11.9 per cent.
The valuation gap is closing between Apple and Google's parent Alphabet, which has fallen 9.3 per cent this year from its record highs but still has a market value of $450 billion.
"A big disappointment from American giant IBM will concern investors in technology stocks around the world," Russ Mould, investment director at stockbroker AJ Bell, said.
"This now sets the stage for Apple's first-quarter numbers on Monday 26 January, which will be a further key test for sentiment toward the technology sector."
Reuse content