Argos has been accused of racism after selling a white baby doll for £10 more than its black and Asian equivalents.
The retailer sells the toys, made by French company Corolle, on its website. But while the white doll named Maria costs £34.99, the Asian doll called Yang and the black doll called Naima both cost £24.99.
A mother who came across the disparity while shopping for a doll for her two-year-old daughter raised the issue to The Sun.
She told the newspaper: "It's unacceptable for children to think white is better or more desirable .
"It's wrong for our youngster to grow up thinking non-white skin colours are worth less."
She added that she had subsequently purchased a different doll and sent a letter of complaint to the store, which issued an apology and promised to investigate.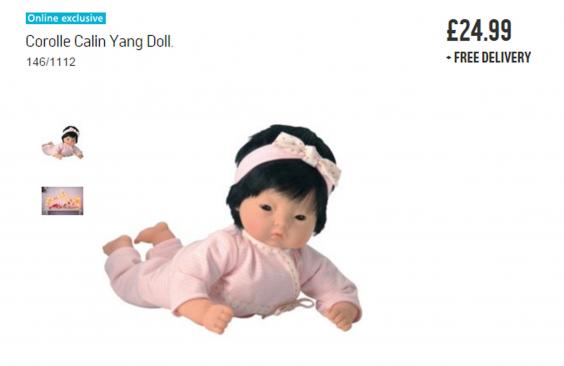 Argos said today that the variation in price was due to a genuine mistake.
It said in a statement: "Argos strongly refutes any suggestion of discrimination.
"A genuine online pricing error led to one of the dolls being advertised at an incorrect price. This error is being amended today and all three dolls are now priced at £24.99. We apologise for any confusion caused."
Reuse content