Stamp duty on house purchases underwent the most radical reforms in a generation at midnight last night in a dramatic series of changes welcomed as "Mansion Tax Lite" by Vince Cable.
The change will represent a tax cut for 98 per cent of homebuyers, with the bulk of beneficiaries being those buying homes for up to £937,000. After that, the tax starts rising rapidly.
Wealthy property buyers last night were rushing through their house purchases to beat the midnight deadline to exchange contracts and save themselves – in the case of properties of over £5m - £163,750.
Trevor Abrahmsohn of upmarket London estate agents Glentree said after the Autumn Statement: "I've had 15 calls in the last five minutes from concerned clients. One of my clients said if he doesn't finish tonight then he is not going to buy."
For generations, stamp duty has been levied at a single rate on the whole value of the property in what was known as a "slab" system. It will now be calculated on a graded basis like income tax, where the first £125,000 will be untaxed, £125,001-£250,000 at 2 per cent, £250,001-£925,000 at 5 per cent, £925,001-£1,500,000 at 10 per cent, to a maximum of 12 per cent for properities over £1.5 million.
Business minister Vince Cable described the changes as "quite a big victory" for the Liberal Democrats, pointing out that he had first called for such an overhaul in 2006. "George Osborne wanted to reform stamp duty anyway but we took the view we wanted it to be progressive."
The LibDems will continue pushing for the mansion tax, however, as stamp duty is only a one-off transaction tax.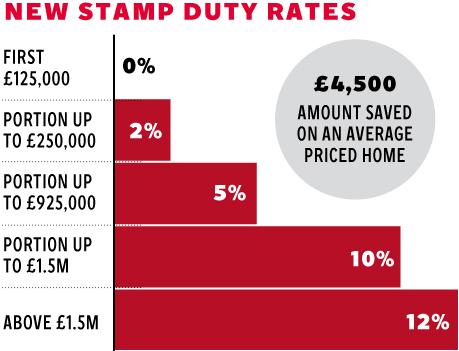 The old system was seen as particularly unfair because stamp duty levels would lurch up or down dramatically when sometimes small price variations pushed the property from one slab to another. So, a house selling for £509,000 would be liable for £15,000 stamp duty and £510,000 would pay duty of £20,400.
Cormac Marum, of tax consultants Harwood Hutton, said: "It is a much more sensible system and is good news for most people. The only people who will lose out are those in the most expensive houses."
Mr Cable told the Independent it would not stop the Liberal Democrats still calling for a mansion tax. "The stamp duty reforms only affect people who are buying and selling but the council tax system remains anomalous."
The new stamp duty system is likely to see a rush to complete house purchases in Scotland, which is bringing in its own reforms to stamp duty next April, until when it operates under the same regime as south of the border. Scotland's banding system will be on a similar principle to the new one in the rest of the country but at less generous levels overall.
The Chancellor said anybody who had exchanged contracts by midnight last night but had not completed their purchases could choose whether to use the old or new stamp duty regime.
Reuse content