High street fashion chain Bank has gone into administration, putting more than 1,500 jobs at risk across 84 shops.
The retailer, which mainly operates in the Midlands, north of England and Scotland, has been making a loss for several years, according to Deloitte.
It was appointed as administrator on Monday after a review of the business determined that a solvent turnaround would not be possible.
All stores are open as usual and no redundancies have yet been made while potential interest in Bank from several parties is considered.
Bill Dawson, the joint administrator and a partner in Deloitte's restructuring services practice, said: "Bank has struggled in a highly competitive segment of the retail industry and has been loss-making for a number of years."
Staff have been paid and additional sale discounts are being brought in later this week to lure in buyers, he added. The website and shops are already offering prices cut by up to 70 per cent.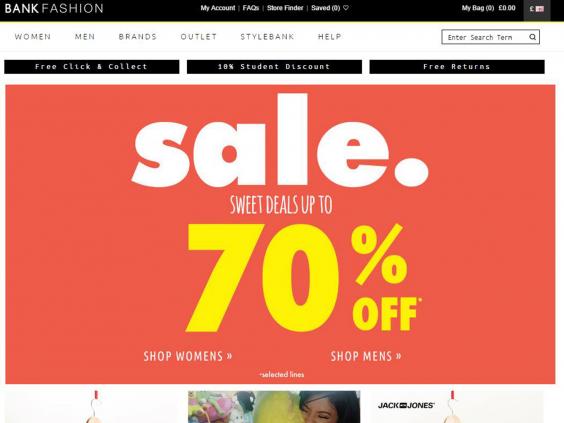 Mr Dawson said: "The company has already been approached by several parties who have expressed an interest in the business and the Administrators are trading as a going concern with a view to progressing these options and seeking further interested parties for some or all of the business."
Bank was founded by Andy Scott - a former Macclesfield Town footballer - in 1994 and largely sells branded fashion items aimed at the youth market.
JD Sports bought the chain from private equity owners Phoenix Equity Partners and management for £18.5 million in 2007.
In November it disposed of the business to HMV owner Hilco, a retail turnaround business, under terms which were not disclosed.
JD's fashion division, which includes the more successful Scotts brand, recently slumped to a half-year loss of £8.2 million despite continued efforts to revive Bank, including through the appointment of a new management team.
Its collapse comes a week after parcel courier firm City Link went into administration with the loss of 2,400 jobs.
Banks's website was functioning normally on Monday evening but with a disclaimer at the bottom of every page confirming it had gone into administration.
Additional reporting by PA
Reuse content