The Treasury has granted the Bank of England formal powers to control lending in the fast-growing buy-to-let mortgage market.
It announced that the Bank's Financial Policy Committee will be able to regulate the "loan to value" ratios granted by banks to buy-to-let borrowers and also their required "interest coverage ratios".
The Bank has been concerned for some time about the potentially financially destabilising expansion of the buy-to-let market and in September 2014 recommended it be given additional formal powers to regulate lending.
Buy-to-let is controversial because investors are accused of crowding out first-time buyers.
The home ownership rate in England has fallen to 64 per cent, down from 71 per cent in 2003.
For people aged 25 to 34 the rate has slumped from 59 per cent to 37 per cent.
The previous Chancellor, George Osborne, hiked stamp duty on buy-to-let purchases, saying he wanted to level the playing field for first-time buyers (although fiscal experts pointed out there is, in fact, no tax advantage for buy-to-let over owner occupation).
The Government launched a consultation in December 2015 on granting the Bank of England more powers over the sector and - as widely expected - is acting on the results today.
 "Expanding the number of tools at the Financial Policy Committee's disposal will ensure that the buy-to-let sector can continue to make an important contribution to our economy, while allowing the regulator to address any potential risks to financial stability," said the Chancellor Philip Hammond.
According to data from the Council for Mortgage Lenders there are around 1.8 million buy-to-let mortgages in UK, around 17 per cent of the total value of all home loans.
The rise of buy-to-let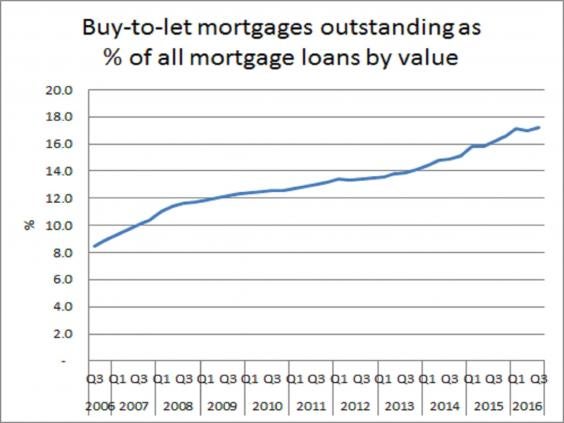 Total buy-to-let debt is worth £227bn, up from £9bn in 2000.
In 2015 there were £37.9bn in gross advances made for buy-to-let house purchase and re-mortgaging, the highest figure since 2007.
The world's least affordable cities for housing
However, the share of new mortgage advances which are for buy-to-let mortgages has fallen recently.
It peaked at 27 per cent in March, but has since fallen back to 14 per cent - mainly due to the Government's new stamp duty surcharge, which took effect from April.
Gross advances for buy-to-let borrowing in September was £2.8bn, down from £3.6bn in the same month a year earlier.
In June 2014 the FPC moved to curb the volume of high loan to income residential mortgage lending.
And it was given further powers to regulate residential mortgage lending in April 2015 by the Treasury.